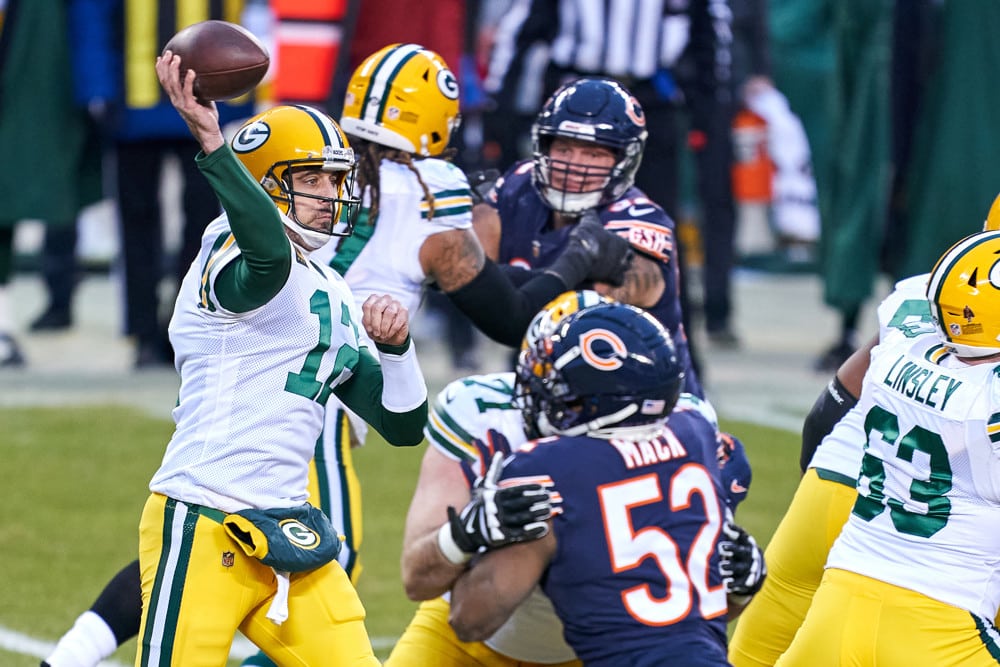 NFL Week 1 of the 2021 season seems like a long way away. Each passing day though brings us that much closer to the kickoff of the NFL's new 17-game campaign. With the schedule already released, it's time to start preparing for your week one bets. It's never too early to get in on some action and here are some to help you start.

Several news stories and team situations factor into these lines and make for some intriguing early bets. I've identified four Week 1 underdogs that are solid speculative bets here in June. Some of them may not stay that way as we get closer to the season, so getting them now would be wise. All lines are taken from the DraftKings Sportsbook at the time this article was written.
NFL Week 1 Predictions: Underdog Best Bets
New York Jets at Carolina Panthers
The schedule makers wasted no time in pitting Sam Darnold against his former team. The former Jet will be staring into some familiar eyes on the other side of the line on opening week. They are some of the same eyes that once countered his every move in practice all of last season. That translates to instant familiarity with his tendencies. This automatically gives the New York defense, now under the care of a defensive-minded head coach, the advantage. It's true Darnold now has better weapons around him now in Carolina. That said, the jury is still out as to how well he can use them.
As for the Jets, they welcome in Zach Wilson to take Darnold's place at quarterback. The raw rookie from BYU will have his work cut out for him to be sure. He will have some help in the form of Corey Davis who has come by way of Tennessee. Davis will line up with Jamison Crowder and Denzel Mims at wideout. They will be hoping to exploit a Panthers defense ranked 18th in the league in passing yards allowed per game.
Zach Wilson to Corey Davis

Zach Wilson to Elijah Moore #Jets Per @nyjets pic.twitter.com/glKsQFIyQE

— NYJ Matt (@NYJ_Matt) June 15, 2021
When it's all said and done, this will not be a pretty game to watch. Even still, the Jets defense should have enough of a head start in their scouting to keep the edge in this contest. That will be all that is necessary to take home the first NFL Week One win of the season.
Jets Moneyline +160
---
Seattle Seahawks at Indianapolis Colts
Both of these teams are coming off of outstanding showings in the 2020 season. The Seahawks finished first in the NFC West with a 12-4 record. Not much will change for Seattle heading into the 2021 campaign. Both Tyler Lockett and D.K. Metcalf will be catching passes from Russell Wilson again. Each had a 1,000 yard season in 2020 and will be primed to do so in 2021. Chris Carson also returns and will head the rushing attack. Any team would be hard pressed to beat a loaded Seahawks team. This is especially true for a team that arguably took a step back at the quarterback position.
It appears the odds makers deem the addition of Carson Wentz as enough to give the Colts the edge in this matchup. He'll most certainly be walking into a more favorable position in the coming season. Of course when it comes down to it, he has failed to beat Pete Carroll's team in five total attempts. This includes a 2017 Wild Card loss to Seattle. That year just so happens to be the last time these two teams met. The Seahawks won that meeting 46-18.
https://twitter.com/Seahawks/status/1403106341976039426
Seattle has won three out of their last five opening day games including their last two. On the other hand, you have to go all the way back to 2013 to find the last week one win for the Colts. Indianapolis won't have enough to reverse their losing trend against a stacked Seahawks team.
Seahawks Moneyline +116
---
Green Bay Packers at New Orleans Saints
Obviously, the fate of Aaron Rodgers plays heavily into this bet. Should the future Hall of Famer return to Green Bay, this call is a lock. If Rodgers decides to take his talents away from the only team he's even known, it becomes more clouded. There is little doubt what the Packers can do offensively when Aaron Jones, Davante Adams, and Aaron Rodgers are together. The question will be, what Green Bay can do defensively against either Jameis Winston or Taysom Hill. The squad ranked inside the top-10 with 41 sacks in 2020. They will make it difficult for whoever is set to replace Drew Brees to get comfortable.
Whether it's Winston or Hill, if the Saints want to keep this game at all close, Alvin Kamara is going to have to get hot. Green Bay's defense allowed just over 112 rushing yards per game in 2020. Kamara will have to help alleviate the pressure on his new quarterback to slow the game down. It might be too much to ask though, as neither signal caller is the same caliber talent as what was lost.
"It's stupid for Mark Murphy to say this at this point, especially if you're trying to get the guy back… It's not read the room, it's read the damn WORLD!"@mspears96 reacts to Packers' President Mark Murphy calling Aaron Rodgers a "complicated fella". pic.twitter.com/9KFregQLnl

— NFL on ESPN (@ESPNNFL) June 14, 2021
Monitor the Rodgers situation over the offseason of course. That said, it wouldn't hurt to get in on this NFL Week One bet before the line moves if Rodgers stays put.
Packers Moneyline +112
---

Miami Dolphins at New England Patriots
Even though New England drafted their potential future franchise quarterback, this team will still belong to Cam Newton to open the 2021 season. The analysis could very well stop there and this bet would be justified. Yes, the Patriots have added several new weapons for Newton including two well-known tight ends in Hunter Henry and Jonnu Smith. All things considered though, it wasn't as if Newton had nothing to work with last season. He just lacked the ability to use them effectively. He didn't look comfortable in Bill Belichick's system last season, and that much hasn't changed going into this season.
For the Dolphins, Tua Tagovailoa will enter his sophomore season with a couple of new weapons as well. The addition of Will Fuller V and Jaylen Waddle give Tua added firepower. He came off the bench in 2020 and led the Dolphins to a 6-3 record as a starter. One of those wins was a 22-12 victory against New England. In that game, Tua rushed for two of Miami's three touchdowns on the day.
Early update from Dolphins minicamp: Tua has NOT thrown a single interception during stretching portion.

Will update later. pic.twitter.com/lQ7DmmSGZF

— Clay Ferraro (@ClayWPLG) June 16, 2021
Reports from camp are not looking good for the Miami quarterback, which could be driving this line. Despite that, week one is a long way off and that could, and should improve. We already know what we will get out of Newton, and it won't be enough to win his team's first game of the season. This NFL Week One bet should be an easy one.
Dolphins +105
---
More NFL Content
Nick Sirianni Hype Train | Diehard Eagles (Ep. 28)
Julio Jones Trade And Fantasy Football Best Ball Draft (Ep. 1024)
Julio Jones Trade – Where will Julio Play Next Season?