The UFC returns to pay-per-view tomorrow with a stacked UFC 263 fight card. This means I also return with my WINNING UFC 263 DraftKings lineup. I actually like quite a few betting underdogs on Saturday's card, which makes finding DFS plays at bargain prices all the easier. So, let's get it on c'mon.

RELATED
UFC 263 Betting Guide
UFC 263 DraftKings Roster
Movsar Evloev – $9,200
One of my two "big ticket" items on my UFC 263 DraftKings roster is Movsar Evloev. While the Russian wrestling monster has yet to earn a stoppage victory in his four UFC appearances (4-0 but all decision W's), he has scored big DK points. His 88.1 fantasy point average is tops on Saturday's card, and he bested that with a 92 in his last octagon appearance.
Deiveson Figueiredo – $9,100
I dip into the co-main event with my other expensive roster addition and grab the UFC's flyweight champion Deiveson Figueiredo. 'Figgy Smalls' fought Saturday's opponent, Brandon Moreno, to a draw when they first met last December, but Figueiredo was docked a point due to a low blow. I expect him to win legitimately tomorrow, and perhaps even finish Moreno. Plus, his 87.5 FPPF is second-best on the card, and he's topped the 100 point mark three times in his UFC career.
Steven Peterson – $8,400
Steven 'Ocho' Peterson makes his UFC return after almost two years on the shelf this weekend, going up against youngster Chase Hooper. Hooper, at this point in his career, is strictly a grappler (a damn good one though), but Peterson is also a very strong wrestler. Peterson should be able to keep this fight on the feet and light up Hooper with strikes. I wouldn't be surprised to see Peterson get a (T)KO finish in this one, as he did in his last appearance where he chalked up 100 points.

Lauren Murphy – $8,000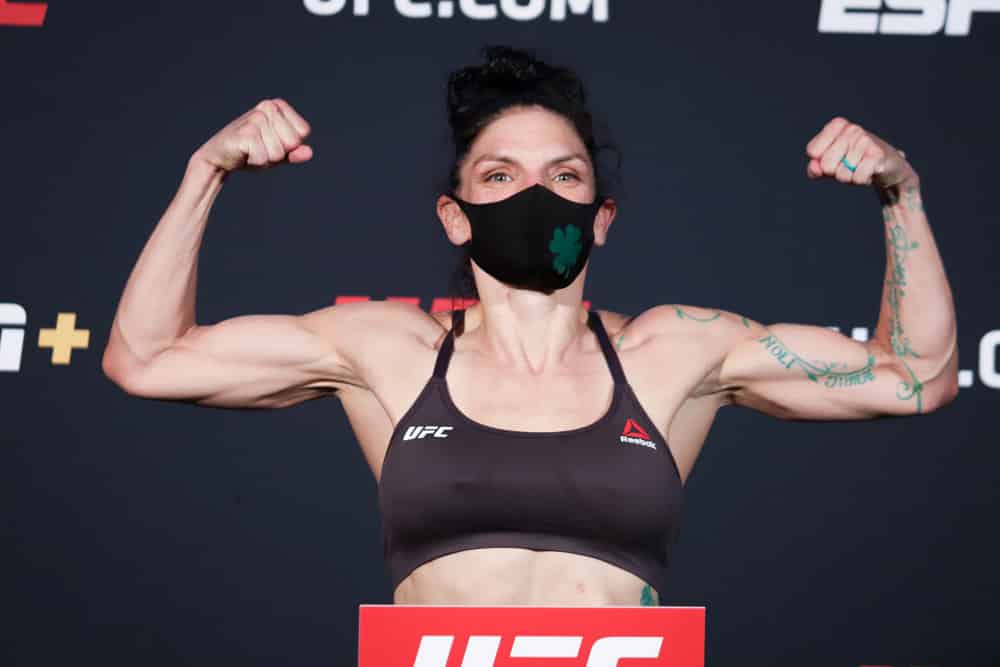 This is a bit of a risky pickup, but I'm going with Lauren Murphy in her women's flyweight fight against Joanne Calderwood, in what should be a #1 contender's match. 'Lucky' Lauren is on a hot streak, winning four straight, and has had massive point-earning fights in the past, to the tune of 193 and 188 points. Worth the risk for $8,000.
Brad Riddell – $7,700
I'm snatching up main event participant Israel Adesanya's teammate, Brad 'Quake' Riddell, on the cheap. The New Zealander has won six straight fights, including all three of his UFC appearances, where he's averaged a very solid 73.6 FPPF. I think he gets the job done versus Drew Dober on Saturday and hopefully makes himself a steal at $7,700.
Demian Maia – $7,200
Maybe adding a 43-year-old who has been on the sidelines for over a year isn't the best strategy, but I'm digging Demian Maia in his matchup against Belal Muhammad. Muhammad isn't a finisher, so I think this will allow the Brazilian Jiu-Jitsu wizard Maia time to get him down to the mat. One there, a submission win is all but guaranteed for Maia, which should net us anywhere from 80 to 100 points. All for only $7,200.
Listen to this:
UFC 263 Preview & Bets (#chunkyguyrevolution) | MMA Gambling Podcast (Ep.45)