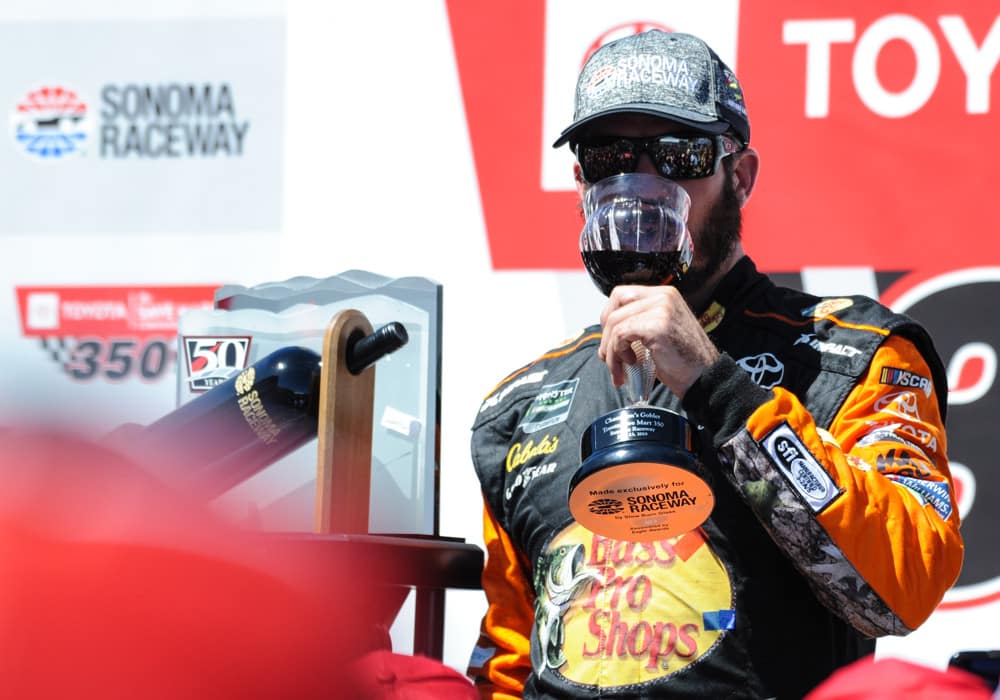 The Monster Energy Cup Series heads west to Sonoma this week for the Toyota / Save Mart 350. Sunny California will live up to its name as the forecast calls for better weather than the last road track location offered. For 90 laps drivers will wind around the 2.5-mile track all hoping to sip from the signature wine glass trophy waiting at victory lane.
This week, NASCAR once again used its qualifying formula to set the field. The formula takes into account owner standings, finishing position in the previous race, car owner's finish in the previous race, as well as the rank of the driver's fastest lap in the previous race. Based on the number crunching, Kyle Larson, who won last week at Charlotte, is on the pole.

DraftKings contests for NASCAR depend on two factors; dominator points, and place differential. Drivers accumulate dominator points by leading laps as well as posting the fastest laps during the race. Place differential points come as a result of a driver finishing in front (or behind) of their starting position. To be successful, you will need to strike a balance between the two. Of course, it helps to have the winning driver. That said, sometimes in cash games, you can hang on to the money line if you have a driver with a sizable differential.
Since road courses are light on points for laps led, the following suggestions each carry a unique value. Some have movement potential while others should be among the top finishers. They are meant to mix and match and do not suggest a full lineup. These are merely drivers to consider when constructing your rosters. As always, let's make this a profitable season, and above all, let's have some fun.
Toyota / Save Mart 350 NASCAR DraftKings Picks
#18 – Kyle Busch ($10,300); Starting Position 5th
There are a handful of names at the top of the leaderboard of the last few runnings at Sonoma. As you can expect, Kyle Busch is one of them. He has finished inside the top-10 over the last five races on the track. This includes a 2015 victory in which he started from the 11th position to take home the win. Don't expect much from him in terms of laps led though. In his 1,589 laps completed in Sonoma, he's only led 113 of them. He's led only eight since 2016.
Most of us: "AaAAaaAAHHh!!"

Kyle Busch: "… I got this …" pic.twitter.com/zxRf6OSSiG

— FOX: NASCAR (@NASCARONFOX) May 31, 2021
Busch is coming off of an encouraging week last week at the Coca-Cola 600 in Charlotte. He started 20th and crossed the finish line in third place by the end of it. He's battled his fair share of inconsistencies this season but has always had a competitive car. This week, you are hoping that Rowdy can stay competitive and at least turn in a second-place finish in Sonoma.
#11 – Denny Hamlin ($9,900); Starting Position 4th
The last four seasons of racing on the Sonoma Raceway have treated Denny Hamlin decently. He's had four straight top-10 finishes in that span. Twice in that period, he's made up ten positions or more to get there. On top of that, he's led 52 total laps in those four races. While it may not be a barn-burning statistic, Hamlin has also turned 22 of the fastest laps in the race in those four outings. In a race where there are only a handful of lap leader points to be had, these are the next best way to get free points.
Tony Stewart vs. Denny Hamlin at Sonoma Raceway back in 2016. Still awesome.pic.twitter.com/3ugVqB9cLY

— FOX: NASCAR (@NASCARONFOX) June 4, 2021
A victory has been elusive this season for the points leader. He began the season finishing inside the top-10 in eight out of the first nine races of the season. This included a six-race span of top-4 finishes. He cooled off for a couple of races after that, only to bounce back with two top-10 finishes in the last three races. Unlike the last road race in Texas, there will be nothing but California sun for the Toyota / Save Mart 350 this Sunday. Look for Hamlin to capitalize on that and turn in a solid performance.
#5 – Kyle Larson ($9,700); Starting Position 1st
Buyer beware with Kyle Larson this week. His recommendation comes not from his past, but from his present situation. In fact, rostering Larson this week could end up being a mixed bag depending on who is looking at which stats. Some will point to his string of three consecutive starts from the pole none of which resulted in a victory. In fact, only one of them produced a top-10 finish. Even more will go on to say that in his entire career, he's only led 11 total laps at Sonoma. All of these stats are off-putting, and all are accurate. All of them also happened while Larson was a driver for Chip Ganassi.
RETWEET TO CONGRATULATE @KyleLarsonRacin ON HIS WIN AT CHARLOTTE!

NASCAR history. 269 total NASCAR Cup Series victories for @TeamHendrick! pic.twitter.com/pUJPNkZpl5

— FOX: NASCAR (@NASCARONFOX) May 31, 2021
Now, Larson is with Hendrick Motorsports. Even the most passive of NASCAR fans recognize that the HMS team has been the class of the field so far this season. So far in 2021, Larson has led 1,105 laps, the most of any driver. He paced the field in dominating fashion last week in Charlotte with 327 of 400 laps in front of the pack. You are getting a fairly sizable discount on him here as he's a full $1,200 less than the most expensive driver on the slate. You don't have to go too heavy on him, but definitely do not fade him completely.
#19 – Martin Truex Jr. ($10,900); Starting Position 19th
Speaking of polarizing drivers on the slate, allow me to present Martin Truex Jr. He's taken home the checkered flag in the last two runnings of the Toyota / Save Mart 350. Once in the #78 car and once in his current ride. Over the last three seasons, he's led 146 laps. On top of all that, he sits behind only Jeff Gordon when it comes to all-time laps led on the Sonoma Raceway. It's hard to deny the success Truex Jr. has enjoyed in wine country.
"I'm cool with whatever [Cole Pearn] wants to do. Win, lose or draw … we do it together."- Martin Truex Jr. on the strategy call in Sonoma. pic.twitter.com/8Ebo1L4jJk

— FOX: NASCAR (@NASCARONFOX) June 24, 2018
There is, though, data that could suggest otherwise this week. (Thank you Zeeb and @RotoDoc). In his last three road track races in which he started outside the top-10, he's failed to finish better than seventh place.
Removing DNFs, since 2016 on road courses Martin Truex Jr.'s has

– 7 top 5s. Started 4th or better in 6 of 7

– 5 Not Top 5's. Started 7th or worse in each

His three starts outside the top 10 he finished 7 (start 14), 14 (start 13), and 12 (start 19).

He starts 19th Sunday

— RotoDoc (@RotoDoc) June 3, 2021
He's probably more expensive than most people are comfortable with given his wide range of outcomes this week. This is where you could get an edge by tossing him into a tournament lineup or two. Should he win again, he automatically gives you 18 differential points, on top of the rest. He's fallen on hard times over the last three races, this is true. That said, a trip out West could be just what Truex Jr. needs to return to form. He does, after all, still lead the circuit with three victories this season.
#1 – Kurt Busch ($9,100); Starting Position 30th
Right behind Truex Jr. on the historical list of lap leaders at Sonoma is Kurt Busch. All told, the older Busch has 198 first-place laps on this track in his 19 career starts on the Raceway. Of those starts, he's finished inside the top-10 in ten of them including seven of the last nine. Busch does have one career checkered flag here that came back in 2011.
https://twitter.com/CGRTeams/status/1400233894738370565
A win is probably too much to ask out of him this week. Due to the qualifying formula awarding him a 30th place starting position. Of course, this does not come unwarranted as the Monster Energy Ford Mustang has had a season to forget thus far. In his last six races, he's only finished better than 27th twice. He's also finished 35 or worse on three occasions. This is a slate where differential points will play a major factor in whether you cash or not. With that in mind, sprinkling in Busch where you can is not the worst idea.
#10 – Aric Almirola ($7,900); Starting Position 26th
Someone else who could help you in the differential department is Aric Almirola. His history at the Toyota / Save Mart 350 left much to be desired over his first six starts. In those races, only one resulted in a top-15 finish. The rest were a smattering of 20 some odd place finishes. That changed once he jumped into his new ride with Stewart-Haas Racing Ford Mustang. In the last two runnings in Sonoma, the #10 car has two straight top-10 finishes. One of them, he started from the 24th position.
Stewart-Haas Racing and Aric Almirola continue to get better and better in their first season together.@CopaCavanna talks with driver No. 10 after his P.8 finish in Sonoma. pic.twitter.com/eH8qQqqN1A

— FOX: NASCAR (@NASCARONFOX) June 27, 2018
This is the situation in which he finds himself again this Sunday. It's been a run of bad luck for Almirola this season. He's had a fast car on many occasions, but something always seems to jump up and bite him at the worst possible time. Hopefully, his luck will change and we will be on the receiving end of a bountiful point total from the Farmer John Ford this week.

More Content
Rookie Running Backs: Fantasy Football Breakout Backs
Fantasy Football Questions For Every NFC North Team
Fantasy Football Best Ball Draft 9.0 (Ep. 1020)