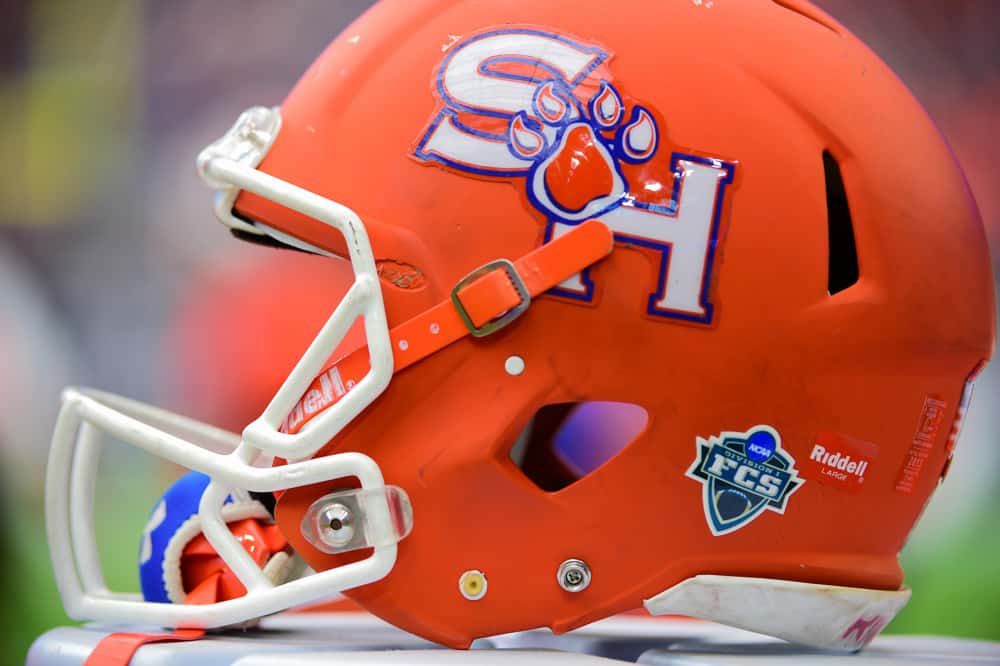 We have come to the end of an exciting Spring season of football and it's time to decide who comes out on top after Sunday's FCS Championship game. All year long there have been exciting finishes and tons of entertaining Spring football. It all culminates in a matchup between two of the top programs in the Championship series.
If you've read this article all season, you know I have focused on my favorite underdog plays of the week. Luckily, even with only one game on the schedule, my underdog pick is still valid. This week's dog has plenty of fight in it and a very real shot at winning this game. In fact, there is an argument to be made that they should be the favorites. But, that is not the case, are we are all the better for it.
Lines are provided thanks to our friends at PointsBet. If you want more betting action on top of these games make sure you check out PointsBet. There you can find the rest of the FCS games and much more. Plus, like we always do, we've got the hook up with a sweet deal. To find out what that is, you'll just have to click.


FCS Championship Preview and Predictions
Who: Sam Houston Bearkats at South Dakota State Jackrabbits
When: Sunday, May 16th, 11AM PDT, ABC
The Overview
The Championship Series title comes down to a matchup between the top two seeded teams in the bracket. South Dakota State charged their way into this contest riding a seven-game winning streak. This includes the three playoff victories needed to get them to the finals. Overall, they enter Sunday's game with an 8-1 record on the Spring season. Marring their perfect bid is a loss to North Dakota back in week two. In the final week of the regular season, the Jackrabbits handed the defending FCS champions, North Dakota State, their second loss of the year.
This will be the first time the team representing South Dakota will appear in the title game.
Sam Houston will break an almost ten-year championship game drought this Sunday. The last time they played for the trophy was in 2012. That season they fell to North Dakota State just as they had done the season before in the title game. The Bearkats are flawless on the Spring campaign winning all six of their regular-season matchups. They also have three playoff wins to their credit including a big win over the Bison in the quarterfinals.
It will be the first time Sam Houston will play any other than North Dakota State for the FCS Championship. It is also the first time these two programs have met in their history.
South Dakota State
In each of the Jackrabbits' three playoff games, they have scored at least 30 points. The last of which was a 33-3 domination of the Delaware Blue Hens in the semifinals. At the head of South Dakota State's potent offense is freshman quarterback Mark Gronowski. He's been a dual threat all season posting over 1,500 passing yards as well as almost 600 yards rushing. Against Southern Illinois two weeks ago, he threw for 183 yards and two touchdowns. He also led the team with 142 yards rushing with a touchdown to go with them. Last week, he even caught a touchdown against the Blue Hens.
Gronowski has two powerful running backs in Isaiah Davis and Pierre Strong at his disposal. Davis comes into this week with 641 rushing yards and seven touchdowns. Strong has accumulated 670 yards on the ground and three rushing touchdowns. Both pitched in a 70+ yard effort last week against Delaware with Strong flashing his arm on the halfback pass to his quarterback for the score. Defensively, Logan Backhaus anchors a squad that has 61 tackles for a loss and 21 sacks. He's joined by safety Josh Manchigiah who leads the secondary with four interceptions this season. It's also a defense that has only allowed a field goal against them in two of their three playoff matchups.
Sam Houston
The Bearkats mounted a gritty come-from-behind victory in their playoff matchup last week against James Madison. After falling behind 24-3 in the first half, Sam Houston roared back scoring 35 second-half points including 28 points in the third quarter alone. Their quarterback Eric Schmid willed his team to a win as he's done all season. Schmid accounted for half of the four Bearkats second-half touchdowns. One exception was an 80-yard punt return by Jequez Ezzard, who also had a receiving touchdown on the day. The other was a 7-yard touchdown run by Ramon Jefferson that started the comeback. Schmid finished the regular season with 2,021 passing yards and 14 touchdowns. Along with that, he added 373 rushing yards and a team-leading five rushing touchdowns.
Schmid's rushing support comes from Jefferson, who was only two yards short of a 500-yard regular season. When it comes to throwing the ball, Ezzard has rewarded his quarterback's attention more than the rest. The veteran wideout has just north of 600 yards and six touchdowns this regular season. He had a strong effort last week with 107 receiving yards and a touchdown against the Dukes. The Bearkats defense has been outstanding all season as well. Last week they allowed more than 20 points to an opponent for the first time since week one.
The Matchup
While both of these offenses are hot, both defenses are equally as formidable. Each has only allowed more than 20 points on two occasions this season. Sam Houston has dominated opposing runners this Spring surrendering a mere 311 rushing yards in the regular season. What's more, last week's 103-yard performance by James Madison's Percy Agyei-Obese was the first time a rusher gained more than 100 yard against them in the last 19 games. Schmid and Jefferson will have to step it up if they hope to crack that line and win the FCS Championship game.
The Bearkats are riding the momentum of an emotional victory that will carry them into this week's finals. They have yet to be defeated and have been tested by the best the league has to offer. This season, they will find themselves on the right end of a championship matchup. Sam Houston has the only squad this Spring to be able to go toe to toe with the Jackrabbits and come out with a win. We are in for a hard-fought FCS Championship game on Sunday.
The Pick: Sam Houston Moneyline
---
More College Football
The Way Too Early College Football Week 6 Preview | The College Football Experience (Ep. 652)
Top 10 College Football Quarterbacks | The College Football Experience (Ep. 651)
College Football Picks