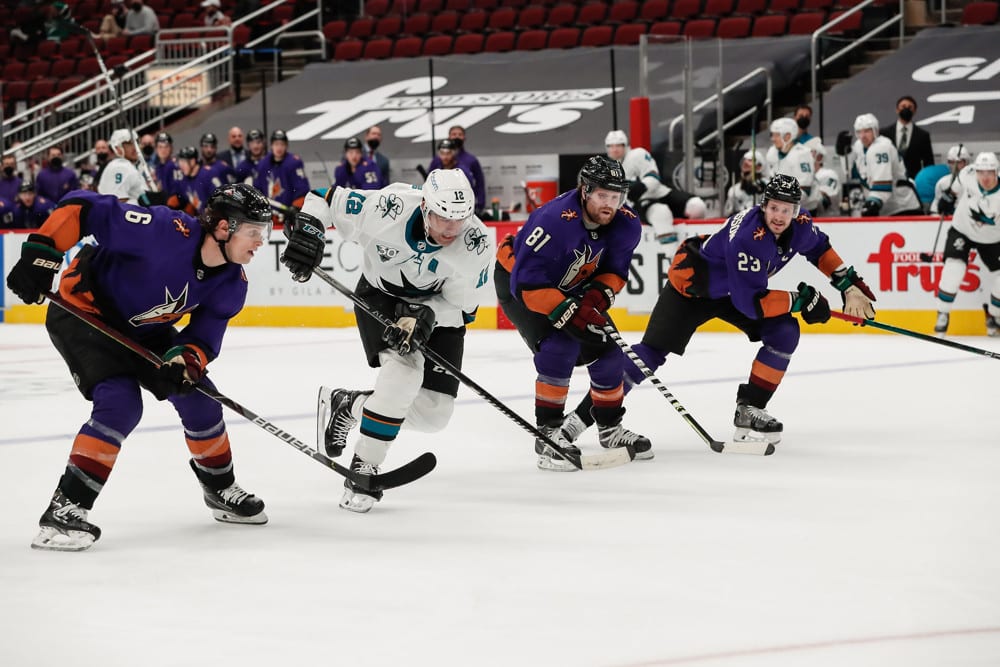 As some (hopefully most) of you know, I've been picking every NHL game every single day here at Sports Gambling Podcast. For Friday night's slate, I want to take you through my mindset for every game. It won't be as in-depth as some of the other articles; we'll just get straight to the point for the NHL picks and best bets of the evening.
Make sure to bookmark our daily NHL Picks page to get the best bets for every single game!
There are seven games tonight and we'll be running through all of them. Buckle up.
As always, odds are provided by PointsBet. If you're not signed up already with our great PointsBet promos, what are you waiting for?

Philadelphia Flyers at Washington Capitals – 7 p.m. ET
This line really confuses me. The Washington Capitals are pretty big favorites, but honestly, it should be an even longer line.
The Capitals are fighting for the top spot in the East Division while the Flyers are playing for nothing but pride, and they aren't doing that very well. On top of that, the Capitals have won all five meetings since the Flyers returned from their COVID pause. Going from most recent (Apr. 17th) to least recent (Mar. 7th), the Capitals have won 6-3, 6-1, 5-4, 5-3, and 3-1.
As someone who covers the Flyers on a daily basis, I can tell you that those games weren't even that close. The Capitals have the Flyers' number and will use them to move closer towards clinching the No. 1 seed in the East.
For big favorites, I try to sprinkle a few smaller bets on the puck line (-1.5 +120), to win in regulation (-125), or both. Given the recent scores, both of those are solid bets.
Think you know who's going to win it all? Check out the latest Stanley Cup odds.
NHL Picks – Lock: Washington Capitals -195
---
Detroit Red Wings at Columbus Blue Jackets – 7 p.m. ET
These are two teams not only at the bottom of their division but in the bottom fourth of the league as well. The Red Wings were supposed to be this bad, but the Blue Jackets have missed expectations a bit.
This game could really go either way. Both teams are just looking forward to the offseason and getting better for next year.
We're going to lean towards the home favorites here. The Blue Jackets have points in five straight games (2-0-3), including a 1-0 shootout win against Detroit. Moreover, the Blue Jackets have won both meetings in Columbus this season and the Red Wings haven't won in Columbus in the past three years.
NHL Picks – Lean: Columbus Blue Jackets -150
---
Dallas Stars at Tampa Bay Lightning – 7 p.m. ET
The Lightning host the Stars again after beating them 6-2 on Wednesday night. I had them as a lock then, and I'm locking them up again tonight.
I'll go over the stats again here, updated with Wednesday's win.
The Lightning are 6-1-0 against Dallas and have outscored the Stars 25-10 this season. Dallas has lost six straight games, including two to Tampa Bay. Meanwhile, the Lightning are 6-0-1 in their last six and 10-3-1 in their last 13.
Tampa bay is 21-6-0 at home this season. Bet on Tampa Bay.
In their seven meetings, the Lightning won by 2+ four times (including the last two games) and won in regulation five times. The puck line (-1.5 +155) and to win in regulation (+100) are solid bets here.
NHL Picks – Lock: Tampa Bay Lightning -160
---
Anaheim Ducks at Minnesota Wild – 8 p.m. ET
I've rambled a bit over the first few picks, so let's speed it up a bit here.
The Wild have won five straight games against the Ducks. They've outscored them 16-7 in that span.
Minnesota is 9-1-2 in their last 12 games while the Ducks are 3-7-0 in their last 10.
The Wild are huge favorites, but there's not much value here in the Ducks. They're 11-12-3 on the road and the Wild are 19-5-2 at home. Minnesota is running Wild heading into the playoffs.
NHL Picks – Lock: Minnesota Wild -290
---
St. Louis Blues at Vegas Golden Knights – 10 p.m. ET
The Golden Knights pretty much have the top seed in the West locked up with the Blues about to clinch the fourth seed. This is going to be a closer game than many think.
The Blues are playing good hockey recently and are on a seven-game point streak (5-0-2). They're coming off an upset loss the Ducks and should be focused as they look to lock up a playoff berth.
I usually love betting on Vegas, but we're going against them here. They're coming off an intense series against the Wild and could be due for a letdown game.
NHL Picks – Value: St. Louis Blues +145
---
Colorado Avalanche at Los Angeles Kings – 10 p.m. ET
The Avalanche are huge road favorites here against the Kings and I just don't see it. -270 is a lot of juice for a road favorite.
Colorado is 14-9-2 on the road and the Kings are 9-12-4 at home. The Kings have won one of four meetings this season and have played them especially tough at home.
The Avalanche just lost to the Sharks and continue their road trip in LA.  The Kings have won two straight and four of six. They're having fun playing spoiler and +220 is great odds for a home dog.
NHL Picks – Value: Los Angeles Kings +220
---
Arizona Coyotes at San Jose Sharks – 10:30 p.m. ET
We close out the slate with another game between two non-playoff teams. Well, the Coyotes aren't eliminated yet, but they might be after Friday night.
The Sharks just beat the Avalanche and lost in overtime. They're now 3-2-1 in their last six games and feeling good.
The Coyotes just blew a two-game home series against the Kings with a chance to have some sort of realistic hope for the playoffs. They are 3-11-1 in their last 15 games, including two losses in San Jose (6-4 and 4-2).
This game is essentially a pick'em and I just don't see it. I'm on the Sharks and might go on the Sharks big depending on how the early games pan out.
NHL Picks – Lock: San Jose Sharks -110
---
Follow me on Twitter if you have any questions, want more analysis, or just want to talk some hockey!
MLB Weekend Preview + Best Bets | MLB Gambling Podcast (Ep. 4)