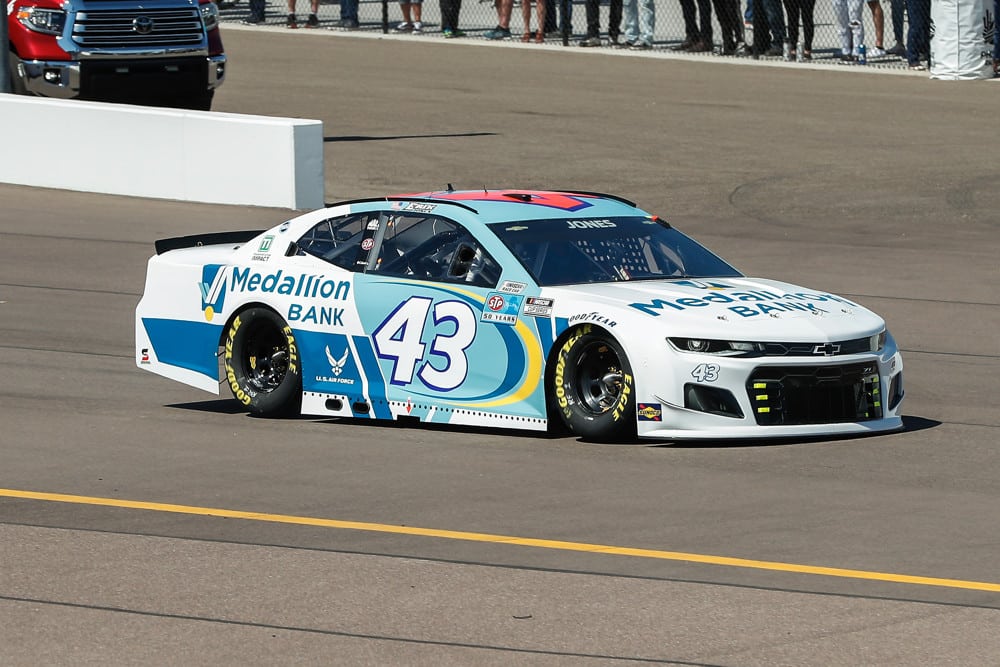 It's throwback weekend in NASCAR for the Goodyear 400 at the "Track Too Tough To Tame." Darlington, South Carolina is literally where drivers come to earn their stripe. The egg shape 1.366-mile track offers a unique and entertaining flavor to the circuit. Since 1950, the Lady in Black has played host to 119 Cup races. This week, she'll welcome some familiar paint schemes harkening back to her early days as cars will "suit up," in historic colors. While this week may have been all about the unveiling of the future of the sport, this Sunday will honor its past.

This week, NASCAR once again used its qualifying formula to set the field. The formula takes into account owner standings, finishing position in the previous race, car owner's finish in the previous race, as well as the rank of the driver's fastest lap in the previous race. Based on the number crunching, Brad Keselowski, who finished third last week in Kansas, is on the pole.
DraftKings contests for NASCAR depend on two factors; dominator points, and place differential. Drivers accumulate dominator points by leading laps as well as posting the fastest laps during the race. Place differential points come as a result of a driver finishing in front (or behind) of their starting position. To be successful, you will need to strike a balance between the two. Of course, it helps to have the winning driver. That said, sometimes in cash games, you can hang on to the money line if you have a driver with a sizable differential.
NASCAR Goodyear 400 DraftKings Picks
Dominators
#5 – Kyle Larson ($11,400); Starting Position 14th
There's just something about the quirkiness of Darlington that agrees with Kyle Larson. The worst finish in his six career cup starts here was a 14th place showing in 2017. Even dipping back to his four Xfinity series starts you'll find a large level of success. He crossed the finish line sixth twice to start his lower circuit career. He then added a seventh place and a fourth-place finish before moving up. To make this even better, he's led exactly 500 laps in his short run here. This includes a dominant performance in 2018 where he paced the field 284 of the 367 times around the track.
While his track history screams dominator, his season thus far has not backed that title. Larson has been wildly inconsistent and has yet to fully settle into his new ride. That coupled with his price could have many tournament players off of him this week. You can gain leverage here by going in light and banking on his ability to find the front of the pack at this race track.
Kyle Larson wins his fourth stage of the year as he captures the second stage at Kansas. All four have come on 1.5-mile tracks. pic.twitter.com/Xg7qNDoALa

— Bob Pockrass (@bobpockrass) May 2, 2021
Last week, he dominated a majority of the race in Kansas on his way to a 100 fantasy point day. It would have been bigger were it not for a late-race mishap that shuffled him back to a 14th place finish. This could have been the kickstart he needs to level out from the roller coaster that has been the last five weeks. No need to go too heavy on him, but some exposure could make the difference in a NASCAR Goodyear 400 DraftKings GPP takedown should he have another good day.
#11 – Denny Hamlin ($10,600); Starting Position 7th
If it feels like Denny Hamlin appears in the suggestions every week, there is plenty of reason for that. Hamlin excels on this track just like he does on almost all of them on the circuit. He has taken the green flag 17 times as a Cup driver here. He has finished tenth or better on 13 occasions in that span including three checkered flags. Over the last 11 races here, he's led 295 laps placing him fourth on the list of all-time leaders in that time. To add to that, in 2020 alone, he scored just shy of 24 points by running 54 of the fastest laps. Last season, in a revenued, rain-shortened, Toyota 500, Hamlin started 16th in an inverted qualifying format. He wound up in the first position when the race was finally called and was declared the winner.
History repeats itself? @dennyhamlin has three #NASCAR Cup wins at @TooToughToTame, and one of them came in a @SportClips paint scheme. Can he win on Sunday in this Sport Clips throwback to Slick Johnson? #SportClips pic.twitter.com/LOSGrdVnEm

— Joe Gibbs Racing (@JoeGibbsRacing) May 6, 2021
He'll begin closer to the front this week as he rolls off the grid from seventh place. So far this year, Hamlin has seen a streak of six races in a row in which he's started third or better. That streak was snapped last week. He came into Kansas on the heels of his worst finish of the season in Talladega. The disastrous 32nd place showing at 'Dega caused him to start in 20th last Sunday. He turned that into a 12 place finish in a hard-fought run at Kansas. It's been a rough couple of weeks for the FedEx Camry, especially coming off back-to-back weeks with over 130 fantasy points. Expect him to return to dominating again this week.
#4 – Kevin Harvick ($9,600); Starting Position 2nd
Much like Hamlin, you'd be hard-pressed to find a track where Kevin Harvick's name isn't listed among the best. He has not finished outside of the top-10 in nine races at Darlington dating back to the 2014 season. You'll find his name sitting atop the list of recent lap leaders at this track. He's logged 719 first-place trips around Darlington since the 2012 season. Two of his three wins here came last season as well. He took home the checkered flag in the Spring and Fall races of 2020. What's more, is he has turned 298 fast laps since his move to the Stewart Haas Racing Team in 2014.
https://twitter.com/Mobil1TheGrid/status/1389606241429868550
Harvick has had a solid start to the season despite loftier expectations as to where he'd be this far into it. In 13 races so far, he had nine top-10 finishes including two in as many weeks. Last week was his best race of the season-ending as the runner-up in Kansas. That finish earned him a front-row start this week and a chance to run up front early. While this is something he hasn't done much of this year, it just seems like things are trending in the right direction for a huge week.
Climbers
#1 – Kurt Busch ($8,800); Starting Position 17th
If you are looking for a driver that has placed in the top-10 in six out of his last races at Darlington, you have found him. Since the 2015 season, all six of Kurt Busch's top-10 finishes have been from the eighth place or better including two third-place outings. He's not the flashiest driver on this track, but he has a knack for running amongst the leaders. In 11 of his 26 career starts on this track, he's run at least 80% of his laps inside the top-15. In last season's Spring race, he turned a 22nd place start into a third-place finish.
When @RickyCraven32 beat @KurtBusch by .002 seconds at Darlington Raceway. #NASCARThrowback pic.twitter.com/YMFWyw5nj9

— FOX: NASCAR (@NASCARONFOX) May 6, 2021
Truth is, both Busch brothers deserve to be on this column. That said, the oldest holds more fantasy value given his current price and starting position. In fact, it's highly likely that these two will find themselves around each other at the finish line. Three out of the last seven races at Darlington, the two have taken the checkered in consecutive positions. He's managed to finish at least 10 places higher than his starting position three times this season. A fourth puts him back safely inside the top-10 and a base score of 47 points in your NASCAR Goodyear 400 roster.
#43 Erik Jones ($8,200); Starting Position 26th
There are names you expect to see littered inside the leaderboard at NASCAR tracks. If you were to ask fans who those are at Darlington, Erik Jones' name would likely not be heard. Incredibly though, he's finished inside the top-10 in the last six races on this track. This includes a win in 2019. What makes this even more impressive is that the last six races account for his entire Cup history here. If you add his two Xfinity starts to this total, he still hasn't the finish line of Darlington worse than 8th place.
https://twitter.com/RPMotorsports/status/1390117466119024641
Jones will have to work his way from the back of the pack this week to reach familiar territory. This is actually not out of the realm of possibility for the #20 car. Last Fall, he took his Sports Clips 2005 throwback Toyota from a 30th place start to a 4th place finish. He carries a price tag higher than his season dictates so far. Even still, should he rise to the occasion again this week, he'll pay off his NASCAR Goodyear 400 DraftKings salary. It also can't hurt that he claimed the victory in this week's virtual running of the race…
#10 – Aric Almirola ($8,000); Starting Position 27th
https://twitter.com/NASCAR/status/1381345664106307584
Climbers climb. That is why you put them in your lineups. With that in mind, by sprinkling Aric Almirola into your cash game lineups, you will get a climber with top-15 potential. In 11 career Cup starts at Darlington, he has five such finishes. Last season, he managed to produce two top-10 finishes. In 2019, he rolled off of the grid from the 30th position. He ended that day up 13 spots in 17th place. DraftKings did not make him an easy decision this week with his $8k price tag. Despite that, should he return to the front of the field again Sunday, you are looking at a sizable chunk of points for you NASCAR Goodyear 400 lineup.
MORE FANTASY CONTENT
Best Ball Mania II Draft (Ep. 1001)
Fantasy Winners and Losers From The NFL Draft | SGPN Fantasy Football Podcast (Ep. 2)
Top 50 Rookie Rankings: Fantasy Football Impact Post Draft