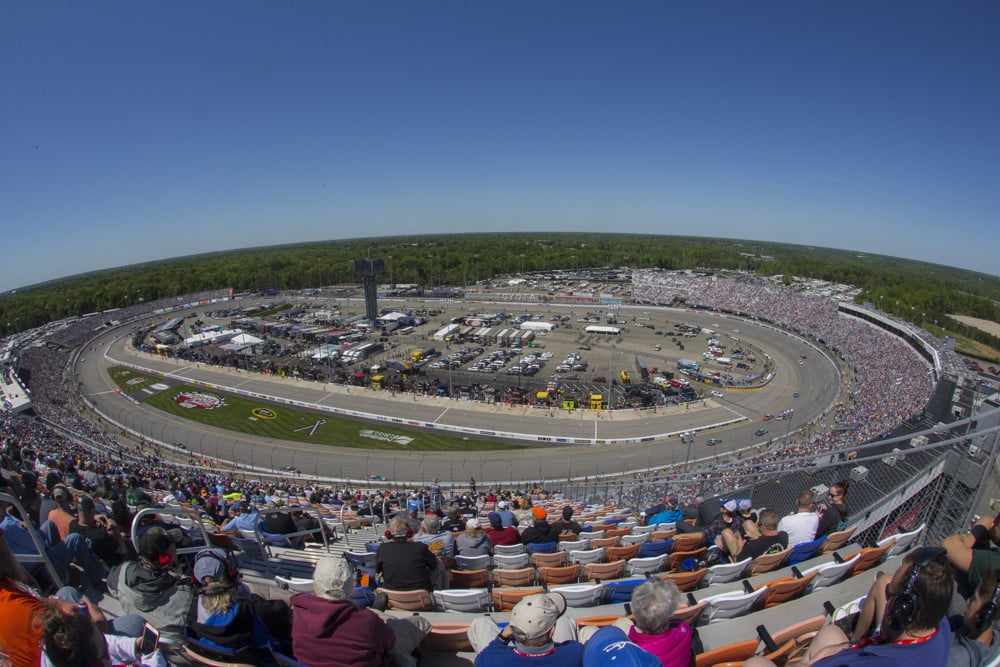 This weekend NASCAR visits it's third short track in a row for the Toyota Owners 400 from the Richmond Raceway. Drivers are no doubt hoping for a more mellow atmosphere after Martinsville. Last week, they endured an overnight weather delay, hot tempers, and fiery crashes before the checkered flag finally waved. This Sunday, drivers strap in for a 400 lap race around this three-quarter of a mile track known as "America's Premier Short Track." For 75 years, drivers have battled here. In 1953, NASCAR joined in on the fun. Hopefully the weather cooperates and Sunday rolls off without a hitch and we can enjoy another week of racing.
This week, NASCAR once again used its qualifying formula to set the field. The formula takes into account owner standings, finishing position in the previous race, car owner's finish in the previous race, as well as the rank of the driver's fastest lap in the previous race. Based on the number crunching, Joey Logano, who won last week's Bristol dirt race, is on the pole.

DraftKings contests for NASCAR depend on two factors; dominator points, and place differential. Drivers accumulate dominator points by leading laps as well as posting the fastest laps during the race. Place differential points come as a result of a driver finishing in front (or behind) of their starting position. To be successful, you will need to strike a balance between the two. Of course, it helps to have the winning driver. That said, sometimes in cash games, you can hang on to the money line if you have a driver with a sizable differential.
Here are some suggestions based on these two designations. They are meant to mix and match and do not suggest a full lineup. These are merely drivers to consider when constructing your rosters. I always suggest you do some more research of your own on top of what I offer. Let's make this a profitable season and above all, let's have some fun.
NASCAR Toyota Owners 400 DraftKings Picks
Dominators
#2 – Brad Keselowski ($12,000); Starting Position 20th
Normally, the most expensive driver on the slate is not a dominator and a climber at the same time. This is what you are getting this week with Brad Keselowski. He only has two career wins on this track. One though just happened to be the last time a race was run in Richmond. Keselowski started from the 9th position that week and led 192 laps on his way to the checkered flag. In fact, over the last four races, he has led 379 total laps and has finished inside the top-10 in all of them. This includes the Spring race of 2018. That day he rolled from the 28th slot and battled his way through the field to cross the finish line in 8th place.
"One of those compounding, frustrating short-track days."

We talk with Brad Keselowski after his long weekend ends early at Martinsville. pic.twitter.com/LNjVbFCl5f

— Jamie Little (@JamieLittleTV) April 11, 2021
A disappointing day in Martinsville is the cause of his starting position this week. Considered one of the favorites going into the race, Keselowski found himself the victim of one too many dust-ups. Starting towards the rear of the pack might add some level of difficulty for him this week. That said, as long as he can stay clean, he has a better than average chance to find his way to the front early. This gives him a shot at leading and even more, winning. Chances are he would have been priced this high despite his starting position. He has the potential to gain 19 additional points with a win. That alone makes this dominator/climber a solid cash-game play.
#19 – Martin Truex Jr. ($11,400); Starting Position 1st
Martin Truex Jr. has his name stamped on the recent history of this track much like he did at the last track he visited. In 2019, Truex took home both of the checkered flags from the Richmond Raceway. He bookended those wins with third and second-place finishes. He's proven himself as one of the better drivers on the track. Only three times in the last thirteen races has he found himself outside of the top-10 at the end of the race. Even more impressive are the 970 laps he's led on this track since the fall race of the 2016 season.
Martin Truex Jr. has won three of the last four Martinsville Cup races after formerly being 0-27 at the Paperclip. pic.twitter.com/r2MFFqwgxh

— FOX: NASCAR (@NASCARONFOX) April 12, 2021
Last weekend, Truex held on to win a wild one in Martinsville, another track he's run well. He managed to catch back up to then race leader Denny Hamlin at lap 485 to take the lead for good on lap 486. In the process, he became the first driver to win two races this season. Since Homestead, he's turned in five top-10 performances. He's only finished worse than sixth once which was his 19th place outing on the dirt at Bristol. Here, one of the most dominating drivers in this race and on this track is starting in clean air.
There is no telling how many laps he will lead after the green flag drops. Make no mistake, Truex will be heavily owned this week. You'll need to have exposure to him though. It would be hard to find your way to a decent payday in tournaments if you choose to completely fade him and he hits his ceiling.
#18 – Kyle Busch ($10,000); Starting Position 10th
Being a dominator is all about being able to score points by way of laps led and fastest laps. Over the last five Richmond races, only Truex has led the field more than Kyle Busch. In that span, he has led 431 laps. He's also registered 212 of the fastest laps of the race. That equates to just over 271 dominator points the last five times he's been in Virginia. Those points rest nicely on top of a solid finish, something Busch is no stranger to on the Richmond Raceway. In 30 career starts dating back to the Spring of 2005, he has 23 top-10 finishes. In the last ten races, he's only failed to reach the top-10 once. Also worth noting is the fact that on four occasions, Busch has led more than 200 laps.
Three in a row for Busch! @KyleBusch wins the #ToyotaOwners400 at Richmond Raceway! pic.twitter.com/lwKisb7TRx

— Toyota Racing (@ToyotaRacing) April 22, 2018
The driver of the M&M's car has had his fair share of frustrations in 2021. Despite that, he's still managed a top-10 finish in half of the races run so far this season. He displayed enormous grit last week especially, weathering storm after storm to wind up in the top-10 at Martinsville. He will factor in among the leaders again this week in the NASCAR Toyota Owners 400.
Climbers
#33 – Austin Cindric ($8,600); Starting Position 38th
It seems DraftKings is not looking to give players a free space this week. This is proven by the fact they've priced Austin Cindric in his current price range with only two Cup starts this season. While it's not without good reason, it is still frustrating. Looking back at his track history at Richmond in his Xfinity Series starts you'll find the justification. He's turned six career starts here into five top-10 finishes with four of them in the top-5. What's even more impressive, is he's managed to come out clean in all six races. Of the 1,500 total laps, he's run all of them.
Of course, this week, he's back in the big show where most of that doesn't matter. That said, rostering Cindric, even in a cash game lineup, is not a total gamble. The defending Xfinity Series Champion finished 15th at the Daytona 500, and 22nd in Atlanta. Both times he started from the rear of the field. He will once again find himself taking the green flag from the last starting position. Even if he reaches his worst finishing spot this season, it would be good enough for a 38 point base without the possibility of any fast lap points. His price may scare even the veterans off, which could make his ownership lower than expected.
#99 – Daniel Suarez ($6,600); Starting Position 27th
In his career at Richmond, Daniel Suarez has an average finish of just over 14th place. While last year's finish was nowhere near that, he did manage to find his way to that position at one point during the race. In 2019 though, he finished 9th. His best finish was a seventh place outing in 2017. Sandwiched in between those performances were a 10th place finish and two in the low teens.
"The 24 car put us in that position."@JamieLittleTV talks with Daniel Suárez after Sunday's fiery crash at Martinsville. pic.twitter.com/IcfHD4kyx3

— FOX: NASCAR (@NASCARONFOX) April 12, 2021
Suarez has been fast this season. He's been in the conversation amongst the top performers on the circuit several times. Over the start of the season, he's run 566 laps inside the top-15. He led 58 laps on the dirt at Bristol on his way to a fourth place finish, his best of the season. If he can avoid the bad luck that has plagued him most of the season, Suarez should be one of the top climbers this week in the NASCAR Toyota Owners 400.
#37 – Ryan Preece ($5,600); Starting Position 25th
Ryan Preece has only three career starts in the Cup Series at Richmond. In those starts though, he has two 20th place finishes. Granted, in two of his races he finished worse than he started. That said, should he finish 20th or better this week, he will actually gain from the point differential. At the very least, you're hoping for the free 17 points he will earn by simply maintaining his starting position.
That could be tricky given his performance as of late, but hopefully, he can return to his early season form this week. Preece started the year with two top-10 finishes at the Daytona 500 and the Road Course the following week. Last week he was caught up in the late race mess in Martinsville in a race he was running well. Before the wreck, Preece spent 165 laps among the top-15 drivers. The week before at Bristol, he spent 153 laps among them. A third short track in a row could be a good thing for him and his Maxwell House Chevy Camaro. He'll be a solid tournament addition for your NASCAR Toyota Owners 400 DraftKings lineups.
Related Content
FCS Football Week 10 Preview & Picks | The College Football Experience (Ep. 639)
UFC Vegas 24 Predictions
FCS College Football Picks Week 10 & NASCAR Toyota Owners 400 (Ep. 991)