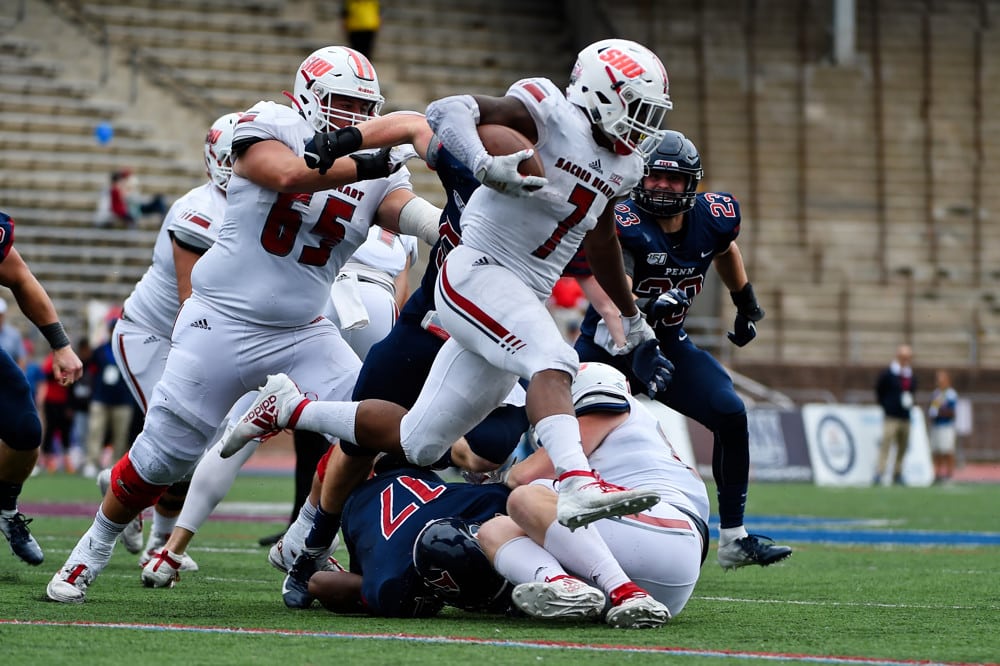 A new slate of football is in store and the Week 6 FCS Football Picks are ready for you. This week features some great matchups as 36 teams will hit their respective fields. Some will be close to winding down their Spring season, while others find themselves right in the middle. Whatever the case, there is plenty of action to get in on, and as always I'm happy to help you get started.
I'm a sucker for the little guy. The one who is given little to no chance to compete, let alone to win. It's because of this that I have scouted picks for you centered around that theme. It's usually easy to bet on the favorite. It takes skill and guts to bet on the dogs. Plus, it always feels better to win those bets in the end.
Here are some underdog picks that should have you happily cashing when the dust settles. Lines are provided thanks to our friends at PointsBet. If you want more betting action on top of these games make sure you check out PointsBet. There you can find the rest of the FCS games and much more. Plus, like we always do, we've got the hook up with a sweet deal. To find out what that is, you'll just have to click. Good luck and happy betting!

Week 6 FCS Football Best Bets: Top Underdog Picks
Who: South Dakota State Jackrabbits at Southern Illinois Salukis
When: Saturday, March 20th 10AM PDT
Overview
Both the Jackrabbits and the Salukis enter the week with similar 3-1 Spring records. Each has enjoyed solid play thus far this season. The Jackrabbits are winners of three of their last four while the Salukis have won their last three games. Both have faced and beaten Youngstown and fourth ranked Northern Iowa. Southern Illinois also owns a week two victory over top ranked North Dakota State. This game will be played on the Salukis home turf. So far in three attempts, no team has been able to win the day in Saluki Stadium. History smiles on the Jackrabbits in this contest with South Dakota State ahead 7-3 in head to head competition between the programs.
The Matchup
History aside, with the way both teams are playing this season, we should be in for a tightly contested game. On offense, the Salukis may have to navigate this game without their starting quarterback, sophomore Nic Baker. He left last week's game against Northern Iowa late in the first half with a foot injury. Baker was already filling in for senior Kare Lyles who suffered a rib injury earlier this season. The job may fall again to Stone Labanowitz. Last week, the junior third stinger led the Salukis to comeback win against the Panthers in relief of Baker.
Whoever will be taking the snaps will have to deal with a tough Jackrabbits defense that has picked off six passes in the last three games. The Salukis signal caller will have to be constantly on the lookout for linebacker Preston Tetzlaff as well as safety Joshua Manchigiah. Five different players have registered an interception this season for South Dakota State including Manchigiah who leads them all with two.
So far this year, Southern Illinois has been able to overcome their quarterback issues with the help of their running back Romeir Elliot. The sophomore has accumulated 382 yards and three touchdowns halfway through the season. Junior receiver Anante Cox has also contributed to his team's success racking up 422 yards and two touchdowns for the Salukis.
.@Romeir_Elliott breaking through. 😤

Watch on ESPN+ » https://t.co/ojEiMVcBtq pic.twitter.com/QEF86WUthI

— Saluki Football (@SIU_Football) March 13, 2021
The Jackrabbits hope to see their quarterback Mark Gronkowski (no relation) continue to captain their offense to another win. He has not only passed for seven touchdowns this season, but he leads the team with four scores on the ground as well. Gronkowski (no relation) may need those legs as he will be marching right into the teeth of a Southern Illinois defense that is allowing only 135.6 passing yard per game. In the end, the home field advantage will be the deciding factor in this game and the Salukis will hold court for the win. It will make for a great start for your Week 6 FCS Football Picks.
The Pick: Southern Illinois +3
---
Who: Lafayette Leopards at Bucknell Bison
When: Saturday, March 20th 1PM PDT ESPN+
Overview
Bucknell was set to begin it's Spring season last week only to have their opener against Fordham postponed. This week, they will finally play the first of their four game schedule against a Lafayette team fresh off their week one win against Colgate. Over the last six years in the history of this matchup, the Bison have either won outright or covered this spread in all but one of them. Bucknell will play host to the Leopards this year where they are 3-1 against the +7.5 point spread set for this week. The Bison also love home cooking as they are 98-35-1 overall home openers.
🤘🤘🤘 @Stillly8 AGAIN‼️‼️‼️‼️

Back up 1⃣1⃣ 👊👊👊

📺: https://t.co/UPNJixPCa9#RollPards | #BreakOut2021 | #OhMy pic.twitter.com/P0Lbbt7TRL

— Lafayette Football 🏈 (@LafColFootball) March 13, 2021
The Matchup
Lafayette's offense will be led once again by senior quarterback Cole Northrup. He only needed to complete nine passes in his win against Colgate last week. The Leopards will also lean on sophomore running back Jaden Sutton who rushed for 96 yards and a touchdown against the Raiders. They will all be facing a Bucknell defense returning eight seniors for the 2021 season.
The Bisons will start Logan Bitikofer their senior quarterback for their first game of the season. Bitikofer started in eight of Bucknell's games in 2019 throwing for 1,686 yards and 10 touchdowns. Their running game will be led by junior running back Jared Cooper who comes into the week with 902 career rushing yards and three touchdowns. Cooper will face a stout rushing defense that only allowed 76 total yards on the ground last week. Bitikofer on the other hand, will have a more favorable matchup against a defense that surrendered 237 passing yards to Colgate. Bucknell may not win this one outright, but they should keep it close enough to cover for your Week 6 FCS Football Picks.
The Pick: Bucknell +7.5
---
Who: Sam Houston State Bearkats at Lamar Cardinals
When: Saturday, March 20th 4PM PDT
The Overview
Sam Houston State is heading into Beaumont riding the high of a 71-17 undressing of seventh ranked Nicholls State last week. It was their second win of the season having beaten Southeastern Louisiana 43-38 the week before. Lamar will host the Bearkats a week after collecting their first win of the season against McNeese State. Sam Houston has lost the last two meetings between these two teams including a 20-17 triple overtime loss last season.
The Matchup
Junior quarterback Jalen Dummet will lead the Cardinals offense. He has yet to eclipse 120 passing yards in a game, but he has three touchdown passes in his last two games. Look for sophomore running backs Chaz Ward and Marcellus Johnson to share carries as well. Defensively, Lamar will lean on senior defensive back Andre Mulinax to try and slow down the Bearkats offense.
Sam Houston is led by the versatile redshirt junior quarterback Eric Schmid. So far this season, he's thrown for 794 yards and eight touchdowns. He's also rushed for another 92 yards. Most of those yards came from his 89 yard ground performance against Southeastern Louisiana. The Bearkats defensive line will look to continue their dominance as a squad that already has seven sacks on the year. Junior Jahari Kay leads the unit with 3.5 sacks.
Eric Schmid to Ife Adeyi a 44 yard gain that puts the Bearkats in the red zone#EatEmUpKats

📊 https://t.co/NDncK01D7C
📺 ESPN + pic.twitter.com/2LAubsXpil

— Sam Houston Football (@BearkatsFB) March 13, 2021
It will be tough for Sam Houston to replicate their last output. There is more likelihood that Lamar will be able to at least cover this spread than not. Given their recent successes in the past as well as their ability to keep games close these last two weeks, the Cardinals plus the points is the right bet. That said though, this will probably be your biggest Week 6 FCS Football Picks sweat of the weekend.
The Pick: Lamar +28.5
---
Who: Merrimack College Warriors at Sacred Heart Pioneers
When: Sunday, March 21st 10AM PDT
The Overview
Merrimack travels to Fairfield, Connecticut to take on the 1-1 Pioneers in their second to last game of the season. Last week, the Warriors suffered a 14-7 home loss to Bryant. Sacred Heart handed Long Island University their first loss of the short season in a 35-7 contest at home. These two teams are meeting for the first time since 1997 and the third time overall. The series is split 1-1 in their two previous meetings.
The Matchup
The Warriors were able to strangle the Bryant passing offense last week holding their quarterback to a meger 28 passing yards and no touchdowns. Their rushing defense on the other hand, allowed 205 yards with 141 of them going to single back. This week, they will have their hands full trying to stop Sacred Heart running back Julius Chestnut. The junior has amassed 371 over two games. Merrimack's offense wasn't much better though as they only totaled 178 of total offense in that game.
🤯🤯🤯🤯

Tip drill in the end zone & Norcia comes up with it!!! The extra point is good & we've tied the game, 7-7!

How about THAT for our first TD of the season#MackTough // #NECFB pic.twitter.com/n2JLbsWV9J

— Merrimack Football (@Merrimack_FB) March 14, 2021
Despite the lopsided win over Long Island last week, the Pioneers beat only two teams last season by more than this week's spread. Conversely, the Warriors only lost twice last season by more than 18 points. Both were on the road. This is another instance where the road dog will probably not win, but Merrimack will find a way to keep it within the allotted point margin. It will help make you Week 6 FCS Football Picks Sunday a pleasurable one.
The Pick: Merrimack +18.5
---
Week 6 FCS Football Picks Related Posts