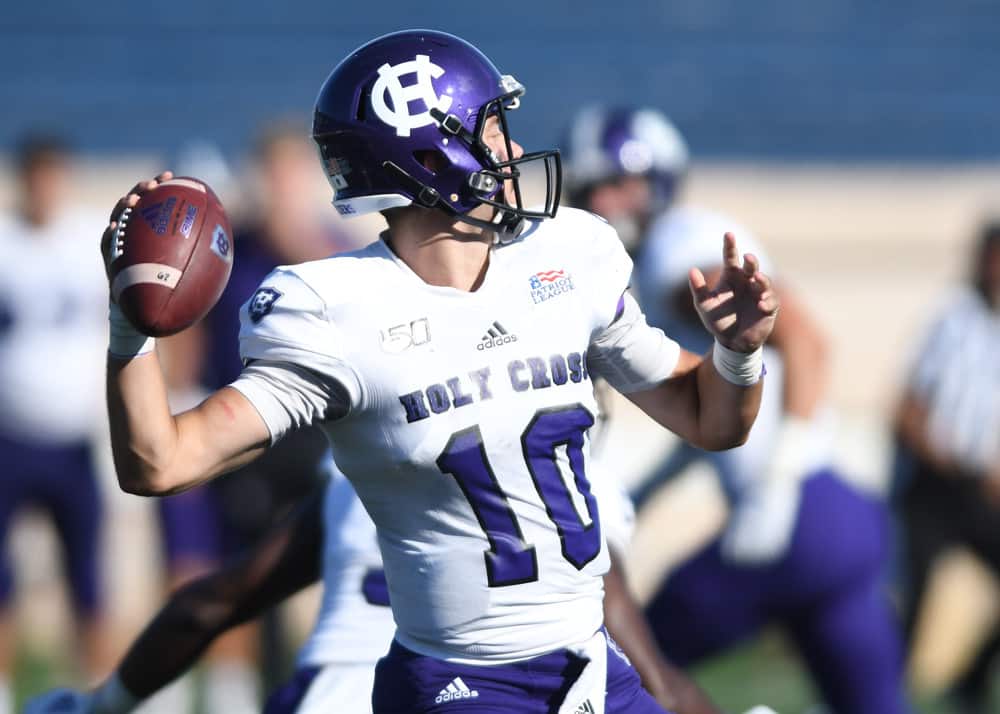 Welcome back to another packed weekend and my Week 5 FCS Football Picks. By the time Sunday's action concludes, 38 games will have been played over two days. Basketball may think they own March Madness, but that pace of play is enough to make a person's head spin. One way to take the intimidation out of it all is to take a deeper dive into a couple of the fun, lesser covered matchups on this slate.
Here are two underdog picks that should have you happily cashing when the dust settles. Lines are provided thanks to our friends at PointsBet. If you want more betting action on top of these games make sure you check out PointsBet. There you can find the rest of the FCS games and much more. Plus, like we always do, we've got the hook up with a sweet deal. To find out what that is, you'll just have to click. Good luck and happy betting!

Week 5 FCS Football Picks: Top Underdog Bets
Who: Holy Cross Crusaders at Lehigh Mountain Hawks
When: Saturday, March 13th 9AM PST ESPN+
Overview
As deep into the season as we are, there are still teams making their season debuts. This is a matchup of two such teams. The Crusaders and Mountain Hawks will renew their 17 year rivalry this Saturday in Bethlehem, Pennsylvania. Lehigh has a slight edge historically over Holy Cross with 11 overall wins in the series. This includes a 5-4 record when defending Goodman Stadium. Holy Cross has walked away victorious in the last two meetings with a 56-0 thumping in 2018 to their credit.
At first glance, the home underdog pick seems unlikely to hit. Look closer though, and you'll notice that this spread makes this pick enticing. At home last season, the Mountain Hawks never lost a game by more than seven points. The Crusaders factor into this equation beating Lehigh 24-17 in 2019. In fact, of their seven losses last season, only three of them fell outside this margin.
The Matchup
Holy Cross will have a harder time beating Lehigh this season as they will be without running back Domenic Cozier. In his last two encounters with the Mountain Hawks, he accounted for 405 of the Crusaders' 928 total offensive yards. Cozier graduating leaves the rushing game in the hands of Junior back Peter Oliver. Last season Oliver tallied 396 rushing yards. It will also put pressure on returning quarterback Connor Degenhardt to carry his team to a win against Lehigh. That could be harder than it sounds considering he only managed to pass for 122 yards in his only outing against the Mountain Hawks.
March = Game Month!

Kicking off our season preview series with a look at the QBs.https://t.co/BYlu4JCpMV#GoLehigh | #beGREAT pic.twitter.com/b3ewI1qNY1

— Lehigh Football (@LehighFootball) March 1, 2021
It won't be easy for Lehigh either. They lost their starting quarterback and running back as well as their leading tackler from their last game against Holy Cross. They will field an untested signal caller in Addison Shoup. The senior accounted for only 239 passing yards last season. He'll face an uphill battle as he faces two returning defenders from last season's Holy Cross squad. One is defensive back Terrell Prince led the team with eight tackles in that game. The other, defensive lineman Dan Kuznetsov, registered two sacks against the Mountain Hawks. Regardless, Lehigh will hang on to cover this spread with a decent chance for the outright win. This Week 5 FCS Football Picks choice will be fun to watch.
The Pick: Lehigh +7.5
---
Who: Davidson Wildcats at Stetson Hatters
When: Saturday, March 13th, 10AM PST
Overview
These two teams first met on a miserable rain drenched Floridian November day in 1912. That game saw the Hatters starting quarterback ejected from the game after throwing a retaliatory punch after getting kicked in the head. Later, Louis "Red" Snedigar broke loose for a 70-yard touchdown helping Stetson secure a 21-6 win over Davidson. In more recent history, since the Wildcats reemergence to the football scene in 2013, Davidson has won only two of their seven meetings. One of them was last season when Stetson was handed a 42-14 home loss. At the time, it snapped a three game winning Hatters winning streak against the Wildcats.
Both teams finished above the .500 mark last season. Stetson enjoyed a 5-2 home record in 2019, while Davidson boasted a 4-1 record away from their friendly confines of North Carolina. In three of the Hatters' home games, they scored more than 50 points. Conversely, the Wildcats scored at least 40 points in every one of their road wins.
The Matchup
Davison will bring back Tyler Phelps, their starting quarterback from the 2019 season. They'll also be anchored on defense by three juniors in linebacker Jalen Jefferson, defensive end Chibuike Odo, and safety Cade Vela. All three were part of a unit that ended the season ranked fourth in total defense in the FCS in the 2019 season. In their only game this season, the Wildcats lost 26-23 on the road at Elon. Davidson jumped out to an early lead only to watch the Phoenix chip away at it in the second half. The team will also hope to see Phelps turn in an improved performance form the 14-20/156 showing from that game.
𝘼𝙣𝙤𝙩𝙝𝙚𝙧 𝙤𝙣𝙚! Phelps finds Waddell all by himself to push our lead out to eight at the break! #CatsAreWild pic.twitter.com/TVnfKUMjLy

— Davidson Football (@DavidsonFB) February 20, 2021
The Hatters are lucky to get back sophomore running back Jalen Leary to their Spring roster. As a freshman, Leary ran for over 1,000-yards and seven touchdowns on the season. He was kept in check in his only matchup with the Wildcats, but overall enjoyed his first collegiate season. Someone who will not be returning is Gaven DeFilippo, their sixth year senior quarterback from last season. Instead, they will likely hand the ball off to redshirt junior Alex Piccirilli. In a fortune turn, it was Piccirilli who threw the only passing touchdown for Stetson in these teams last matchup. Look for the Hatters to come out swinging to start their season against a familiar foe. They will return to their winning ways against the Wildcats or least cover the spread should they fail making them a perfect Week 5 FCS Football Picks selection.
The Pick: Stetson +9.5
---
FCS Related Posts
College Basketball & FCS Football Weekend Recap | The College Experience (Ep. 578)
College Football Picks