Hello everybody! The NBA All-Star Game is almost upon us! As most seasoned bettors know, there's a ton of money to be made this weekend. I'm here to guide you through some of the best bets and player props available. Whether you're betting the total, the spread or anything else, best of luck to everyone!
NBA All-Star Game Info
Time: 8 PM ET/5 PM PT
Location: State Farm Arena, Atlanta, GA
TV: TNT
Spread: Team LeBron -4
MoneyLine: Team LeBron (-175)/Team Durant (+140)
Total: 310.5
Odds Courtesy Of PointsBet *Promo Code SGP*
NBA All-Star Game Best Bets And Player Props
The Spread
Team LeBron comes into this year's All-Star Game laying four points. Both teams are definitely stacked, but I feel like LeBron put together the better draft. His team features more straight up shooters in my opinion, and that's hard to ignore in a game like this.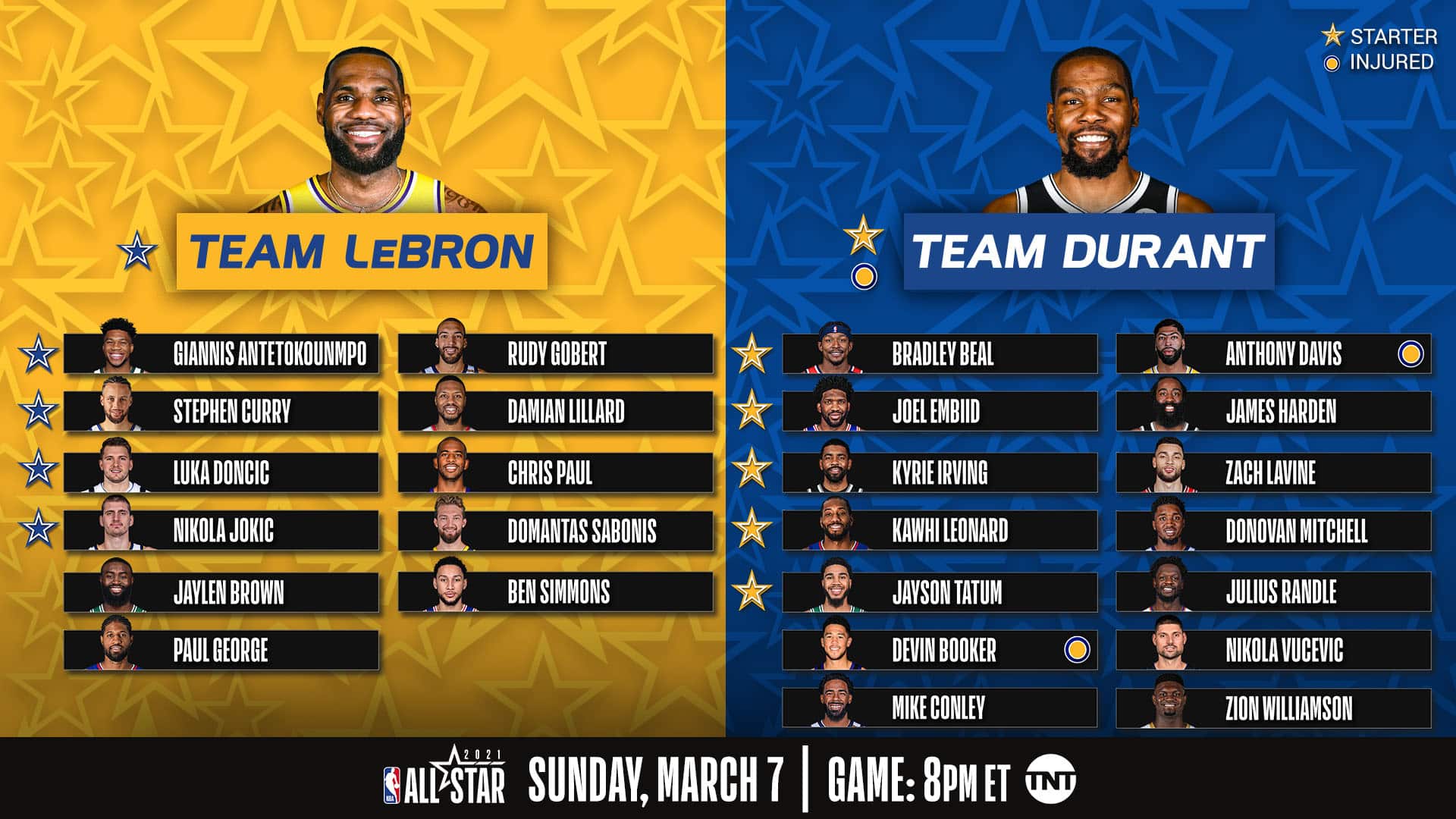 Graphic courtesy of @NBA on Twitter
Team LeBron has a solid seven or eight players who could easily drop 30 on any given night. Although Team Durant has a ton of good defensive players, they also have a lot of players who are inconsistent offensively. I believe Team LeBron has the shooting advantage though, so I'm on them to win the game and cover this spread.
Pick: Team LeBron -4
The Total
This one is basically a no-brainer. Since 2014, six of the last seven All-Star Games have topped this total. Furthermore, only in two of those six were they even somewhat of a sweat. This year's All-Star Game has arguably more offensive weapons than any other recent year.
LeBron and Durant have been known to get into shooting matches in the past, and this could happen here as well. Although there's a clear advantage offensively between these teams in my eyes, I believe there's enough firepower on Team Durant to help us top this unusually high total.
Think you know who is going to take home NBA MVP? Check out the latest NBA MVP odds.
Pick: Over 310.5
All-Star Game Player Props
Joel Embiid Under 22.5 Points
This is one prop bet that sticks out to me. Joel Embiid is a player who uses his aggressiveness and tenacity to his advantage to score points. However, this is the All-Star Game. Threes are going to be flying at a very rapid rate. This means that, sorry, but the big men get left out of the scoring rampage.
Bradley Beal Over 15.5 Points
Let's face the facts. Bradley Beal is an absolute walking bucket. He averages 21.6 points per game throughout his career and he's having a hell of a year, averaging  32.9 points per game at the break. I feel like he'll be chunking threes all game, and I'll take a 37.7% career shooter from deep to top this total.
LeBron James Over 22.5 Points
Don't overthink this one. This is Father Time's 17th All-Star Game. He averages 24.1 points per game throughout his All-Star Games through different formats. He's won the ASG MVP three times before, and the way the NBA works he'll probably win it again this year. Trust and believe that LeBron will score plenty of points.
Stephen Curry Over 17.5 Points
As I've mentioned, the All-Star Game is always full of threes. If you weren't aware, Stephen Curry has shot an outstanding 43.3% from three during his career. This season's been no different so far either as he's currently shooting 41.1% from three. This is one that I love because I expect Steph to be dialing it up from deep all game.
Luka Doncic Over 14.5 Points
You may have noticed a trend here in overs. This year will be Luka's second All-Star Game, and I expect him to be better than he was last year offensively in this game. There's so much talent to go around, and we all know Luka will be having fun. Maybe he can get some shots to fall as well and help us have fun cashing this over too.
Listen Also: NBA All-Star Odds, Props & Picks | NBA Gambling Podcast (Ep. 136)