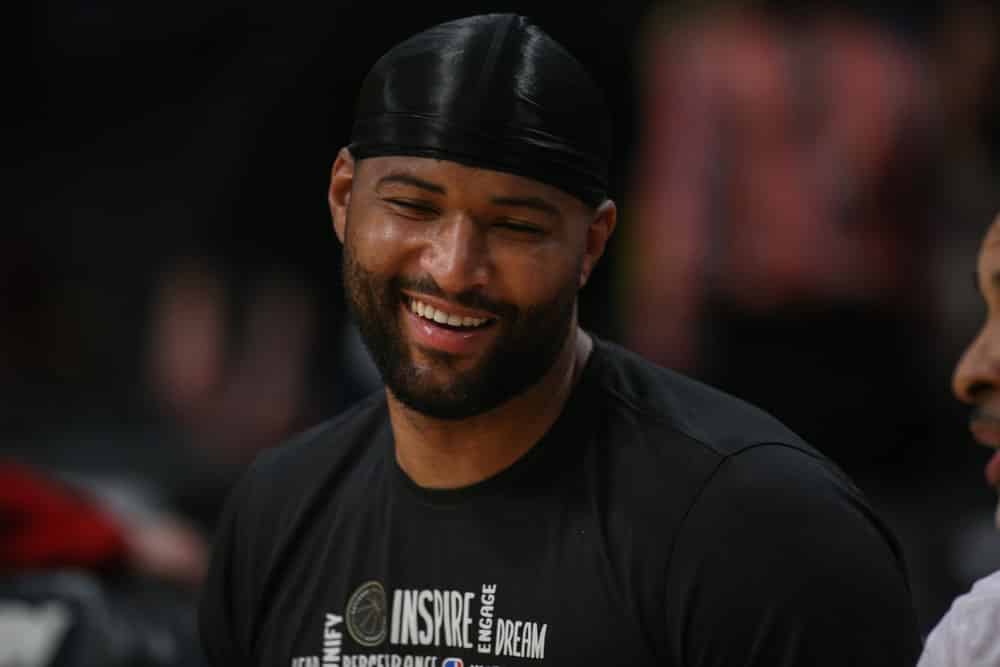 Happy Saturday my friends! There's a beautiful nine game slate Saturday night, and I'm licking my chops. These are my favorite types of slates because there are plenty of options. Filling out a lineup for these big slates can be difficult. However, I'm going to share with you my NBA DFS lineup for the classic slate, and I like what I see from this one!
NBA DFS Picks Saturday 2/5
PG – Rajon Rondo ($4,100) – ATL
Let's kick things off with a great value play. There's a chance Trae Young misses a second straight game, and that leaves Rajon Rondo in the starting role. He picked up the start last game, albeit with a less-than-stellar outing. However, he still added 19.5 fantasy points in a game where he shot 0-7 from the floor.
I would definitely keep an eye on the injury report because Rondo's value will plummet if Young is available. If this is the case, there will be room to pivot from a few expensive players later in the lineup. However, we will stick with the veteran point guard Rondo for the time being. If he starts, then he will hold a great value for a cheap price.
SG – Dwayne Bacon ($4,100) – ORL
For the shooting guard position, we will look at another cheap source of points. Dwayne Bacon has been establishing himself as a trusty member of Orlando's bench. He's only averaging 9.6 PPG in 23.3 minutes per game, but things are looking up.
Bacon has topped the 20 fantasy points mark in five straight games and six of his last seven. Despite the limited playing time, he's still finding plenty of shooting opportunities with at least 10 shot attempts in four of his last five. I expect Bacon to be one of the higher owned cheap players, but I love what we're getting for the price here.
SF – Dorian Finney-Smith ($4,100) – DAL
We find yet another cheap source of points in Dorian Finney-Smith at the small forward position. Any time I get a chance to play a starting player for this low of a price, I'm all over it. He's only averaging 19.2 FPPG, but there's some upside here I believe.
I wouldn't have super high expectations from Finney-Smith. He's only topped the 20 fantasy points mark once in his last six games. However, he does average 29 minutes per game on the court. There's always a chance he replicates his 39 fantasy points effort from January 7th again.
PF – Tobias Harris ($7,600) – PHI
Now we're starting to spend some of that money we've stashed up. You can't find a much more consistent NBA DFS player to roster than Tobias Harris. He averages 36.8 FPPG so far this season, and he's notched at least 31.25 fantasy points in nine of his last ten games.
Harris's 76ers are set to take on the Nets, and Brooklyn is content with letting opponents score. Ben Simmons is probable to return to the lineup on Saturday. This will help take some of the scoring pressure off Harris. Expect his Harris's ownership as well as output to be high Saturday night.
C – DeMarcus Cousins ($6,300) – HOU
Boogie is set to take back the starting center role for Houston with Christian Wood out. This means he is a must-play for the time Wood is out. His 24.5 FPPG average isn't spectacular for the price, but this number is highly misleading to those that aren't paying attention.
Boogie's playing time increases from around 18 minutes to 30+ with Wood out of the lineup. He started three games a few weeks ago, and he was outstanding. During that stretch, he averaged 17.3 points, 14.3 rebounds and 4.7 assists per game. Expect DeMarcus Cousins to be the play of the day at the center position.
G – Kyrie Irving ($9,400) – BKN
The Brooklyn Nets are scoring points at a ridiculous rate, and Kyrie Irving is still heading the attack. He's averaging an outstanding 47.1 FPPG so far this season, and he tops the 50 fantasy points mark on the regular. He's pricy, but it will be worth it.
If there were any doubts that Irving would continue to be a great NBA DFS option after the addition of Harden, then those doubts are gone. He's still clicking on all cylinders and he's fresh off a season high 39 points. Irving is playing like he has a point to prove and I want him on any lineup that I can have him on.
F – Kyle Anderson ($5,500) – MEM
Although Kyle Anderson has struggled offensively the past two games, I'm not scared away. He's averaging 29 FPPG and his ability to provide in categories other than scoring gives him high value. Fresh off one of the worst shooting nights in his career, I expect a bounce-back.
His Grizzlies take on New Orleans, who isn't a very good defensive team. This feels like a great spot for Anderson to get back to his usual production. If he's able to give us 25 fantasy points, then I'm satisfied. I don't expect Kyle to be highly owned, and he could be a sneaky source of points for his $5,500 price tag.
UTIL – Nikola Vucevic ($8,900) – ORL
We're going to wrap up this lineup with a pretty consistent source of points in Nikola Vucevic. He's almost guaranteed to flirt with the 50 fantasy points mark, and this is evident by his 47.7 FPPG average. Vucevic put up 77.75 fantasy points last game and a repeat effort would be amazing.
Orlando is set to do battle with the Bulls on Saturday. This isn't the best matchup for Orlando. However, I don't expect this to hurt Vucevic's output. He's now put up a double-double in three straight games, and I believe he will have his way against Chicago. He's a little pricy, but I expect Vucevic to be worth paying for.
Will's NBA DFS Lineup February 5th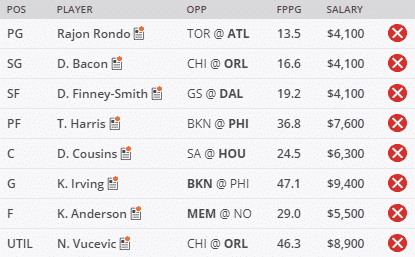 Make sure to subscribe to NBA Gambling Podcast on Apple and Spotify. Ryan and Zach continue picking every NBA game against-the-spread and posting right here: sg.pn/nbapicks