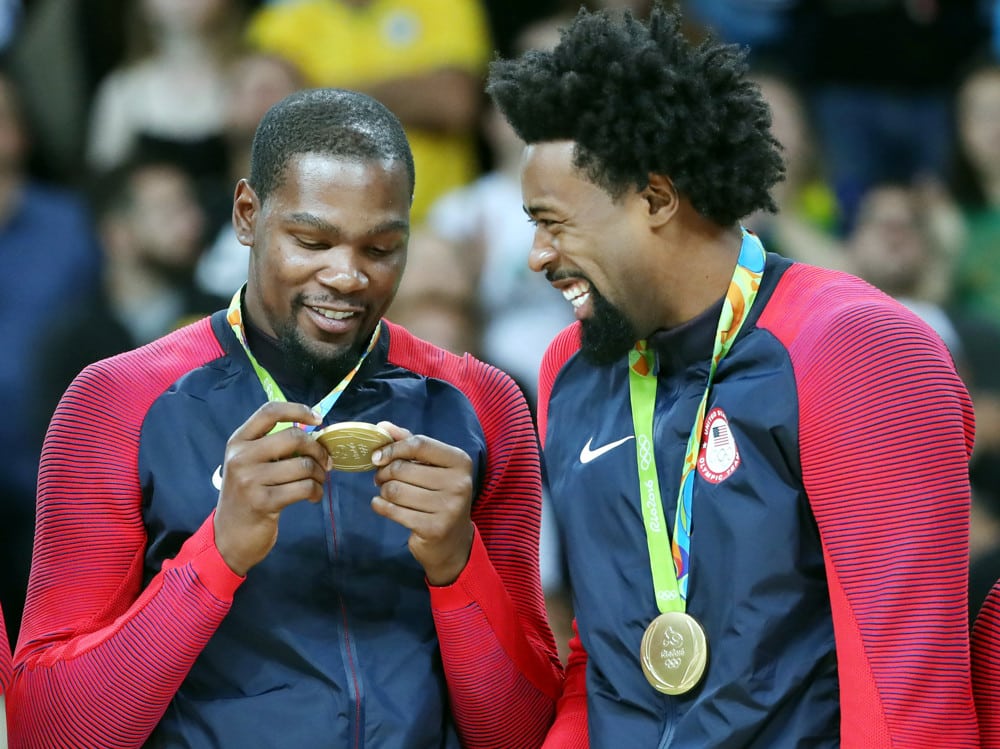 The goal of a basketball team is simple. Try to score more points than the other team. While that is an extremely obvious statement, some NBA teams are still unable to produce offensively. Whether it involves a bad roster or a bad coach, not all NBA teams can score on a regular basis. With that being said, there are several rosters that are capable of scoring at least 115 points per game. However, offensive success does not always equate to team success. In 2021, it appears that the Brooklyn Nets are challenging that notion.
The Brooklyn Nets have never shied away from making splashes via trades. Whether it was the blockbuster deal for Deron Williams back in 2011 or the acquisitions of Kevin Garnett and Paul Pierce in 2013, the Nets have always been willing to take risks in order to obtain star players. However, the biggest move in franchise history might be the acquisition of star forward Kevin Durant in 2019. Throughout his career, Durant has been one of the most unstoppable offensive players ever. With his length and elite shooting ability, his career-average of 27.1 points per game is not too surprising.
While trading for Kevin Durant might have been the biggest move in franchise history, the Nets actually made a huge free agent signing roughly a year prior as they were able to entice point guard Kyrie Irving by giving him a four-year deal worth $141 million. Similarly to Durant, Irving is one of the best offensive players at his respective position as he is averaging 22.6 points per game over his career.
While the duo of Durant and Irving should be enough for a given team to compete for a title, Brooklyn decided to take it one step further. After rumors circulated for several weeks, the Nets finally pulled the trigger and traded for shooting guard James Harden. Harden is one of the best isolation scorers in NBA history, which explains how he was able to lead the league in scoring for each of the last three seasons. Throughout his career, Harden is averaging 25.2 points per game.
Now that the Nets have three of the best scorers ever on the same roster, they are one of the frontrunners to win the NBA title. The only concern was with chemistry since sharing the basketball was expected to be quite difficult.
Luckily for Brooklyn, everything has been going even better offensively than what was imaginable. Since Harden joined the roster, the Nets are scoring 122.6 points per 100 possessions which would shatter the all-time NBA record by 6.7 points per 100 possession. The combination of sheer talent and versatility has been too much for opposing teams to cope with and the chemistry that these three superstars have with each other already is quite frightening.
However, the Nets have only won six of their first nine games with the newly-formed three-headed monster, as they have been surprisingly vulnerable up to this point. While the offense is clearly not the problem, it is time to finally discuss the glaring flaw with this team.
As I previously mentioned, the Brooklyn Nets are on pace to have the best offense in NBA history with these three superstars. However, the Nets are also on pace to make history in a negative way. Since the Harden trade, the Nets are allowing 119.9 points per 100 possessions, which is the worst in NBA history.
With this amazing offense and awful defense, Brooklyn Nets bettors have been cleaning up when it comes to betting game totals. For reference, 15 of Brooklyn's last 16 games have gone over the posted total. However, the betting markets have struggled adjusting since no one knows how high these totals should be.
During Brooklyn's three-game road trip, the Nets played against the Hawks, the Thunder and the Wizards. The lowest total over those three games was 238, which is already extremely high. However, the problem is that each of those games went over the posted total by at least 22 points, earning Brooklyn Nets over bettors even more coin.
The betting markets tried to adjust by setting the total of Sunday's game at 244 points. However, that adjustment failed as both teams combined to score 295 points. Moving forward, it is safe to assume that every game will feature a total within the 240s.
This dream scenario will end at some point one of two ways. Either the Nets will start to make serious improvements defensively or the betting markets will set the totals too high. As a result, Brooklyn Nets over bettors should take advantage of this gift while they still can.
Make sure to listen to: