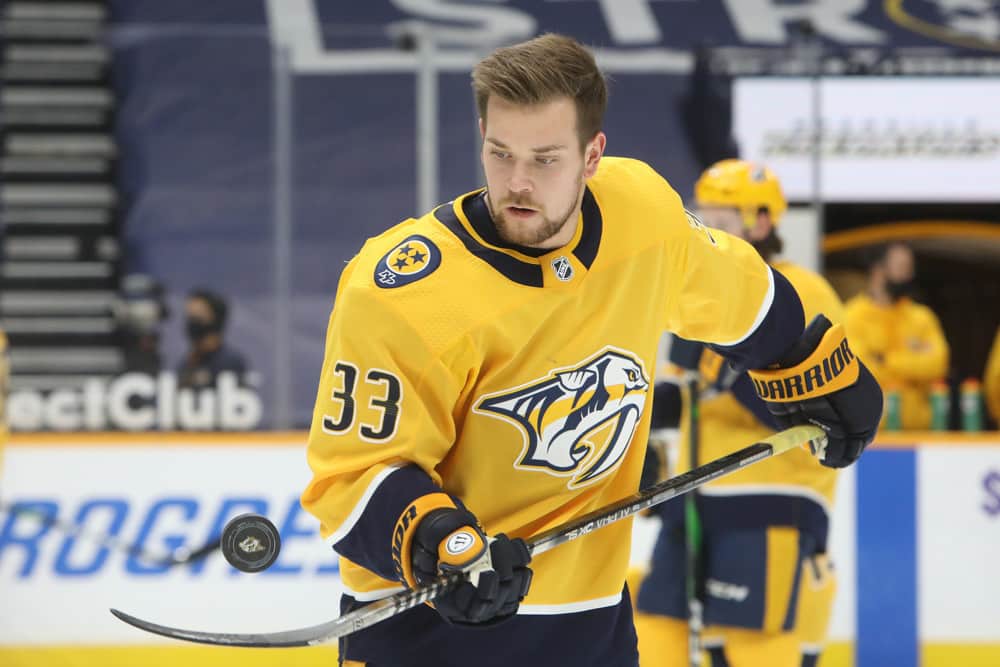 Wednesday Night Hockey is here yet again. However, after back-to-back weeks with five-game slates, the NHL only has two games scheduled for Wednesday night. For those first two weeks of the season, I gave you a pick, total, and player prop for each game. This week, I'm switching it up and going the Daily Fantasy route. With such a small slate, I've decided to focus on the Showdown for each game.
The Showdown mode on DraftKings can be hit or miss. Drafting a captain worth 1.5 times their salary (and giving 1.5 times their points) puts extra importance on them, with five flex spots to fill out your lineup. NHL Showdowns are very fickle. Usually, it will be a big-name player as the optimal captain, but every so often someone can steal the spotlight.
Let's take a look at several players (in order of salary) I like for each DraftKings NHL Showdown tonight. I'm going to be trying to find some value in the pricing, so I won't be including the big names (Patrick Kane, etc.) unless I think they are slam-dunk picks.
Chicago Blackhawks at Nashville Predators
Viktor Arvidsson ($8,600; $12,900 CPT)
Viktor Arvidsson is one of my favorite players in this matchup and I may end up captaining him in my single-entry lineup.
Arvidsson is averaging 13.8 fantasy points per game this season, the second-most among skaters on the slate. Despite this, Arvidsson is the fourth-highest priced skater here. Don't worry, we'll get to the top FPPG skater later.
This is a solid 13.8 FPPG as well. Arvidsson's low on the season so far is 6 points (four shots on goal), while picking up 12.9 or more points in four of six games this season. He had five shots on goal and three blocked shots to hit both bonuses for 17.4 points on Tuesday night.
Arvidsson gives you a floor around 8-10 points and a ceiling in the 20s. He's a great value pick in this game.
Connor Murphy ($7,800; 11,700 CPT)
Connor Murphy has been a stud over the past five games. He's only averaging 11.5 FPPG, but that's being weighed down by the 2.6 and 0 points in his first two games. He put up at least 10 points in his last five games, averaging 15.62 points in that span.
Murphy can give you fantasy points via actual points (five in seven games), shots on goal (13, including one five-shot game), and blocks (14, including two three block bonuses). He's an all-around guy that is a safe play at $7,800. I would be less likely to captain him, however, due to a lower ceiling.
Mikael Granlund ($5,600; $8,400 CPT)
I told you we would get to the top FPPG skater later, and now is that time. Though he may have an asterisk due to only playing in three games, Mikael Granlund has averaged 14.6 FPPG.
Granlund has three points (two goals) and 10 shots on goal in three games. He also has three blocks for good measure. He started out with just 8.6 points on Friday, moved up to 11.3 on Sunday, and more than doubled that to 24 on Tuesday night with a goal, assist, and five shots on goal.
I don't expect Granlund to keep up his trend and double again, or even reach 20 again necessarily, but he is playing on Nashville's second line and power-play unit. He'll have his chances and should reach double digits.
---
If you build your team around these three with Arvidsson at captain, you'll have $23,700 to work with for three players to fill out your lineup.
To fill out my lineup with this build I selected Patrick Kane ($11,000), Filip Forsberg ($8,800), and Philipp Kurashev ($3,800). Kane is a stud and should be in most lineups even with a goose egg last night. I was torn between Roman Josi ($9,200) and Forsberg, but chose Forsberg to have the extra $400 to select Kurashev. Kurashev played nearly 15 minutes on Chicago's second line last night, but had nothing to show for it. He has two goals in six games on the year.
There are several other combinations worth trying, including Granlund at captain and Andrew Shaw or Mattias Janmark to pair with Kane. You could also go for someone like Nick Cousins ($2,000) on the third line and second power-play unit to free up salary. Nevertheless, these three guys above should give you a solid core to build around.
---
Ottawa Senators at Vancouver Canucks
This game has a different type of "value" to it. While Chicago-Nashville had a few mid-to-high tier guys to build around, Ottawa-Vancouver has top tier and bottom tier value. Well, top tier can't be value, but the value toward the bottom of the salary range open things up.
Because of that, let's start with the two cheap options I recommend for some salary relief.
Colin White ($2,400)
Colin White has only played in two games this season due to being a healthy scratch, but he'll center the Senators' second line on Wednesday night. The $2,400 second-line center will also be on Ottawa's second power-play unit.
I'm not saying that White is going to light the world on fire – he had 7.8 points in one game and 0 in the other. However, he's being put in a position where he'll have chances for plenty of ice time with chances to shoot and score, and that's more than enough for $2,400.
Jordie Benn ($3,400)
At the opposite end of the spectrum, we have Jordie Benn. While White hasn't done much, Benn has, albeit in limited time.
Benn has also played just two games this season, but his absence was due to COVID-19, not a coach's decision. Since being back, Benn has an assist, three shots on goal, and six blocked shots in two games. Three blocks came in each game, earning him the block bonus.
Benn will be lucky if he scores, but playing with Quinn Hughes opens up the chance for a cheap assist here or there. He'll also block shots for you – he had three or more blocks in 10 of 44 games last year – to raise his floor to a passable level for such a cheap option.
Okay, now let's get to the big boys.
Braden Holtby / Thatcher Demko ($11,200; $16,800 CPT)
The Vancouver Canucks goalie is the most expensive player on the slate. Thatcher Demko had 30 points in the win on Monday night, and I'm expecting another win for the Canucks tonight. Both Demko and Holtby are priced the same for tonight's game.
Holtby has averaged 10.7 FPPG this season, his first in Vancouver. He's allowed three or more goals in each game, but he hasn't faced an offense as paltry as the Senators.
Ottawa opened the season with a 5-3 win, but have lost five straight. They've been held to one goal twice, two goals once, and reached the three-goal mark just two times since the season opener.
Holtby or Demko may let in a few goals, but they should get the win and rack up enough saves to make it worth your while. The Senators took 36 shots on Monday night and the Canucks have allowed 31 or more shots in every game this season.
Bo Horvat ($10,000; $15,000 CPT)
Bo Horvat is off to a tremendous start to the season and only two players have more goals than he does. Horvat has 10 points (five goals) in eight games, averaging 13.6 FPPG.
Horvat has reached the double-digit mark for fantasy points in five of eight games this season. In the other three, he had 2.8 and 1.5 (in a back-to-back against the Calgary Flames) and 6.5 against the Montreal Canadiens.
The Senators are allowing a league-high 4.5 goals per game (27 goals in six games) and eighth-highest 32.2 shots on goal per game. Horvat centers the Canucks' second line and is on the top power-play unit. He'll get his points.
---
With those four core players (well, maybe just take one of the two cheap guys), you're well on your way to a strong lineup. If you do take all four, and put Holtby at captain, that leaves you $17,400 for your final two players. I would recommend going with two of the top four Vancouver skaters: Quinn Hughes ($9,200), Elias Pettersson ($8,800), J.T. Miller ($8,400), and Brock Boeser ($8,200).
---
There you have it! Some value picks for the two showdowns on Wednesday Night Hockey.
Who are you high on? Fading? Locking into all of your lineups? Just want to talk some hockey? Hit me up on Twitter @RGilbertSOP!