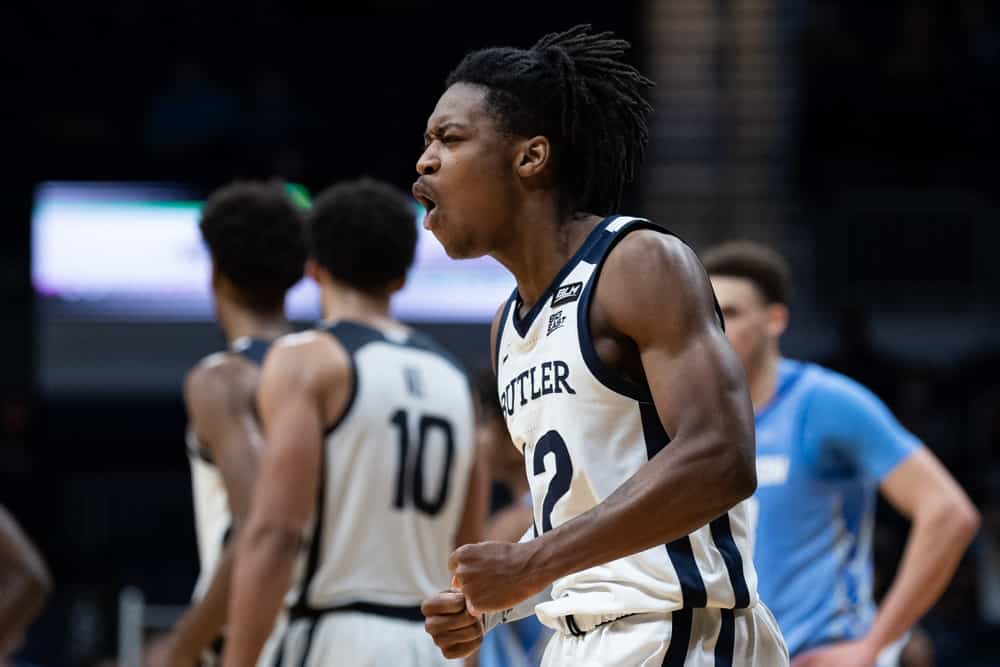 There are many differences between betting on the NBA and betting on college basketball, but the largest difference, by far, is just the sheer enormity of college basketball. College basketball is nearly twelve times the size of the NBA; there are over 350 D1 NCAAB teams and only 30 NBA teams. That means, even though the NBA regular season features 82 games and most college teams play approximately 30+ regular season games, there are still only 1,230 NBA games and close to 6,000 college games. 
Massive Spreads
Having that many games to bet on means there is plenty of value to find in the betting odds, if you know where to look. It also means there is a huge amount of variance between, say, the 10th best team and the 310th best team.While in the NBA, spreads of 20 points or more are almost unheard of, on a randomly selected night of college basketball games, you can find LSU favored by 25 points over Southeastern Louisiana and SMU favored by 21 over Texas A&M-CC. The largest recorded spread in NBA history is 24 points. 
Over/Unders are much different
Because college games only last 40 minutes as opposed to 48 minutes, college basketball over/unders feature significantly lower numbers than NBA totals. But, because there are so many teams in college basketball, you find more outliers where teams have different or unusual strategies and philosophies. 
For instance, perennial contender Virginia, under coach Tony Bennett, plays the slowest style of basketball in the country. Their goal is to slow down the game as much as possible, and their style yields extremely low scoring games. In 2020, Virginia scored 48 points in a game, twice, and won both games. They also won a game with just 46 points and scored 40 in a loss. This is one of the best teams in the country! The Wisconsin Badgers also play a similarly slow style. This leads to over/unders, or totals, below 120 points. The average total in a college basketball game is closer to 145 points. 
Despite only having eight more minutes of play in a game, the NBA on the other hand often sees totals these days well into the 230's. While there are teams that score far more than others, the Milwaukee Bucks scored almost 118 points per game, while the league-worst Charlotte Hornets scored under 103, but there is no team playing a particular style, that is far outside the norm. 
What this means for college basketball betting is that you need to be far more cognizant of matchups than an NBA bettor would be. What happens when a team that plays at a very fast pace, like Alabama, plays a Wisconsin- type team whose primary goal is to use the whole shot clock and slow down the game? You need to research both team's experience playing out of their comfort zone, and maybe you will find something there that will lead to a great bet. 
Back-to-Backs
In the NBA, one of the most common issues with betting on NBA games is how to deal with teams playing back-to-backs, or games on consecutive nights during the regular season (there are no back-to-backs in the NBA playoffs). It is generally understood that teams struggle with fatigue on the second end of a back-to-back, particularly when playing a fresher team. In college basketball this is usually less of a concern. During the regular season (and during the NCAA tournament) there is virtually never a team with back-to-back games. The only time this becomes a concern in NCAAB betting is during conference tournaments, when teams often have to play four games in four days to win their conference crown. 
You need to be on the hunt for college basketball info
When it comes to the NBA, we have access to an incredible amount of stats and information. There are only 450 players in the entire league, and a serious basketball fan is generally very familiar with the majority of them. In college basketball, there are entire conferences without a single recognizable player. Many teams received little media coverage, even locally. 
If you want to bet on the Chicago Bulls and you want to find out information about the team's injuries or what is happening behind the scenes, there are dozens of reliable media sources to seek out. But, how do you know what is happening with the Arkansas St. Red Wolves? It would probably be difficult to find anyone covering a team with that low of a profile with regularity, so you might need to turn over every rock on the internet to glean any nuggets of information that could help you make winning bets. 
But here's the good news: the people who set the odds for Arkansas State games also need to work hard to find out pertinent information about the team. The people who set the NBA betting odds are doing it with a much higher level of precision, so if you know where to look there is real value to be found with betting on college basketball.