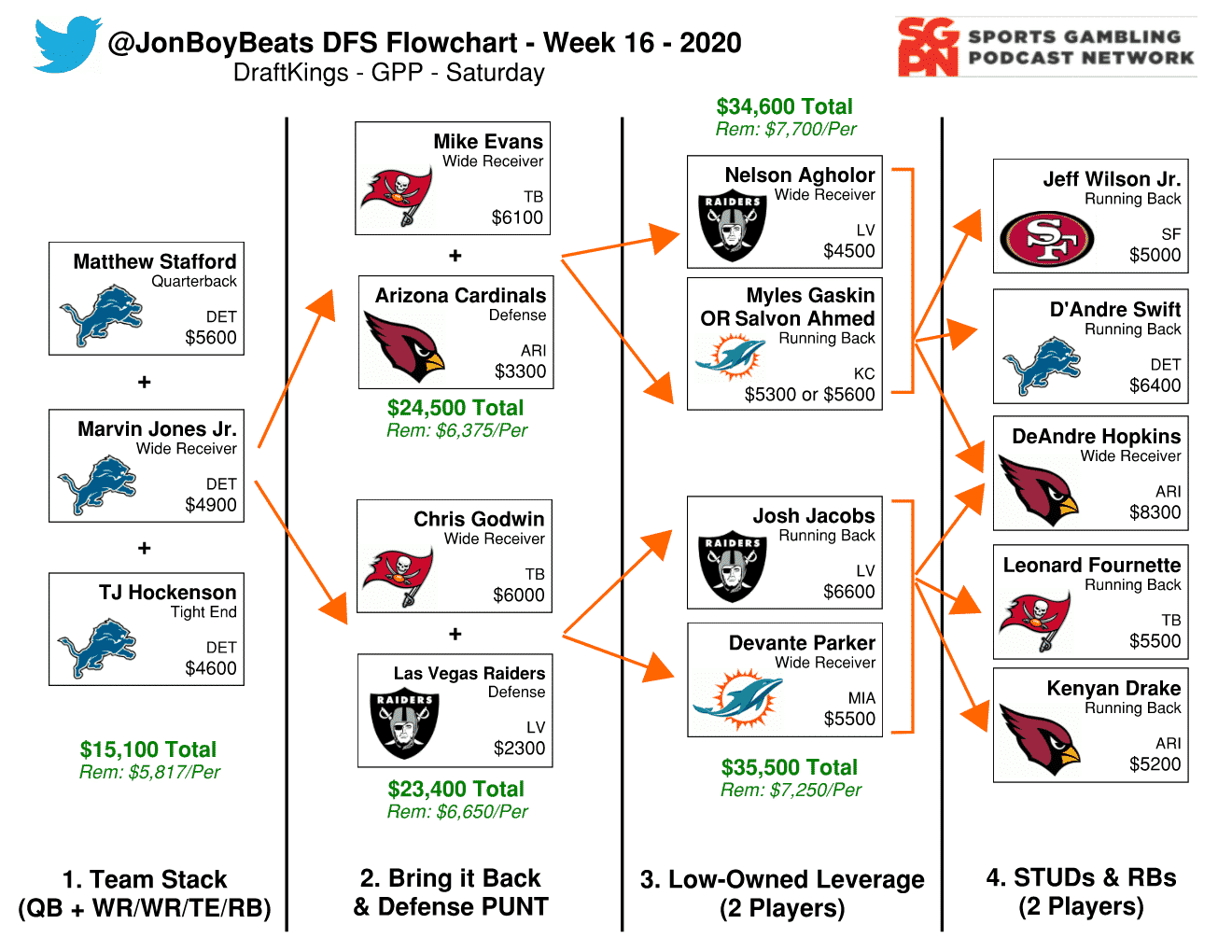 Week 16 is here and we have ourselves another awesome DFS weekend! We've got three days of back-to-back-to-back primetime football over the Christmas holiday and luckily for us Saturday is a 3-game slate which is a lot more advantageous than last weekend's 2-gamer.
If you haven't already checked out my analysis for the Christmas Day game between the Vikings and the Saints, make sure to go read up on that here.
I am going to keep this Saturday write up a little more brief, but if you didn't read last week's analysis make sure to check out the introduction section from Week 15's Saturday slate where I talked about some of the things to consider on these smaller game offerings.
As it relates to the Week 16 Saturday flowchart, my decision point was centered around Marvin Jones Jr. who is extremely mispriced by DraftKings this week. He was $5700 in Week 15 and proceeded to have a 30 DKPt day, but in Week 16 his price dropped by $800 which doesn't make a whole lot of sense. DraftKings usually doesn't screw up like this, but it seems like their pricing algorithm really missed a beat on Jones. Now of course Jones will be extremely high owned this week, so the question was whether to fully fade Jones or not. On these smaller slates it usually doesn't pay that much to try and get too cute because points will be at a premium, so I instead decided to just load up on Jones and the Lions and fully team stack it. I think Kyler Murray and Tom Brady will be the two most owned quarterbacks on the slate, so I think stacking Matthew Stafford and TJ Hockenson with Jones will still provide us a good contrarian approach.
As for the bring-back option on the Buccaneers side it's really tough to parse through which of Brady's weapons are going to be the correct play each week. Since the pricing is pretty loose for this slate, I decided to go with Mike Evans and Chris Godwin and bet on the youth and talent over the older more senior guys in Antonio Brown and Rob Gronkowski.
I really think the night game between the Raiders and the Dolphins will go mostly overlooked, so I want to make sure that we get two pieces from this game in the leverage section. I wouldn't be surprised if this game turns into a sneaky shootout, but due to all the injury uncertainty around it most people will probably decide to stay away. Salvon Ahmed or Myles Gaskin will both be in great spots against this porous Raiders run defense, so stay tuned into the injury report and pick however gets the starting nod. Devante Parker is also banged up coming in to Week 16, but if he plays I like him at $5500. Nelson Agholor has flashed upside all season, and if Derek Carr is fully healthy and starts this week he should have no trouble paying off his $4500 price tag.
Going in to the last column of the flowchart, you will have plenty of salary left so I would load up on DeAndre Hopkins in every lineup and then pick your poison with the remaining running backs!
Good luck on Saturday, I will be back tomorrow morning with the main Sunday slate flowchart and full breakdown.