How's it going everyone! The NBA didn't waste any time before throwing us a full 13 game slate. This can only mean that we're here to talk NBA DFS picks. It can be challenging to navigate these full slates for DraftKings. However, that's why I'm here to help guide you to cashing a lineup.
NBA DFS Picks DraftKings Wednesday
PG – Trae Young – ATL ($9,400)
We're going to start off this NBA DFS lineup with a walking bucket at point guard. The Hawks may have added more weapons during the offseason, but that will only open the floor for Trae Young. He's coming off a stellar season where he averaged 29.6 points per game, and I expect another great year from the future HOFer.
It's worth noting that there are a bunch of cheaper options out there, but I believe Young will be worth the chunky price. It wouldn't surprise me one bit to see him score 30+ and flirt with a double-double against the Bulls. This is going to be one player you can trust every single night to fill the stat sheet which means money in DFS.
SG – Tyler Herro – MIA ($5,500)
The pricing on Tyler Herro is downright disrespectful. You don't want to miss this opportunity to play him this cheaply because he will be north of $6,000 soon. Aside from Herro's growing popularity amongst rappers, the second year Kentucky product is poised for a great season.
The Heat have been pushing Herro to take more of a "'leader" role on the team, and I expect he will only continue to grow. Last season, he averaged 13.5 points with 4.1 rebounds per game and these numbers will improve this season. I plan on playing Herro in every DFS lineup I can while DraftKings misprices him.
SF – Dillon Brooks – MEM ($5,400)
My SF for this lineup is another underpriced player in Dillon Brooks. He showed flashes of superstar ability last year and with Jaren Jackson out for the first month or so, the sky is the limit. Brooks had a really good preseason, and the fourth year Oregon product continues to improve each year.
His hardnose style of defense fits right into the scheme of Memphis, and he's consistent on the offensive end despite not being a flashy player. The Grizzlies open with the Spurs who appear to be a bottom-dweller this year. An easy matchup means 30+ DFS points for Brooks. That's all you can ask for from a guy in this price range.
PF – Brandon Clarke – MEM ($5,600)
We're going to dip back into the Memphis player pool to complete this stack. Brandon Clarke is another player who is extremely underpriced on this slate. As I previously mentioned, Jaren Jackson is out for the Grizz and this will directly benefit Clarke who will jump into the starting lineup.
The late-first round pick Clarke had a very good rookie campaign, averaging 12.1 points and 5.9 rebounds in 22.4 minutes of work. Things may get muddy once Jackson returns, but until that time comes Brandon Clarke is a must-play in both DFS and season-long fantasy.
C – Maxi Kleber – DAL ($3,900)
I am all over Maxi Kleber in DFS Wednesday night. Kristaps Porzingis will be out for the start of the season for Dallas. Although Dwight Powell will take the starting center job, Kleber will be the go-to guy. He's a good defender and he has the offensive ability to find the bucket as well.
Maxi Kleber had a great preseason while playing with the second unit. The Mavs play Phoenix Wednesday night, and outside of Deandre Ayton the Suns are weak at the center position. Getting second unit reps will benefit Kleber, and you can expect him to churn in at least 20-25 DFS points which is great for someone in this price range.
G – Eric Gordon – HOU ($5,000)
For the guard position of this lineup, I'm taking Eric Gordon. He's been one of the more consistent players throughout his career, and this season figures to be one where he is featured more. Gordon has never averaged less than 13.4 points per game in any of his 12 years of service, so you know what you'll get from him.
It's been announced that Gordon will come off the bench as the sixth man, but that doesn't bother me. Although Danuel House will draw the start, I fully expect Eric Gordon to take the bulk of the minutes. We can reasonably expect 20+ DFS points from Gordon, and he has the ability to double or even triple that number any given night.
F – Davis Bertans – WAS ($5,500)
Davis Bertans has been cleared to play in the season opener, and I am playing him in this as well as other lineups. He's been a consistent player in years past. The addition of Russell Westbrook will open the floor for more opportunities for Bertans.
Bertans isn't a slouch defensively, and he can be deadly if he can get the three ball going also. This matchup with the 76ers isn't the best, but I like the upside Bertans brings. We can reasonably expect 25+ DFS points from Bertans in this one. Anything better is a blessing for a player priced in the $5,500 range.
UTIL – Karl-Anthony Towns – MIN ($9,700)
There's a decent amount of pricy players in this slate, but Karl-Anthony Towns is the best play of them all. There's a million reasons you must play KAT, but the most obvious is that he's a walking double-double. This matchup with Detroit isn't the best, but I expect KAT to dominate any night he's on the floor.
The COVID-19 pandemic has been rough on everyone, but it's been especially tough for KAT. He's playing with a lot of emotion this year and you better get your MVP tickets on him while you can. I realistically expect between 50-60 DFS points from him. However, the sky is the ceiling for KAT and he could even seen 75+ DFS points.
Will's DraftKings 12/23 Classic Slate Lineup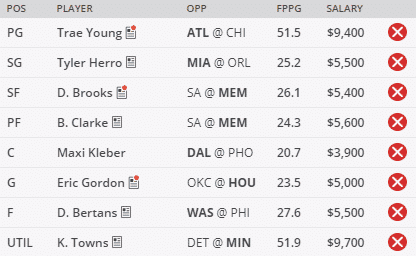 Make sure to subscribe to NBA Gambling Podcast on Apple and Spotify. Ryan and Zach continue picking every NBA game against-the-spread and posting right here: sg.pn/nbapicks