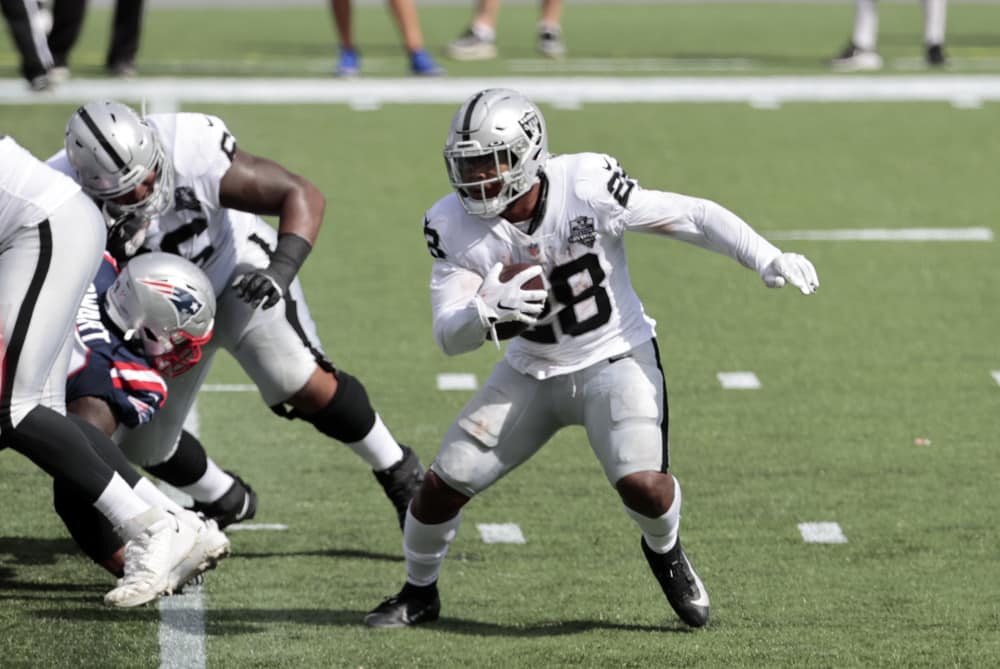 It's getting late into the NFL season, and if you're sick of grinding away on DraftKings or FanDuel and want to give a different type of daily fantasy a shot, ThriveFantasy might just be the place for you (use promo code "SGP" for a sign-up bonus). ThriveFantasy is a new world of fantasy sports gambling. You select 10 prop bets that each carry a point total based on their likelihood of happening. You can compete in tournament-style contests, double ups, or heads up matchups where the person with the most points takes home the crown. It's a great place to play Thursday Night Football player props.
Instead of getting caught up by a player having a lot of yards but no touchdowns, hurting their fantasy value, you know exactly what needs to happen in order for you to gain points. Most picks are valued at 100 points for, with some props at 105-95, 110-90, or even 115-85.
Not only do we want to offer you a sign-up bonus for ThriveFantasy (promo code "SGP"), but we'll give you a few of our favorite props to get you started toward your 10 picks.
Thursday Night Football Player Props
Justin Herbert UNDER 290.5 Passing Yards – 105 Points
ThriveFantasy is giving you a gift here with Justin Herbert's passing yards set at 290.5. Herbert has failed to throw for more than 243 yards in his last two games. Don't get me wrong, Herbert has proven himself as a young stud quarterback. He has six 300-yard games in his rookie season – including 326 yards against the Raiders in Week 9 – but I don't think he'll get there this week.
Herbert and the Chargers were exposed by the New England Patriots two weeks ago in an embarrassing 45-0 loss. His completion percentage was less than 50% (26 for 53) and he threw for just 209 yards. He picked it up last week against the Falcons with a career-high 81.8% completion rate, but still only threw for 243 yards. Mind you, the Falcons have allowed 296.2 passing yards per game, the second most in the NFL.
The Raiders, on the other hand, are about in the middle of the pack with 262.2 passing yards allowed per game. Las Vegas has also been even stingier recently. They've allowed more than 247 yards just twice in their last seven games. Yes, one of those was against Herbert, with the other against Patrick Mahomes four weeks ago. They've allowed 179 yards to Matt Ryan, 170 yards to Sam Darnold, and 244 yards to Phillip Rivers since.
The Raiders will be able to keep up their strong passing defense at home, which is another added bonus. Herbert has struggled more on the road, passing for over 290 yards in just one of his five road starts. If the trends continue and Herbert doesn't reach 291 passing yards, that'll net you a cool 105 points on ThriveFantasy.
Hunter Henry UNDER 0.5 Touchdowns – 90 points
This one won't net you as many points, but it seems like a pretty strong bet.
Hunter Henry has just three touchdowns in 13 games on the year. One of those came before the bye in Week 5, with the other two coming in back-to-back games in Week 10 and 11. Those touchdowns were against the Saints, Dolphins, and Jets, who have allowed 6, 5, and 12 touchdowns this season respectively. Henry hasn't scored in the last three weeks and I don't expect that to change against the Raiders.
Only four tight ends have scored against the Raiders this season: Jared Cook (Week 2), Travis Kelce (Week 5 and 11), Rob Gronkowski (Week 7), and the Chargers' Gabe Nabers (Week 9). Kelce is the only tight end to find the end zone in the last five weeks and we all know that he's a freak of nature. Hunter Henry isn't that.
Picking this prop will net you 90 points, so it's more of a safer pick, with Henry's odds to score as high as +187.
Josh Jacobs OVER 78.5 Total Yards – 105 points
Okay, let's get away from the unders and go with an over here with Josh Jacobs. Jacobs trolled his fantasy owners on Instagram on Sunday before playing, and hopefully, he'll have you laughing all the way to the bank with a big performance on Thursday night against the Chargers.
Jacobs has at least 83 total yards in six games this season but had just 74 yards last week. That came off an injury, however, and Jacobs should be good to go for Thursday night.
This over 78.5 yards should be a cakewalk if Jacobs gets back to his normal usage. If he gets more than 15 carries, he'll get there.
The Chargers are struggling against running backs as well. They allow 98.7 rushing yards and 34.4 receiving yards to running backs per game. Nine running backs have reached the 79-yard mark against the Chargers this season. In recent weeks, Damien Harris (95 yards) and Devin Singletary (102) have gone over 79 yards, with Frank Gore (71) barely missing the mark after Ito Smith's 43 yards last week.
Jacobs (66 yards on 14 carries, one catch) and Booker (68 yards on eight carries) were able to do damage against the Chargers in their first meeting. Jacobs will be able to get those 13 extra yards on Thursday night. It'll get you a crucial 105 points on ThriveFantasy if he does.
Darren Waller UNDER 60.5 Receiving Yards – 110 points
This pick might get some heat, but there are 110 points on the line.
Darren Waller is one of the best tight ends in the league, there's no doubt about that. He showed that two weeks ago with an incredible 200-yard game against the Jets. Waller followed that up last week with another 75 yards against the Colts. The Chargers simply don't let that happen too often.
We've already discussed Travis Kelce's freak-of-nature-ness above, and he is the only tight end to go for more than 52 yards against the Chargers this season. Granted, he had 90, but that was all the way back in Week 2. Since then, O.J. Howard (50 in Week 4) and Jared Cook (52 in Week 5) are the only tight ends to reach the half-century mark.
The Chargers are tightening up even more later in the season. To tight ends, they've allowed 20 yards per game over their last six contests. That stretch started with a five-catch, 22-yard game from Waller in Week 9.
Waller should be kept in check by the Chargers like most tight ends have been this season. It's well worth your while for 110 points on ThriveFantasy.
RELATED
NFL Week 15 Line Movement Report