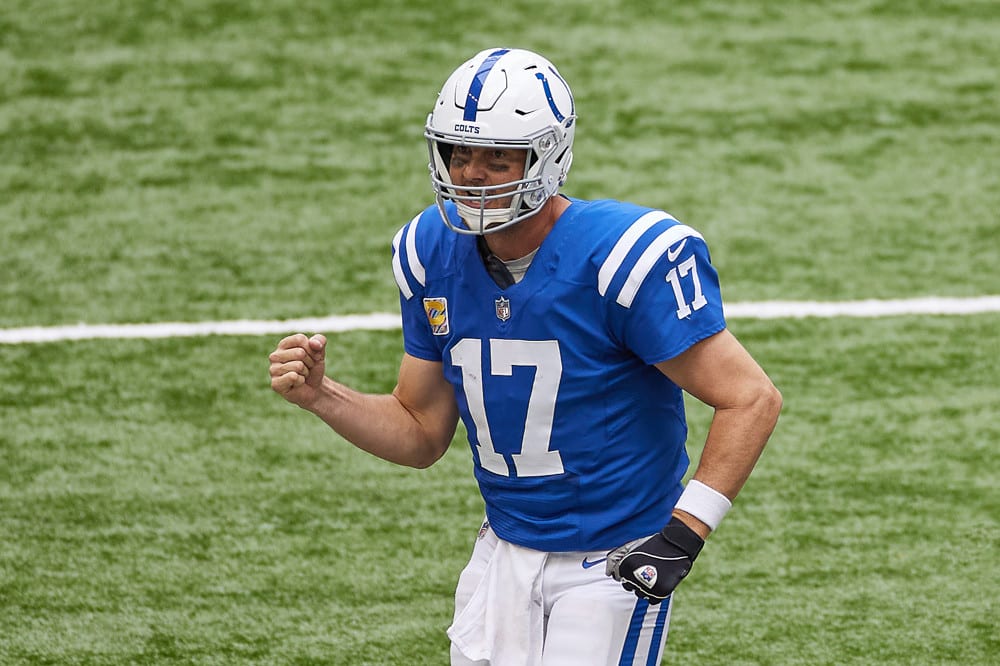 Thursday Night Football Game Info
Time: Thursday, November 12th @ 5:20 PM Pacific
Location: Nissan Stadium, Nashville, Tennessee
Weather: 55f Clear
TV: FOX, NFL Network, Amazon
Spread: Titans -2
MoneyLine: +110 | -240
Total: 48.5
Odd courtesy of MyBookie.ag *Promo Code SGP*
If you're frustrated with DraftKings and FanDuel, ThriveFantasy might be the place for you (use promo code 'SGP'). ThriveFantasy is a new world of gaming where you select your favorite prop bets. Each of these carry with them a point total. You compete in a tournament style contest with real cash at stake. The person with the most points at the end of the day takes home the top prizes. That's why you need these Thursday Night Football player props.
To get you started, here are Thursday Night Football player props that caught my eye. Keep in mind, you pick 10 for the contest. So you can use all of these, or just a couple. The rest are up to you!
Thursday Night Football Player Props
1. Philip Rivers Over 260.5 Yards: 95 Points
The 260 mark seems like a tough number for Rivers to hit given he's only done it three times so far this season. Although, in several of their games so far, they have enjoyed late leads with no need to spread the ball around. In fact, his passing yards drop off almost a full 600 yards from the first half to the second. But, there is reason to believe he can hit this mark against the Titans.
Tennessee has given up some big numbers to opposing quarterbacks this season. Only Drew Lock, Kirk Cousins, and Joe Burrow failed to reach this prop. This puts Rivers in a good position to be another one. His offense has a struggling rushing attack and is facing a tough Titans run defense. It may take him most of the game to get here, but he will, and win you this ThriveFantasy Player Props pick.
2. Zach Pascal Over 37.5 Rec Yards: 100 Points
In order for Rivers to hit his prop, his receivers will have to help him get there. With injuries to some of his key pass catchers, others will need to step up to help. Pascal becomes a weapon the Colts will need if they want to stay competitive. While T.Y. Hilton is looking to see the field this week, he hasn't played a factor in a few games now. Michael Pittman will also factor into the mix, but it will be Pascal who should be in line to make some plays against Tennessee.
His overall numbers may not inspire confidence, but he has managed to hit this prop in the last two weeks. Given all the missing, hurt, or ineffective players on this team, Pascal should easily meet this goal.
3. Jordan Wilkins Over 33.5 Rushing Yards: 90 Points
As was highlighted earlier, the Titans defense has been fairly successful against the run. They rank 15th in the league for total yards allowed. Also, they haven't allowed a team to reach 100 yards since week 3. In that same span, only one running back in the game has hit this prop. This leaves Wilkins on the right end of hitting this as over the last two weeks, he has been the better Colts running back.
He logged an 89-yard outing against the Lions. Last week, against a similar Ravens run defense to what he will be facing tonight, he posted 39 yards. He'll be in a timeshare with Jonathan Tayolr as he always is, but he's earned more carries. And as the track record has shown with Tennessee, the back with the most carries almost always has the highest yardage performance. With the exception of David Montgomery last week, that total has always been higher than this ThriveFantasy Player Props pick.
4. Derrick Henry Over 82.5 Rushing Yards: 100 Points
Last week was not a great week for the league's second leading rusher. He carried the ball 21 times, but was only able to find 68 yards on the ground against the Bears. But, there is something encouraging about that for the sake of this prop. In games where he fails to gain at least 100 yards, he does so in the next game. So basically, every other game, Henry at least passes the century mark. He's coming off a game in which he didn't get there, so probability says he should tonight.
The only thing that might sour this pick would be this stingy Colts defense. Indianapolis has yet to allow a 100-yard rusher this season. The good news here is that he does not need to get all the way there, but almost there. I think we are in for a Henry night good enough to get us these 100 points.
Thursday Night Football Player Props Related Posts
Thursday Night Football Showdown Picks: Colts vs Titans