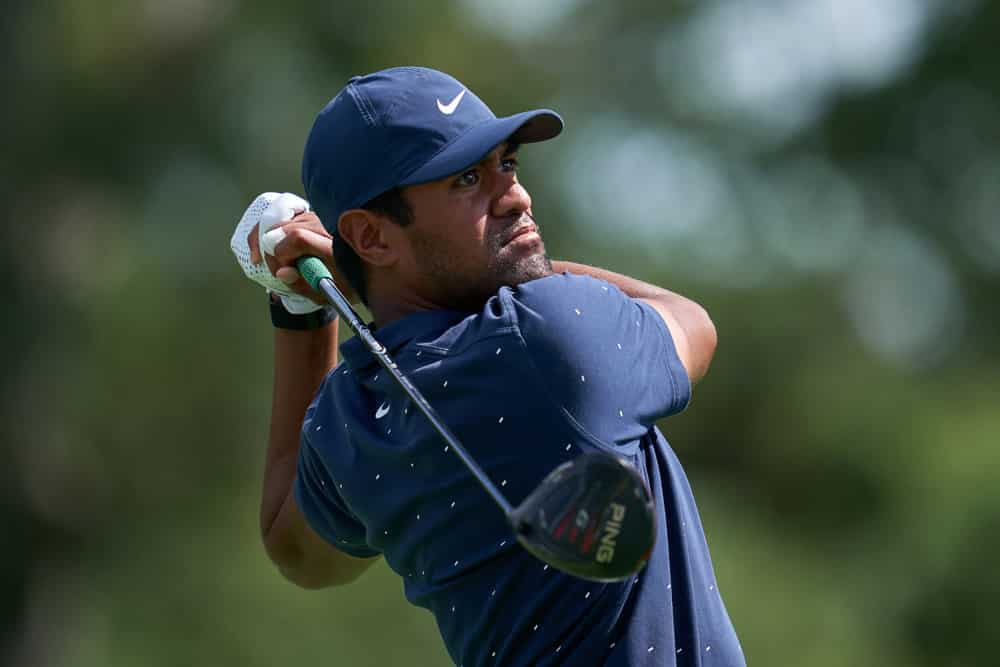 Please check out the Vivint Houston Open Preview and Betting Strategies for the types of golfers you should look to target for your Vivint Houston Open Picks. With that in mind, here's the Vivint Houston Open picks I like this week. (with odds courtesy of MyBookie.ag).
Vivint Houston Open Picks:
Outright Winners
Tony Finau – 18/1
The Puerto Rico Open curse may finally come to an end. Finau returned from his COVID diagnosis at the ZOZO without missing a beat. He gained 3.50 strokes tee-to-green for the tournament, most of which was accumulated through great iron play. Finau is also a good scrambler and demonstrates the ability to get hot with his putter. After several close calls, Finau is in a great spot to finally win for the second time.
Scottie Scheffler – 25/1
After struggling to regain his form following his COVID diagnosis, Scheffler had a big ball striking week at the ZOZO. He gained almost eight shots tee to green in the event, most of which was comprised of his ball striking. Scheffler's finish was ruined with a poor putting performance, but like Finau he too has demonstrated winning upside putting in his recent form. Scheffler's first victory on the PGA Tour is around the corner, and it could happen at a golf course that fits his strengths.
Si Woo Kim – 50/1
Si Woo Kim is playing winning golf right now. Si Woo has gained 1.45 strokes per round tee-to-green on his competition over his last three tournaments. Si Woo Kim is also a very good scrambler, gaining 0.39 strokes per round around the greens over his last 50 rounds. That's one of the top clips in the field. While his putting results are mixed, he's demonstrated decent enough showings lately with it that if it matches his great ball striking a high finish is in order.
Corey Conners – 55/1
Corey Conners' game has been very up and down over the last few months. Conners has alternated between great ball striking performances and bad ones since the BMW Championship in August. His highest of highs definitely gives him nice upside to win this tournament. He also has a reputation of being a poor putter but he has cleaned up that area of his game lately. Over his last four tournament he's gained 0.3 strokes per round on the greens. While not a fantastic number for golf, anytime Corey Conners is gaining strokes on the field putting it's something of note. Another win is in order if he matches strong ball striking with the putting numbers he's shown lately
Cameron Davis – 75/1
The young and talented Australian's game is starting to shine on the PGA Tour. Davis is a long hitter who also has greatly improved his iron play and scrambling since his rookie year. Davis is a streaky putter with the capability of delivering winning upside performances on the greens. Davis has come close to breaking through for a maiden PGA Tour victory, and this week might be the one.
Never too early to look ahead at the Odds Shark's Masters odds and preview.
Keegan Bradley – 125/1
A pick that makes my Golf Gambling Podcast co-host Boston Capper jump for joy. Keegan possesses all the positive tee-to-green traits needed in a contender this weekend. Keegan is a longer hitter off the tee who also is strong with their irons and scrambling. The problem for Keegan, as always, is his putter. But for anyone looking for a glimmer of hope, his last time out on bermudagrass greens went well for him. At the Sanderson Farms Championship, Keegan gained almost three strokes putting on the week. That's good enough to hope he can deliver a decent putting performance to match the high upside ball striking he's capable of for another win on the PGA Tour.
Other Props and Matchups
Brooks Koepka Top 10 – +250
As a long standing Brooks booster, this pick is more from the heart than the head. Brooks has a knack of gaining momentum in the weeks leading up to a major. He showed positive signs from the ZOZO Championship that this was happening again. Brooks gained over three shots with his irons and just under three shots around the greens at the ZOZO. Scrambling and solid iron play are two important attributes this week. In addition, there's the narrative that Brooks helped designed Memorial Park and will want to show well there. A solid Top 10 finish to get his name buzzing on the eve of the Masters is on the horizon.
J.T. Poston Top 20 – +335
Poston is a golfer to back at birdie fest tournaments. Poston has excelled several times in his career on bermudagrass golf courses where scores are very low. Part of the reason why he excels in this format is because of how good of a putter his is. Another plus for Poston is his recent ball striking with his irons. Poston gained more than seven strokes combined at the Sanderson and the Shriners, giving hope to a backer that he's found a little bit of form. More of that this week could mean another good finish.
Others to Consider
Sergio Garcia – +200
Lanto Griffin – +200
Doc Redman – +225
Harold Varner III – +275
Erik van Rooyen – +275
James Hahn – +300
Lee Westwood – +300
Sam Burns – +335
Aaron Wise – +350
Adam Schenk – +400
Cameron Tringale – +400
Scott Stallings – +450
Kristoffer Ventura – +450
Matthew NeSmith – +500
Carlos Ortiz – +500
Vivint Houston Open Picks:
Matchups
Zach Johnson +1.5 Strokes (-125) over Brian Harman
Both Zach Johnson and Brian Harman are essentially the same player. Both are shorter players off the tee who rely on good scrambling and putting to show well in a tournament. The key difference between the two is Johnson has demonstrated a little better ball striking, particularly with his irons, than Harman has over each of their last four tournaments. Johnson should be able to keep it within 1.5 strokes of Harman over the course of the tournament.
Sergio Garcia -110 over Jason Day
Simply put, Sergio is a superior ball striker than Jason Day. Solid ball striking is the key to success at Memorial Park this week and Sergio holds a tremendous advantage over Day in that category. Where Day has an edge over Sergio is with his putting, however he's nowhere near as dominant with his putter as he once was. Sergio should beat Day head to head.
Harold Varner III -135 over Alex Noren
Varner III is primed for a bounce back after disappointing in Bermuda. Memorial Park should favor a longer hitter who is a very adept scrambler, which is a profile Varner III fits. As for Noren, he's struggled with his ball striking over his last handful of tournaments. Noren has lost over a shot per round combined off the tee and with his irons over his last four starts. Varner III should best Noren head to head.