Golf fans and bettors are so close to the grandaddy of all golf tournaments. But before that, the PGA Tour offers up a little appetizer at the Memorial Park Golf Course. To prepare you for this week's golf gambling, here's the Vivint Houston Open Preview. It's everything to know about the tournament before placing a single wager on it.
Vivint Houston Open Preview: The Field
Highlighting the field this week is World #1 Dustin Johnson. Johnson returns to action for the first time since his diagnosis of COVID-19. Johnson's form was red hot before his illness. On the eve of the Masters, he'll look to pick up where he left off.
Another significant name in the field is Brooks Koepka, who continues to build his form before a major tournament. Koepka's crescendo before the Masters continues at a golf course he help redesign with Tom Doak (more on this later). Will he have a homefield advantage?
Other notables in the field include Jason Day, Tony Finau, Sergio Garcia, Tyrrell Hatton, Viktor Hovland, Hideki Matsuyama, Phil Mickelson, Scottie Scheffler, Adam Scott, Jordan Spieth, Henrik Stenson and Lee Westwood.
For the full field, click here.
The Golf Course
For a few years, it looked like the Houston Open was on its last legs. The tournament was on life support after bouncing around from golf course to golf course. It lost critical sponsors. And when it was punted to the fall, hope was lost.
But then two key things happened in 2018. First, the Houston Astros' foundation stepped in to save the tournament financially. And second, they agreed with the city of Houston that if they renovated one of the most famous public golf courses in America that the PGA Tour would come to Downtown Houston.
After that, the city of Houston got to work to find the perfect architect to restore Memorial Park Golf Course. Despite accommodating more than 60,000 rounds per year, the golf course was in desperate need for a face lift. The golf course had become overgrown with trees and with all the foot traffic the greens on the municipal golf course were in poor shape. With the pressure on, the city needed to make a big splash with a big name to restore the golf course to its former glory.
In comes Tom Doak, a legendary architect who has a wonderful imagination in his golf course construction. Tom Doak is a disciple of Pete Dye and has heavy influences from Alister MacKenzie, the brainchild behind Augusta National. He's responsible for several bucket list golf destinations around the world such as Pacific Dunes and Old MacDonald (part of the Bandon Dunes Golf Resort), Streamsong, Cape Kidnappers, Tara Iti and the restoration of Pasatiempo. His profile is the stuff of legends. But his design style wasn't one that's conducive for professionals. Doak courses trade length for intricacies and character to deliver a wonderful and challenging golf experience for amateurs. For touring professionals, however, they're able to hit it over all these quirks and overpower the place.
But Memorial Park provided a decent enough canvas to bring his principles to a professional event. The golf course could be stretched to 7,300 yards. This is plenty long enough to handle the powerful players on the PGA Tour. Doak also brought in Brooks Koepka for consultation services into what he likes and doesn't like about the golf courses he plays on the PGA Tour.
Through their collaboration, Memorial Park was reborn: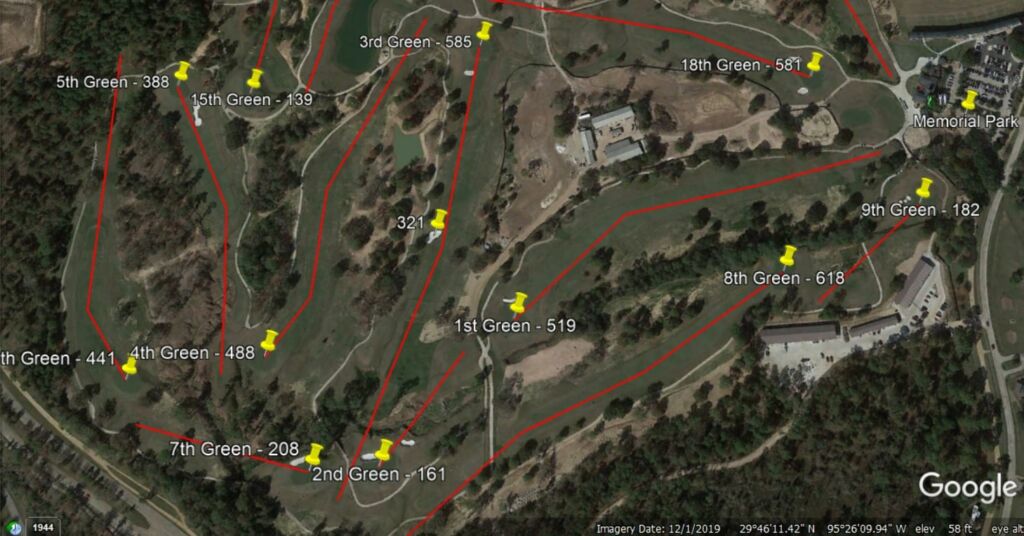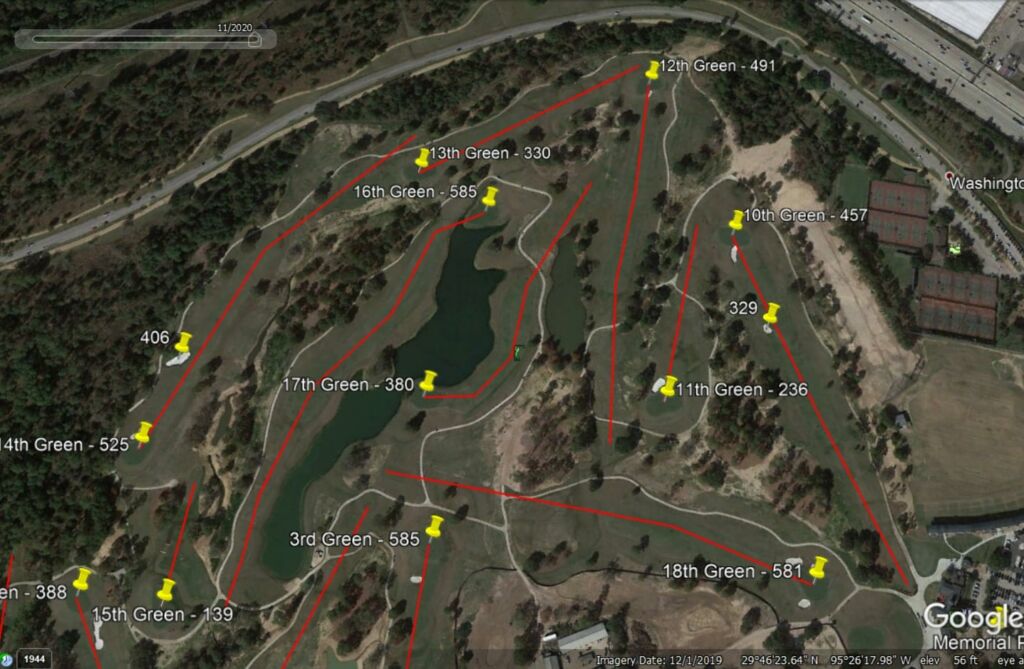 The duo of Koepka and Doak gave the golf course a massive face lift. Only the Par 3 2nd hole and the 3rd hole tee are part of the original layout. The rest of the golf course was significantly altered. Eight greens were repositioned. In addition, several holes were transformed and lengthened tee to green.
Among the more notable changes was repositioning greens closer to natural waste areas and gullies. Thick forest obscured these areas from view. These trees were removed to allow greens to be rebuilt around them for a more scenic, challenging setting.
In addition, one will notice a lack of bunkers overall on the golf course. This is by design. One of the notable contributions made byKoepka was bunker reduction. He said that "many bunkers add difficulty for the amateur but are superfluous for the tour pro". That doesn't mean that bombers can hit it anywhere, however. Koepka worked with Doak to create subtle uneven lies for any balls in the rough off the fairway that might be imperceptible to amateurs. To professionals, however, it's noticeable and annoying.
There's also only one primary water hazard on the course, which is in play on the 16th and 17th holes. Like the lack of bunkers, this was by design because they're unnecessary eye candy for professionals while making the round of an amateur much more miserable.
The areas around the greens were shaved down. Koepka felt that deep rough around greens make it easier for professionals as the ball stops once it runs off the green. With tight, sloping lies, this gives them headaches and often times professionals have a tougher time chipping off tighter lies than out of the rough. For an amateur, they often take a putter from tight lies off the green to get it onto the surface.
All in all, Memorial Parks seems like the perfect combination of a challenging track for a professional, while one that is very playable and enjoyable for an amateur.
Vivint Houston Open Preview: Betting Strategies
Bettors are at a disadvantage once again due to a lack of course history and no shots gained data to parse through. What makes this tournament even more challenging is that this golf course, as redesigned, is very green. As such, only a thorough analysis (translation – guess) on how the golf course will play is the only road map for bettors.
One thing that'll impact how the golf course plays is if they'll try and recreate Masters-like conditions. This was a done for the Houston Open and the Valero Texas Open for years as the tournament the week before the Masters. Both golf courses would try to replicate Augusta National conditions as best as they could. This involved overseeding the bermudagrass with bentgrass and rye, shaving down areas around the greens, growing the rough to only 1.5 inches deep and speeding up the greens as close to Masters conditions as possible. It's safe to say they'll do it once again.
But more importantly is how the changes to the golf course will impact what types of players will do well there. I think bettors can take a look at the man who helped redesign the place – Brooks Koepka – as a big key for who should have the advantage there.
While there aren't many fairway bunkers for the pros to contend with, it seems like Koepka wanted accuracy to matter a little bit because of the uneven lies from the rough. But this tips the scales more in favor of a longer hitter like him. Length off the tee this week should have a big advantage. Even when faced with an uneven lie, they'll be able to control their ball better than a shorter hitter would hitting from a longer distance and with a longer club.
Next, Koepka is a very good scrambler, which is an area that is an underrated part of his game. And at his best, he loves firm and fast conditions that demands excellent iron play. Green complexes that play firm and repel errant shots away from the green are his specialty. Good iron play as well as scrambling should be valued higher this week.
Lastly, keep an eye this week what the players say this week. They might give out more clues to how the golf course will play. That will help you weed out the field for contenders and pretenders to bet smarter.