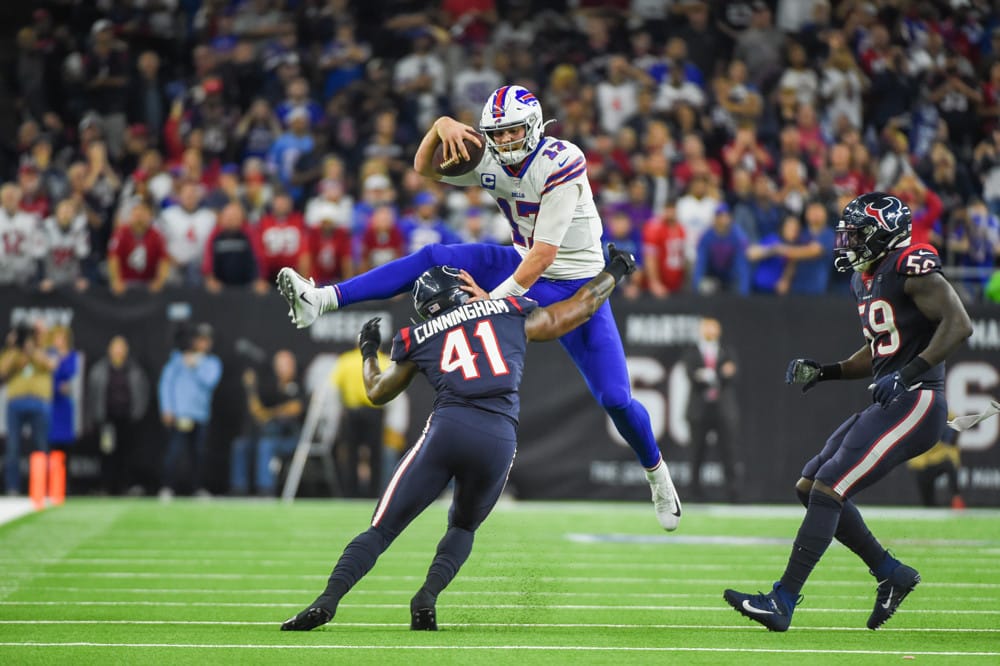 Week 7 is upon us!
We've made it through over 1/3 of the year unscathed. Hopefully you are still with us and didn't have the Packers or Patriots Sunday. Maybe you even followed my advice and went Dolphins.
Let's pick another winner this week!
NFL Week 7 Survivor Pool Picks
Philadelphia Eagles (– 4 vs New York Giants)
Carson Wentz and the Eagles showed signs of life in the 2nd half vs Baltimore and almost pulled the upset. Unfortunately, in the process, Miles Sanders and Zach Ertz went down with injuries joining a long list of banged up Eagles.
The line also went down from Philly -6.5 to -4. The Giants are awful so Philly probably finds a way to win, but this is a divisional game on a Thursday night. I'd urge you to look elsewhere.
New Orleans Saints (-7.5 vs Carolina Panthers)
The 3-2 Saints are coming off a bye and Michael Thomas should be back in action for this NFC South showdown. The Panthers also have a couple extra days to prepare after losing last Thursday to the Bears. Carolina has been better than expected but they simply don't have the same level of talent as the Saints.
Even with Teddy Bridgewater and the revenge angle vs his old team, the Saints should win. Expect heavy doses of Alvin Kamara and Michael Thomas. New Orleans isn't a bad play, but there are better spots this week.
Kansas City Chiefs (-9 @ Denver Broncos)
The Broncos have Drew Lock back and they are playing at home in the high altitude, so I suppose they have a chance in this inter-divisional tilt against the rival Chiefs. Additionally, after playing Monday night in the rain at Buffalo, KC has one less day to prepare and it's the back end of a tough two game road trip.
With that said, the Chiefs are the far better team. After less than impressive outings against the Patriots and Raiders, Kansas City bounced back nicely vs the Bills. The Chiefs should win but tread lightly here.
Seattle Seahawks (-3 @ Arizona Cardinals)
The Cardinals took care of business vs the Cowboys on Monday night to improve their record to 4-2 and a tie for 2nd place in the NFC West. The team in first place is the Russell Wilson led, 5-0, Seattle Seahawks, who are coming back from their bye. Arizona is improved and they split the series with Seattle last year, beating the Seahawks 27-13 in week 16.
The Seahawks are easily the best team in the NFC and Danger-Russ is playing at an MVP caliber level. This game could be a shootout. Seattle may be due to drop a game but these Cardinals are phony. Three of their four wins have come against The Washington Football Team, the Jets, and the Dak Prescott-less Cowboys. Seahawks will win but I suppose the Cardinals have a puncher's chance.
NFL Week 6 Survivor Pool Picks Winner!
Buffalo Bills (-12.5 @ New York Jets)
After a 4-0 start, the Bills have dropped consecutive games against the Titans and Chiefs. What's the best prescription for a team that has lost two in a row? Seeing the Jets on their schedule next.
Am I worried that this is a inter-divisional road game? No.
Am I concerned that due to Covid this will be the Bills 3rd game in 12 days? Not really.
We're talking about the Jets here. They are exceptionally bad. Picking against them every week is an excellent strategy.  The Bills get right and cruise to victory.  Let's Go Buffalo!
Teams already taken this year: KC, AZ, Indy, Baltimore, Dallas, Miami