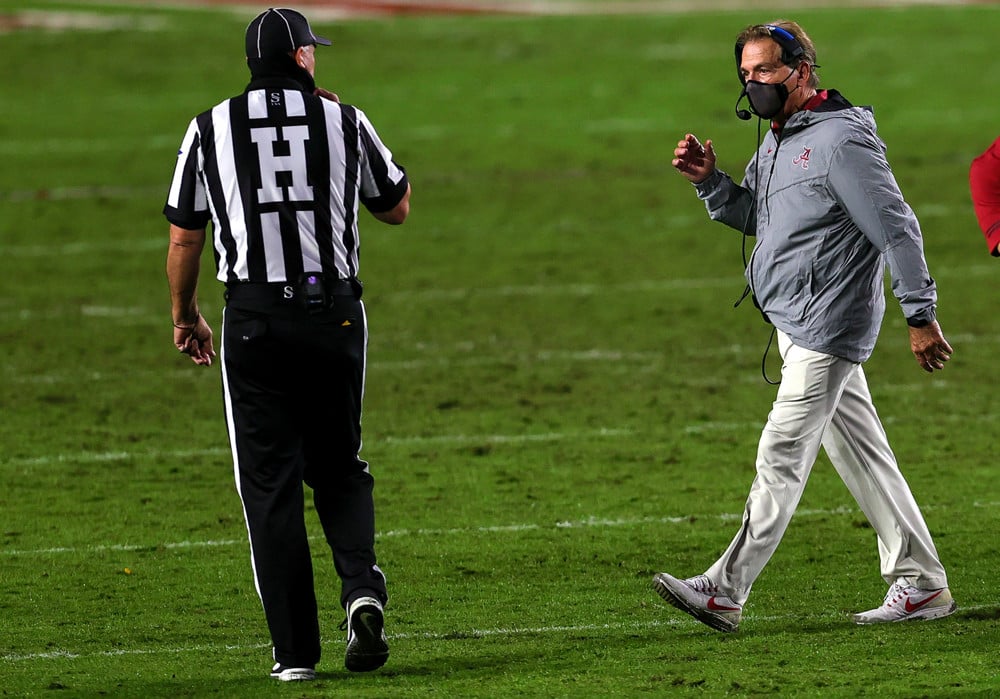 A humongous SEC battle is currently in limbo but we still preview Alabama and Georgia extensively on this edition of the show!

First with the Wednesday afternoon news that Alabama coach Nick Saban had tested positive for Covid-19, it has everyone wondering whether the Tide will be able to host Georgia Saturday night as planned? If they do play, it's the # 2 vs. # 3 ranked teams in the country in one of the games of the year for 2020.
Host T.J. Rives and Brian Edwards, senior handicapper of BrianEdwardsSports.com and Vegas Insider give you a quick preview of what to expect from this one. Brian also has a couple of underdogs that he's looking at for this weekend in the college game, including one in the ACC. Meanwhile TJ likes an American Conference "pooch" getting points at home.
Next up on the show, is our YouTube video roundtable with Ryan Fowler, Tuscaloosa radio host and Marquis Johns of BigFightWeekend.com website and podcast. The guys discuss more about the Tide and the Georgia Bulldogs, and what kind of chance does UGA have of pulling off the upset?
Marquis is on the show to help preview Saturday night's World Lightweight Undisputed Title fight on ESPN between Ukrainian Vasiliy Lomachenko and New York's Teofimo Lopez battling in Las Vegas.
There is also some baseball playoff talk, as well, with the Tampa Bay Rays on the verge of making the World Series and potentially, playing either the Braves or the Dodgers coming up next week.
The roundtable guests also go over a couple of underdogs that they like in college and the NFL.
Finally, Brian rejoins T.J. in the final segment to talk more pro-football, including the Atlanta Falcons having fired head coach Dan Quinn after their 0-5 start. Will either Brian or T.J. take Atlanta as a road doggy at Minnesota?
What about the Buccaneers getting points at home in a key game with unbeaten Green Bay? And, now that Dak Prescott is out with a broken ankle, can Dallas survive and contend for the NFC East playoff spot without him? The Cowboys are getting points as a "hound at home" with the Arizona Cardinals this Monday night.
As always, get the insight, analysis and Underdog picks from our show. And, make sure to subscribe to 3 Dog Thursday on Apple Podcasts, Spotify and Google podcasts!