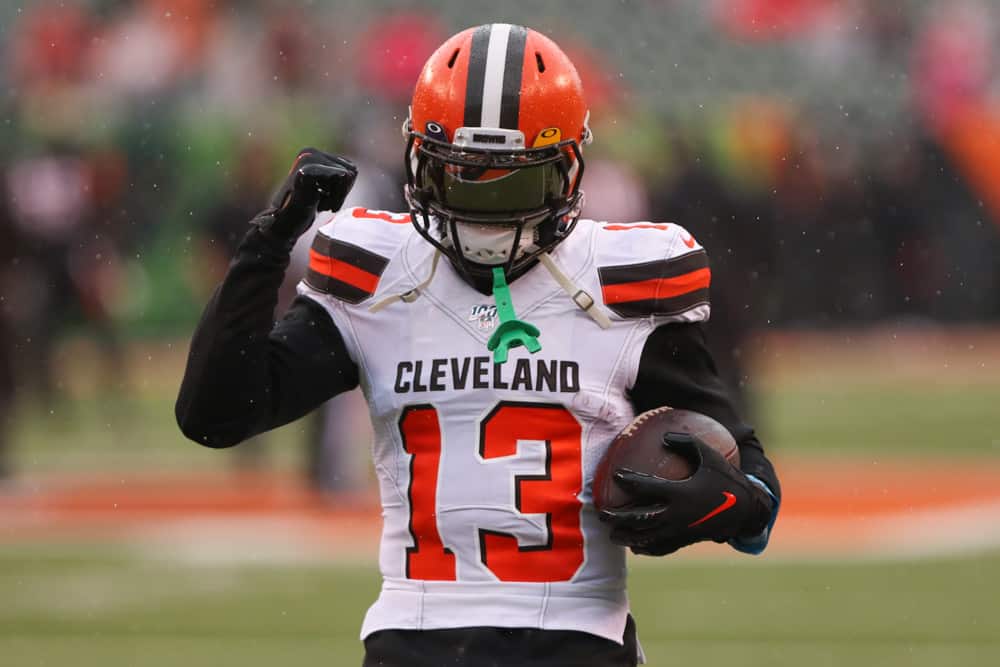 We all knew Covid-19 was going to interfere with the NFL schedule eventually, we just didn't know when. It took four weeks, but the virus has caused the Titans and Steelers to postpone their game this week. The game will now be played Week 7 in Nashville. The Patriots and Chiefs game was also affected by Covid-19 and will be played on either Monday or Tuesday.  On a positive note, we still have multiple games to wager on, we have NFL Props Week 4 for every game, and the SGP team is again handing out free picks for all the games this week.
NFL Props Week 4 for Every Game
Cleveland Browns at Dallas Cowboys
Odell Beckham Jr. – WR, Cleveland Over 67.5 Receiving Yards (-114)
The Cowboys have played high scoring games this year and that should continue Sunday. The Dallas defense has been brutalized all season allowing over 30 points per game and 277 yards passing. This sets up well for Odell Beckham and the Browns passing attack. Cleveland likes to rely on the running game, but to keep up with the Cowboys offense they will need to create explosive plays in the passing game. Beckham is one of top receivers in the game and this matchup sets up well for him.
Jacksonville Jaguars at Cincinnati Bengals
Joe Mixon – RB, Cincinnati At Least 20 Rushing Attempts (-128)
Cincinnati quarterback Joe Burrow is averaging 47 passes per game and has at least 36 pass attempts in every game this season. He has been sacked 14 times and has taken a beating thus far. The Bengals coaching staff needs to take some pressure off him and establish a running game. Joe Mixon has the talent to be a productive running back and is averaging 17 carries a game but only 3.2 yards per carry. The Jaguars allow 116 yards per game on the ground. I like Mixon's chances to break out of his early season slump against the Jacksonville defense.
Indianapolis Colts at Chicago Bears
David Montgomery – RB, Chicago Over 62.5 Rushing Yards (-123)
I played Montgomery last week, and due to the Bears falling behind early against the Falcons, he didn't go over his rushing total. With Nick Foles in at quarterback, I like Montgomery even more this week. The Colts will need to respect Foles and the passing game which will open up the running game for the Bears. With Tarik Cohen out with an injury, Montgomery's role should only increase as the season moves forward.
New Orleans Saints at Detroit Lions
Alvin Kamara – RB, New Orleans Over 62.5 Receiving Yards (-114)
Kamara has been tremendous this season and will again need to carry the Saints offense with Michael Thomas and Jared Cook out with injuries. He has averaged 10 targets per game and 95 yards receiving, and I expect Drew Brees to look his way even more with the Saints shorthanded on offense.
Seattle Seahawks at Miami Dolphins
Ryan Fitzpatrick – QB, Miami Over 281.5 Yards Passing Yards (-114)
The Dolphins could be playing from behind against the high-powered Seahawks which means Fitzpatrick will need to play well for Miami to hang around. The Seattle offense is averaging 37 points per game and Russell Wilson is the favorite for the MVP after three weeks. Defensively, the Seahawks are dead last in passing defense allowing 430 yards per game. Fitzpatrick played great last week against Jacksonville and I have a feeling he plays well again against Seattle.
Los Angeles Chargers at Tampa Bay Buccaneers
Keenan Allen – WR, Los Angeles Chargers Over 4.5 Receptions (-143)
The Chargers' offensive staff has made things simple for rookie quarterback Justin Herbert. They are trying to establish the run game and they are getting the ball to their top receiver Keenan Allen. Last week Allen was targeted 19 times and he came away with 13 receptions and 132 yards receiving. In the two games Herbert has played he has looked Allen's way 29 times. Tampa has a strong defense, but Allen is just getting targeted way too much for this prop not to hit.
Baltimore Ravens at The Washington Football Team
Mark Ingram II – RB, Baltimore Over 53.5 Rushing Yards (-114)
The entire Ravens offense struggled last week against the Chiefs. Kansas City had a great game plan and Baltimore didn't look comfortable at any point. This week I think the Ravens get back to what they do best which is running the football. Ingram hasn't had as many carries as in the past, but this could be a get right game for him. The Browns ran all over Washington last week and there isn't any reason why the Ravens won't do the same.
Arizona Cardinals at Carolina Panthers
Kenyan Drake – RB, Arizona At Least 17 Rushing Attempts (-108)
Kenyan Drake has had at least 16 rushing attempts in every game this season, but hasn't had a breakout game yet. That could come against a Carolina defense that is allowing 124 yards per game on the ground. Arizona quarterback Kyler Murray threw three interceptions last week and needs to get back on track. I expect the Cardinals coaching staff to lean on the running game to help take some pressure off Murray. On paper this is a great matchup for Drake and the Arizona running game.
Minnesota Vikings at Houston Texans
Deshaun Watson – QB, Houston Over 2.5 Passing Touchdowns (+152)
Watson has struggled this season, but a lot of his struggles have to do with the Texans opponents who are a combined 8-1 on the season. This week Watson faces the Vikings who haven't won a game and their once proud defense is allowing 292 yards a game passing and 34 points per game. The Texans obviously miss star receiver DeAndre Hopkins, but they have enough weapons to cause the Vikings problems. I think Watson plays well and gets back on track.
New York Giants at Los Angeles Rams
Darrell Henderson – RB, Los Angeles Rams At Least 17 Rushing Attempts (-102)
Henderson has taken over the lead role in the Rams backfield and should have a big role against the Giants. The Rams are big favorites and should jump out to an early lead and then rely on Henderson and the rushing attack to close out the win. Henderson has had over 100 yards from scrimmage the past two games and is showing his true potential in only his second year in the league.
Buffalo Bills at Las Vegas Raiders
Stefon Diggs – WR, Buffalo At Least One Touchdown (+120)
Diggs wasn't happy last year in Minnesota and was traded in the off-season to Buffalo. Diggs and quarterback Josh Allen have been on point. Diggs has 20 catches and 288 yards through three games. The Raiders have some injuries in the their secondary with Damon Arnette headed to IR. This looks like another great opportunity for the Bills passing game and Diggs in particular.
Philadelphia Eagles at San Francisco 49ers
Greg Ward – WR, Philadelphia Over 4.5 Receptions (-114)
The Eagles have been a huge disappointment on both sides of the ball. Carson Wentz in particular has really struggled and this week his receiving core is decimated due to injury. His only reliable targets are Greg Ward and Zach Ertz. The 49ers will have their eyes on Zach Ertz in the passing game which should open up the field for Ward who played well last week. He had 11 total targets and eight receptions, and Wentz has confidence in him from their success towards the end of last season.
New England Patriots at Kansas City Chiefs
Julian Edelman – WR, New England Over 5 Receptions (-114)
Edelman and the Patriots offense let me down last week as they stuck to the running game and buried the Raiders in Foxboro. New England will have to open up the playbook if they will have a chance against Patrick Mahomes and the Chiefs. Edelman has been up and down this season, but when needed against Seattle he had eight receptions and 179 yards in their close loss to the Seahawks. Edelman should see much more action this week in a game the Patriots will be shorthanded.
Atlanta Falcons at Green Bay Packers
Aaron Rodgers – QB, Green Bay Under 291.5 Passing Yards (-114)
The Packers will be without receiver Allen Lazard and possibly star receiver Devante Adams. Even if Adams does play he won't be 100 percent healthy. Look for the Packers to lean on running back Aaron Jones who could be in line for a monster game. Jones is averaging 6.1 yards per attempt and is one of the leading rushers in the league. With the injuries at receiver I think we get a heavy dose of the running game and Rodgers goes under his passing total.