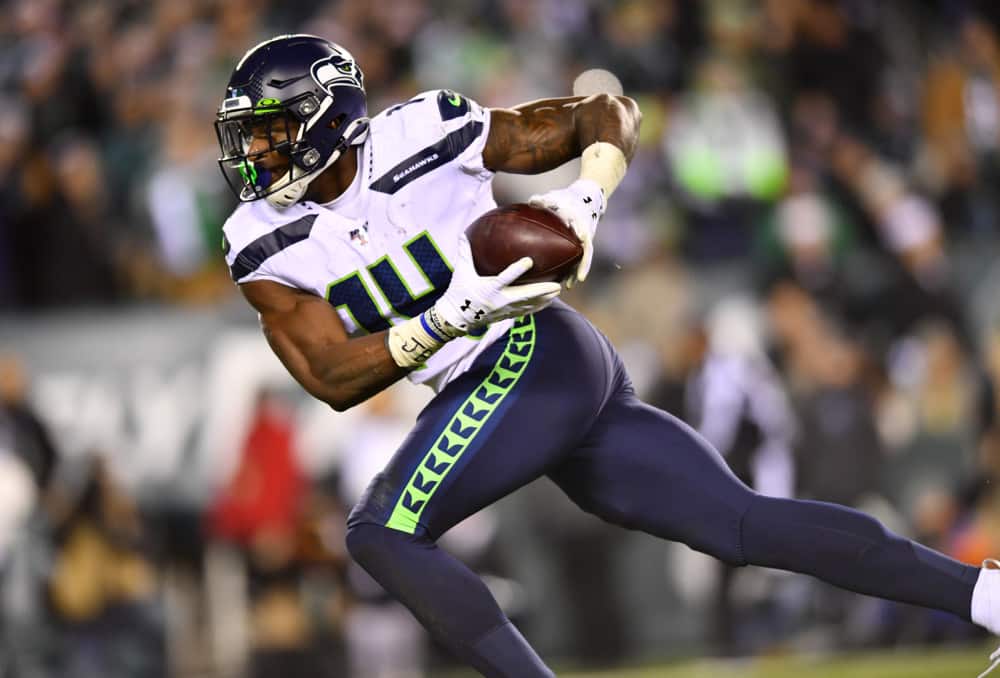 Every week, Sports Gambling Podcast hosts Sean Green and Ryan Kramer give out their best lineups to pay in the DraftKings Millionaire Maker NFL tournaments (promo code SGP). And in case you've never listened, Sean won $200k with one of his lineups.
Just in case you missed some of their picks or rationale behind them, I'll be breaking down their DraftKings Millionaire Maker picks each week in this column. I might even through in a little advice of my own.
As a result, it is time to breakdown some players to target in DFS for Week Three of the NFL season.
Click here to enter the #DegensOnly Showdown for FREE. Winner will get $100 cash and a chance to share their DFS lineup on air. 
DraftKings Millionaire Maker Picks
Quarterbacks
John Allen (Sean)
At $6,900, Allen is a very solid option considering the fact that he had the best game of his career last week in which he threw for 417 passing yards along with four touchdowns so he has been in great form lately. Plus, he possesses a ton of mobility which is always a bonus and it gives him some rushing touchdown upside. Although Los Angeles has been playing pretty good defense up to this point, Allen should be considered due to potential low ownership along with him receiving more trust from the coaching staff to air the ball out.
Russell Wilson (Ryan)
At $7,300, Wilson appears to be a steal considering the fact that he is the frontrunner to win the NFL MVP through two weeks. He has 610 passing yards along with a league-high nine passing touchdowns so he has been on another level in 2020. Plus, he has a great matchup against the Cowboys after they allowed Matt Ryan to throw four touchdowns last week so Wilson should have a great opportunity to have another monster day.
Looking for a free shot at millions of dollars in prizes? Download the DraftKings app and use promo code SGP
Running Backs
David Montgomery (Sean)
At $5,700, David Montgomery appears to be on the cheap side considering the fact that he had 127 yards along with one touchdown last week against the Giants. Plus, he now gets to feast against arguably the worst defense in the league on Sunday as Chicago gets to travel to Atlanta's dome stadium. Since Trubisky reverted back to his old self a bit against New York, Coach Nagy might rely a bit more on the ground game to set up some manageable third downs which should boost Montgomery's DFS stock.
Looking for more action check out some online betting contests.
Austin Ekeler (Ryan)
At $6,800, Austin Ekeler provides a lot of value due to low ownership and a solid matchup. While Ekeler managed to record 148 yards while touching the ball 20 times, some DFS players might be scared off due to the presence of Kelley in the backfield. However, Kelley has not changed the fact that Ekeler is still a very talented running back and Los Angeles has gotten him exactly 20 touches in each of the first two games so he is still getting a ton of volume. Plus, Ekeler now gets to face off against an awful Carolina defense that has allowed three rushing touchdowns in every game this season so he should be able to get into the end zone at least once.
Miles Sanders (Sean and Ryan)
At $6,400, Miles Sanders looks like he could be a DFS monster in week three as he should receive a ton of volume while facing off against one of the worst rush defenses in the league. After missing week one, Sanders received 23 touches and that was with a terrible game script so one should expect to see him being fed the ball on a regular basis in this game. Plus, Cincinnati's defense got exposed on Thursday Night Football as Cleveland recorded 215 rushing yards and three rushing touchdowns so it is definitely realistic for Sanders to score two touchdown on Sunday.
Wide Receivers
John Brown (Sean)
At $5,700, John Brown should be a solid option for DFS lineups due to his matchup as well as Buffalo's new commitment when it comes to throwing the ball. Although Los Angeles has been a solid defensive team this season, star cornerback Jalen Ramsey will be on Stefon Diggs which should give Brown some added targets in this matchup. Plus, he is a great stacking option with Josh Allen since the Bills have thrown for at least 312 passing yards in each of the first two games. Assuming that Buffalo continues to trust him in the pocket, the Bills should throw the ball at least 30 times on Sunday.
DK Metcalf (Sean and Ryan)
DK Metcalf has continued to emerge as a high-quality wide receiver with more experience. Metcalf had his "coming-out party" in the playoffs last season against Philadelphia and he has continued to produce in 2020. In each game, Metcalf has recorded at least 92 receiving yards and one receiving touchdown so he has been a production monster up to this point. Plus, he is a great stacking option with Russell Wilson as they get to face off against one of the worst secondaries in the league on Sunday. At $6,500, it is safe to say that Metcalf is way too cheap and that he should be added to one's lineups.
Allen Robinson II (Sean and Ryan)
At $6,200, Allen Robinson II should be heavily considered for DFS lineups due to his prime matchup on Sunday. Atlanta is allowing 39.0 points per game and its pass defense is allowing 386.0 yards per game so one can safely assume that Trubisky should be able to move the ball with ease through the air in this game. As a result, Robinson II is in a great spot to put up some massive numbers considering the fact that he is the number one receiver on the depth chart. After only recording 107 receiving yards through two weeks, expect him to get back on track on Sunday.
KJ Hamler (Ryan)
At $3,000, KJ Hamler has the potential to be a massive DFS sleeper in week three. Despite only getting three receptions last week, he was still targeted seven times which was tied for most on the roster so he should continue to be heavily involved in the offense. Plus, star receiver Courtland Sutton tore his ACL and is out for the season so one can expect KJ Hamler to receive more snaps which should give him more reps in order to make an impact on this game. It is definitely a risky play since Denver now has a backup quarterback starting games but the pick does possess a lot of value because the Broncos are a bit thinner at the wide receiver position in comparison to last week.
Tight End
Mo Alie-Cox (Sean)
The NFL is a "next man up" league and that statement has applied to Indianapolis' tight end position. Original starter Jack Doyle was projected to have a solid season but an ankle injury sidelined him last week and he is most likely going to miss this game. In his absence, Mo Alie-Cox was named the temporary starter and he made the most of that opportunity last week as he recorded 111 receiving yards against Minnesota. At 3,800, Alie-Cox is way too cheap if he is able to duplicate last week's performance on Sunday. Plus, he gets to face off against a Jets defense that has struggled mightily up to this point
Dalton Schultz (Ryan)
Ryan's logic behind using Dalton Schultz is very similar to Sean's logic of using Mo Alie-Cox as both players suddenly became starting tight ends due to injuries on the depth chart. Blake Jarwin was the original starting tight end but he suffered a serious knee injury so Dalton Schultz became the new starter. Last week, he made the most of that opportunity as he recorded nine catches for 88 yards and one touchdown. In addition, game flow should benefit him in Sunday's game as Dallas will most likely be playing from behind against Seattle in what should turn into a shootout so he should be able to rack up a decent amount of targets.
Looking for a free shot at millions of dollars in prizes? Download the DraftKings app and use promo code SGP
Flex
JuJu Smith-Schuster (Sean)
At just $6,600, JuJu Smith-Schuster possesses a lot of DFS value due to his elite matchup on Sunday. With Roethlisberger back behind center, Smith-Schuster has flourished as he enters this game with 117 receiving yards and two touchdowns. However, he was relatively quiet last week as he only had 48 receiving yards. Now, he is in a great spot for a bounce back performance as he gets to face off against an underwhelming Houston secondary in Heinz Field on Sunday. He has also received at least six targets in each game this season so one can expect him to continue seeing a ton of passes thrown his way.
Kenyan Drake (Ryan)
At $6,000, Kenyan Drake seems to be massively underpriced due to his volume and his amazing matchup on Sunday. Despite recording less than 96 total yards in each of his first two games, Drake has still received at least 18 touches in both games so he should continue seeing a lot of touches in this home game. Plus, he now gets to face the Lions and their abysmal defense which is allowing 34.5 points per game along with 445.0 total yards per game so it is safe to assume that Arizona's high-powered offense should have itself a big day on Sunday as Drake should find himself in great positions to reach the end zone for the second time this season.
Defense
Carolina Panthers (Sean)
After using Los Angeles' defense last week, it appears that Sean has a thing for basement defenses in DFS because he is going with Carolina this week. At $2,200, Carolina is a cheap option that does possess some upside as it gets to face a rookie quarterback making his second career start. Although Herbert looked good in his debut against Kansas City, he made a couple of dumb decisions and that has been a staple of his since college so one can expect Carolina to record several sacks while forcing at least one turnover in week three.
New England Patriots (Ryan)
At $3,200, New England will be hoping that a trip back to Foxborough will help its defense get back on track after allowing 35 points to Seattle last week. Luckily, it gets to face a Raiders teams that will be on a short week and that has struggled on the East Coast for multiple years. Plus, Las Vegas is dealing with several injuries to key offensive linemen so New England should be able to generate constant pressure for all four quarters.
Compete against your fellow degenerates in the #DEGENSONLY SHOWDOWN! Winner will get $100 cash and a chance to share their DFS lineup on air.
Sign up at DraftKings.com using promo code SGP, if you're not in DraftKings already.
SCREENSHOT you submitting a five star review on any of our feeds Sports Gambling Podcast, Sports Gambling Podcast Network, The College Experience, NBA Gambling Podcast, Soccer Gambling Podcast.
Fill this form out.
Get a link to enter the Thursday Night Showdown contest for Miami Dolphins at Jacksonville Jaguars and submit your lineup. COMPLETELY FREE TO ENTER!