Another UFC event last week, and another winning week for this column. Let's keep the hot hand going with UFC Fight Night this weekend, Saturday's Covington vs Woodley event! We have odds and I'm picking winners for every fight on the card for UFC Fight Night this weekend.
Legal Disclaimer: While these are in fact all the winning picks for UFC Fight Night this weekend, there are also a couple losers included. It's up to you to figure out which ones are which. Maybe there are no losers in this batch – who's to say.
All odds courtesy of MyBookie
UFC Fight Night This Weekend Picks
Colby Covington (-335) vs Tyron Woodley
This is a grudge match years in the making, between MAGA troll Colby Covington and former long-time welterweight champion Tyron Woodley. Unfortunately, it took so long to finally make the fight that 'T-Wood' seems to be shot as a fighter. He's not just lost his last two fights – he's lost EVERY ROUND in those fights. Yes, he's lost 10 straight rounds in the octagon. Covington's relentless pace should ensure he ends this rivalry with his hand raised.
Donald Cerrone (+115) vs Niko Price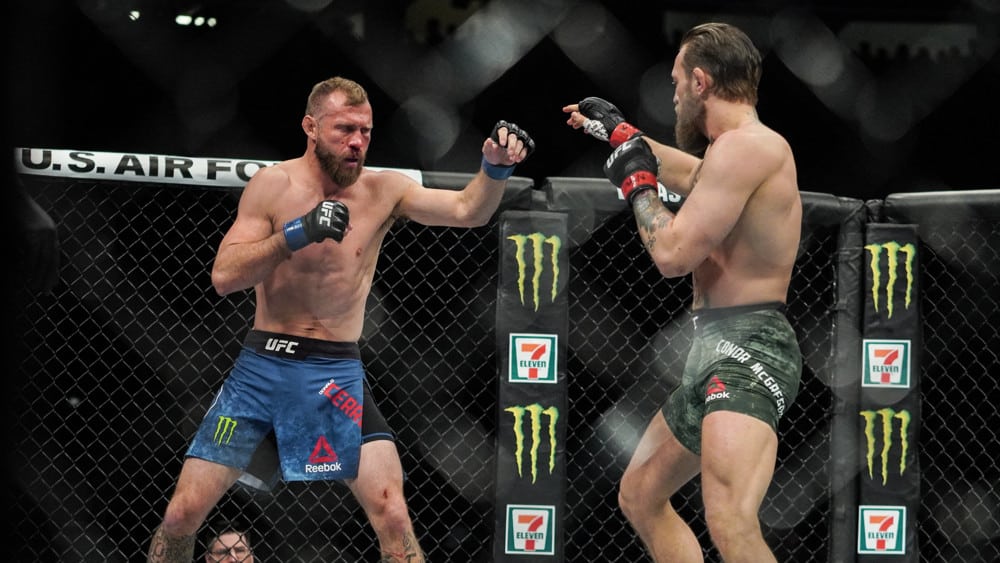 Long-time fan favorite 'Cowboy' Cerrone is on a horrible skid, loser of his last four fights. But look at who he's lost to during that stretch: Tony Ferguson, Justin Gaethje, Conor McGregor, and Anthony Pettis. Not exactly a bunch of slouches. Plus he matches up well with Niko Price, who is balls out, kill or be killed in the cage. Cerrone should be able to outsmart him and outmaneuver him to get the W, and get us plus money.
Khamzat Chimaev (-410) vs Gerald Meerschaert
This will be Khamzat Chimaev's third UFC fight since he debuted in July, and UFC boss Dana White is so enamored with him he has another fight lined up for him after Saturday. So there's the chance that 'Borz' is overlooking Gerald Meerschaert. Even if he is, his overpowering and brutal wrestling will earn him the win regardless.
Johnny Walker (-135) vs Ryan Spann
Johnny Walker burst onto the UFC scene, full of crazy knockouts and spins and elbows and jumping nonsense. But since winning his first three octagon bouts, he's dropped his last two and has gone on a voyage trying to find the right fight camp. I think he gets his career back on track on Saturday against 'Superman' Spann.
Randa Markos (+140) vs Mackenzie Dern
Rolling the dice with another live dog here in fellow Canadian Randa Markos. While Mackenzie Dern is a world class, world champion jiu jitsu player, she's been successful on her takedown attempts in the UFC only 7% of the time, a ridiculously low number. Additionally, Markos is a very strong wrestler, meaning she's not going to be put on her back very easily. She should be able to keep the fight standing and win a striking battle.
Kevin Holland (-255) vs Darren Stewart
Kevin Holland has all the factors I look for in a winning fighter in his favor this Saturday against Darren Stewart. He's got seven inches of reach, is younger, has better striking stats and equal grappling numbers to Stewart. 'Trailblazer' is the choice.
Miguel Baeza (-310) vs Jeremiah Wells
'Caramel Thunder' is a perfect 9-0 as a pro, including finishing both of his UFC opponents thus far. It should be 10-0 after Saturday, as he'll be too much for UFC newcomer Jeremiah Wells, who's never fought above the regional scene.
Mirsad Bektic (-500 – not posted on MyBookie yet) vs Damon Jackson
Damon Jackson will be making his long-awaited UFC debut after being cut from the promotion five years ago. It should be a "bounce back" fight for Mirsad Bektic, who's lost his last two and should outclass Jackson.
Mayra Bueno Silva (-260) vs Mara Romero Borella
Mara Romero Borella has dropped three straight, and four out of five, so no way I feel comfortable going with her in this battle. Sticking with the chalk in Mayra Bueno Silva.
Jordan Espinosa (-115) vs David Dvorak
I'm listening to Jordan Espinosa being interviewed on a podcast as I type these words, so this pick was meant to be. Not to mention he's superior to David Dvorak in both striking and grappling, despite this fight being a pick 'em on the board.
Sarah Alpar (+185) vs Jessica-Rose Clark
Now Sarah Alpar is being interviewed – I kid you not! I'm going with her as a live dog in this one due to her very strong wrestling background, which has proven to cause Jessica-Rose Clark issues in the past.
Journey Newson (-130) vs Randy Costa
This is a tough fight to pick, as both guys match up pretty well with one another. I'll stick with the betting favorite, as I've got enough dogs on this card already.
Irwin Rivera (+180) vs Andre Ewell
Ok, fine, I'll pick another underdog. This is a big, 15 fight lineup anyhow, so we're bound to have around four to five dogs come through, on average. Despite having a huge length disadvantage, I like Irwin Rivera over Andre Ewell in the striking and grappling realms.
T.J. Laramie (-310) vs Darrick Minner
Pretty steep odds for a UFC newcomer, by 22-year-old T.J. Laramie is a much heralded prospect, and should be able to get his UFC career off on the right foot against Darrick Minner.
Jerome Rivera (+150) vs Tyson Nam
Taking this many underdogs makes me a little nervous, but I like the look of another newcomer, Jerome Rivera, in his fight against Tyson Nam. Not only will he have a huge size advantage and is 12 years younger, I think he's got the skills to get the job done.
UFC Fight Night Overall Results 
Record: 130-74
Earnings:  $764.37
Return on Investment:  3.7%