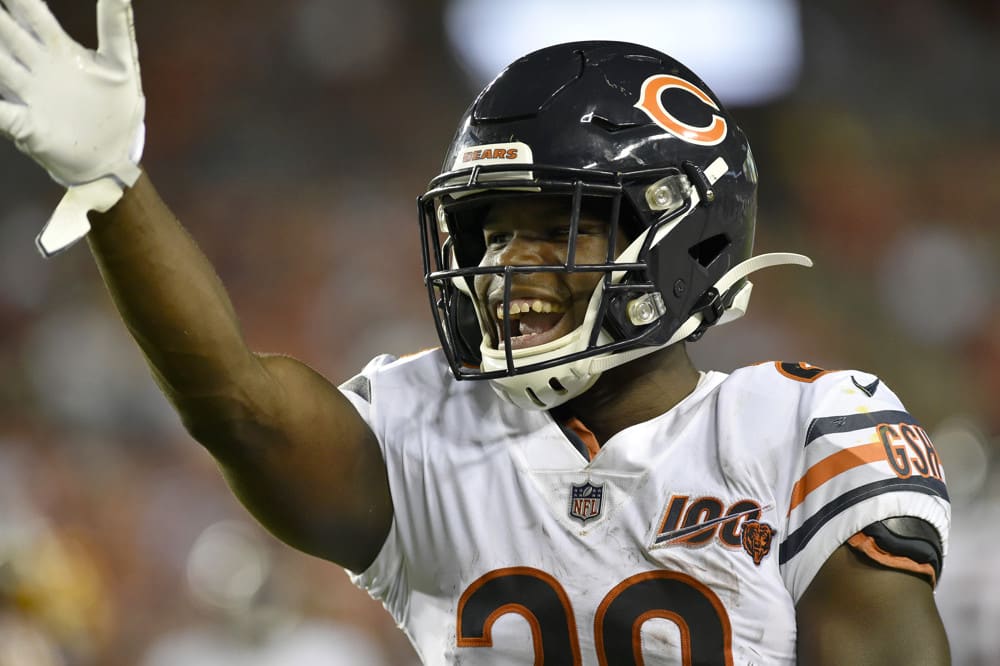 The NFL is back, fantasy football is back and so is the DraftKing's Millionaire Makers! I'm a huge fan of these tournaments, probably because I won $200k week one of 2017, that aside it's still a super fun lottery ticket.
Even better the week one tournament entry is only $5, so I decided I'd make a lineup for every starting QB in the Millionaire Maker field…except Dwayne Haskins.
Looking for a free shot at millions of dollars in prizes? Download the DraftKings app and use promo code SGP
1. Carson Wentz

Carson Wentz has had a ton of success against the Football Team over the years and if the Eagles OL holds up he can have a big day.
2. Lamar Jackson

The week one winner of the Millionaire Maker lineup in 2019 had a Lamar Jackson / Hollywood Brown stack and sees like a good spot to run it back for 2020.
3. Russell Wilson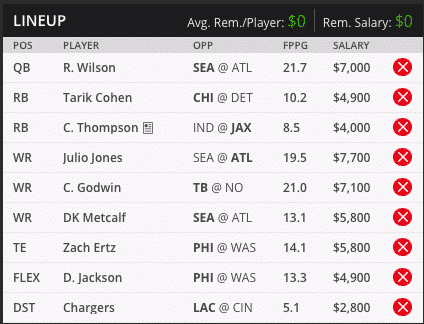 I'm very high on D.K. Metcalf this year and if the Seahawks truly let "Russ Cook" they could have a big day against the ATL defense.
4. Drew Brees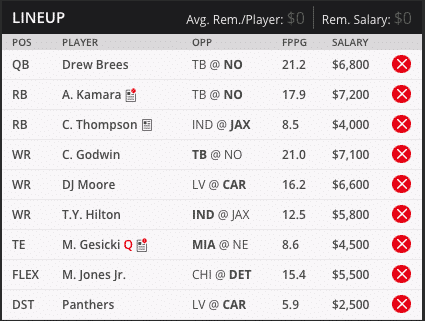 The big knock on Drew Brees is his arm strength so stacking him with Kamara is always a great PPR game plan.
5. Matt Ryan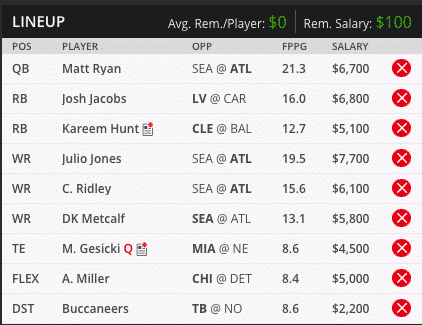 Can Matt Ryan carve up the Seattle defense at home? Probably not but hey it's $5 so who cares.
6. Tom Brady

I'm big on Brady / Godwin for the season and with Mike Evans doubtful for Sunday this lineup looks even better.
7. Josh Allen

Josh Allen could have a huge fantasy season with his rushing yards and new weapon in Diggs. I think it may take a little to get the chemistry down with Diggs so opted to stack him with Brown.
8. Kyler Murray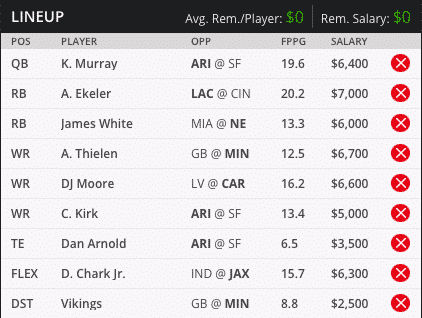 Even as a rookie Kyler Murray had two good fantasy games against the 49ers combining for 4 passing TDs, 0 INTs, 101 yards rushing and a rushing TD.
9. Aaron Rodgers

Everyone including Packers management think Rodgers' time has past, but he could still have a lot left in the tank. Lazard is a sneaky stack and like him to have a big day.
10. Matt Stafford
Before Matt Stafford got hurt he was balling out last year, Kenny Golladay is doubtful which means Jones Jr. could see a huge increase in targets.
11. Cam Newton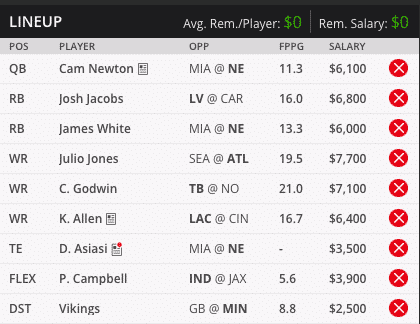 The ceiling on Cam Newton in fantasy is super high depending on how often they have him running the ball. Asiasi could be an interesting red zone target.
12. Philip Rivers
All the news out of Colts camp is highlighting the connection between Rivers and T.Y. Hilton and they could have a huge day against a depleted Jags defense.
13. Teddy Bridgewater
Nobody knows what to expect out of Teddy Bridgewater in the new Matt Rhule offense, but they have a ton of speed at their skill positions going up against a Raiders defense at home.
14. Derek Carr
Panthers may surprise people on offense, but they're starting three rookies on defense and that could be the perfect setup for the Raiders.
15. Gardner Minshew II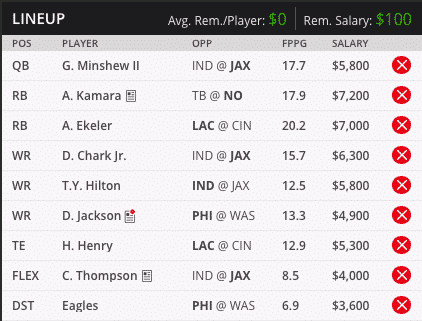 Minshew II is a super fun fantasy play this season, he could be playing from behind a ton and quietly isn't afraid to run the ball. Plus he has a legit connection with Chark.
16. Joe Burrow
Joe Burrow doesn't lack confidence and in his NFL debut their certainly is a scenario where he picks up where he left off at LSU.
17. Jimmy Garoppolo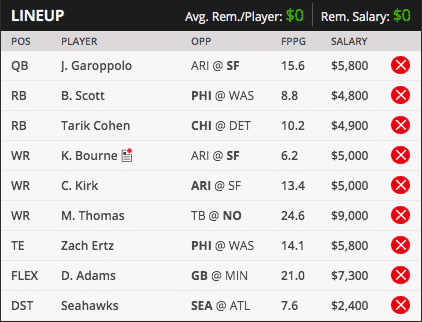 Jimmy G has lost a ton of WRs and Kendrick Bourne could be the player that benefits the most from it.
18. Kirk Cousins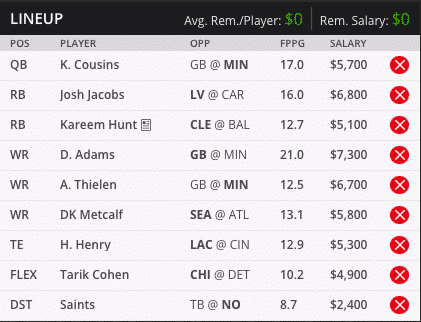 I'm not a huge Kirk Cousins fan, but $5700 is really low for a productive fantasy QB. Thielen looks to benefit from a ton of vacated Diggs targets.
19. Baker Mayfield
Baker Mayfield may benefit from the new Kevin Stefanski offense and look for Kareem Hunt to be involved in the passing game.
20. Tyrod Taylor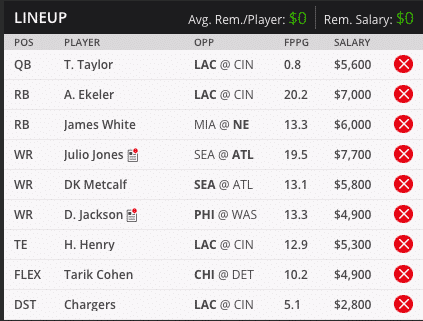 Tyrod Taylor seems pumped to take advantage of his opportunity as a starter and Henry and Ekeler are the perfect targets for Tyrod's conservative game.
21. Sam Darnold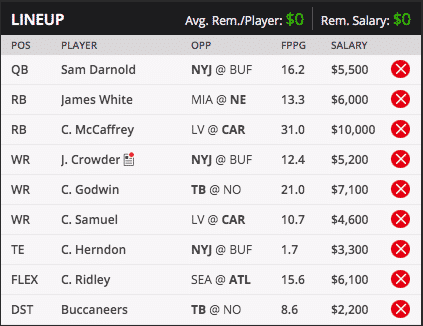 Sam Darnold is dealing with a ton of injuries at the WR position, but Crowder and Herndon could end up seeing a ton of targets.
22. Mitch Trubisky

Nobody believes in Mitch Trubisky, but his best games in the NFL have come against the Lions throwing for 11 TDs, five more than his 6 TDs against the Bucs.
23. Ryan Fitzpatrick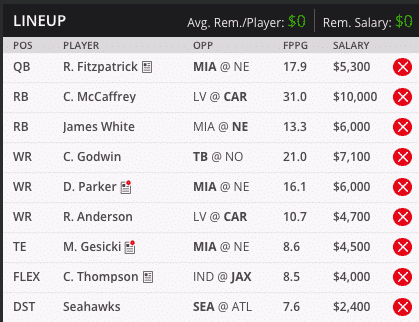 I love the way Ryan Fitzpatrick plays football and his reckless abandon could have huge upswing. The Patriots defense has a ton of questions and Parker's last game was a huge one in NE.
24. Dwayne Haskins
Not doing one for Dwayne not going to risk any bad gambling juju by in anyway picking the Washington Football Team. Fuck Dwayne Haskins and Fuck the football team. FLY EAGLES FLY!
READ ALSO
NFL DFS Flowchart Week 1 – DraftKings GPP
DraftKings NFL Picks: Best Value Under $5k