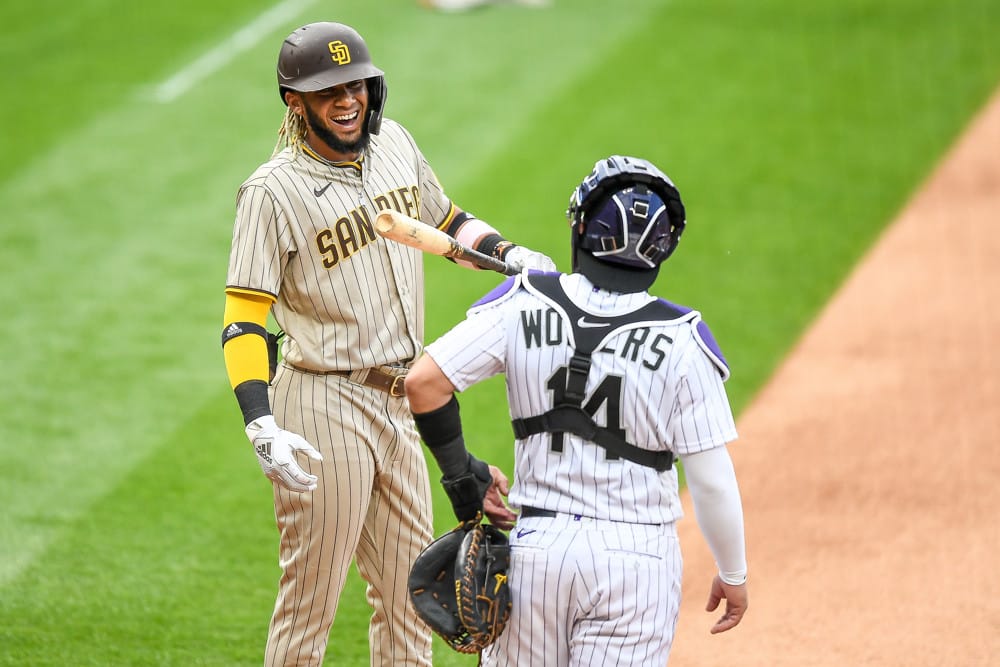 Last week was pretty solid. My pitching picks were good and provided a high floor every night. My batting picks were a bit more inconsistent, 1 for 3 from my featured players, although the lower tier selections gave us some excellent value.
Most MLB teams are back in action this week, only the Cardinals are struggling to get back on the field, and hopefully the league is in a better position to finish this season than it looked just seven days ago.
Even with the Marlins still springing surprises and the Giants over-achieving, the season seems to be leveling out now and we're starting to see the emergence of the 2020 stars. One thing to look for is the seven inning games that are making up double headers. I'm not going to tell you how to play them, the sample size is too small, whether you want to take the extra at bats on offer and sacrifice the quality is up to you, just be aware.
Sign up and play at DraftKings with promo code SGP for some free entries. 
Hitters
Fernando Tatis Jr.– SDP v LAD
And this is the star we are talking about. What a player! Tatis is slugging .417 and has 8 homers, 1 of which was off opposing Tuesday pitcher Ross Stripling. He was red hot over the weekend, and although you'll have to cough up for him, like most things in life you get what you pay for.
Mike Tauchman – NYY v ATL
This is a value play, taking advantage of the fact the Giancarlo Stanton has hit the IL again. Tauchman should inherit those at-bats, and in this Yankee line-up he'll be a very cheap option to get those runs and RBI's that come with the role. (Look for Mike Ford if Tauchman isn't named)
Franmil Reyes – CLE v CHC
The Franimal has 3 multi-hit games in his last 4, his counting numbers are adding up and Cleveland look on the verge of a charge. I remain unconvinced by the Cubs pitching too, making Reyes an appealing play.
Other Hitters
Tier 1
Brandon Lowe – TBR
Shohei Ohtani – LAA
Bo Bichette – TOR
Lourdes Gurriel Jr.– TOR
JD Davis – NYM
Starlin Castro – WAS
Tier 2
Robbie Grossman – OAK
Cesar Hernandez – CLE
Dylan Moore – SEA
Todd Frazier – TEX
Rob Refsnyder – TEX
Pitchers – Tuesday
Hyun Jin Ryu – TOR v MIA
Ryu was stellar against the Braves last time out, with 0 earned runs and 8 K's. This is the Blue Jays home away from home opener in Buffalo, which we hear will play more of a pitchers park, and the opponents Miami can only regress. Must pick.
Touki Toussaint – ATL v NYY
Toussaint has improved with every start this year, with 9 K's v Toronto last time. He draws the Yankees this time, which is a tough assignment, but they do like a strikeout, and some of their big power is missing through injury.
Zach Wheeler (PHI) and Luis Castillo (CIN) both have juicy looking match ups v Baltimore and Kansas respectively, but those sides have been scrappy, and I prefer the high/low duo of Ryu and Toussaint.
Pitchers – Wednesday
Antonio Senzatela – COL v ARI
Senzatela is 3-0, with a solid 2.65 ERA over 17 innings with 14 K's. Without being spectacular this will be a sensibly priced play against a Diamondback side that are flattering to deceive. Its Coors Field again, but we mastered it last week, so what could possibly go wrong?
Kenta Maeda – MIN v MIL
Maeda has been consistently good this year allowing just 8 hits in 3 starts. He made 1 mistake in his last outing and it cost him 3 runs v Pittsburgh. He could do with adding a couple more punch-outs but I like the play
Other Pitchers – Wednesday
Nate Pearson – TOR v MIA
Zach Eflin – PHI v BAL
Jordan Lyles – TEX v SEA
Pitchers – Thursday
Jake Arrieta – PHI v BAL
Arrieta was excellent in his last start against the Braves. He's healthy and gets to punish a Baltimore side here who are showing diminishing returns after doing OK early on.
Anthony Desclafani – CIN v PIT
I'd pick him even if his nickname wasn't Tony Disco. He doesn't strike many out but should provide a solid floor and Pittsburgh are poor. A repeat of the 6 scoreless he hurled last time will do us here.
Other Thursday Pitchers
Yu Darvish – CHC v MIL
Austin Voth – WAS v NYM
Stacks
Fewer this week, we'll just throw 3 darts, and we're beating up on the bad teams being bad.
Toronto Blue Jays v MIA
Philadelphia Phillies v BAL
Washington Nationals v NYM
Good Luck