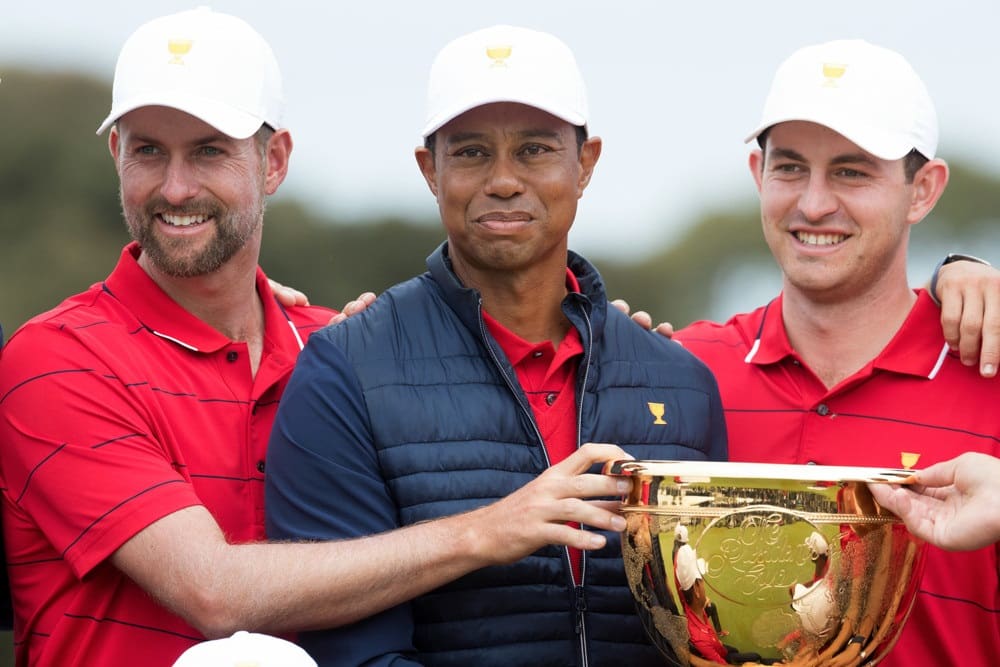 For those who missed it, please check out the 2020 PGA Championship Preview and Betting Strategies column to help you narrow down the field of which golfers to target.
With that in mind, here are some interesting matchup picks to take a look at (with odds courtesy of MyBookie.ag).
Webb Simpson (-170) & Patrick Cantlay (-170) over Tiger Woods: This is a lot of juice to lay for a matchup prop, especially considering you'd be fading the #GOAT. But I don't think the combination of Tiger's creeky, stiff back and the expected cool, windy, damp, thick roughed TPC Harding Park are going to go together well. He also goes off first thing on Thursday morning where the temperatures will barely climb above 60 degrees. I'm getting some serious Royal Portrush vibes for my expectation of Tiger's performance this week. It seems like the books are begging for Johnny Q. Square to see Tiger at plus odds and make a bet with their heart. Don't take the bait against two players I expect to play very well at TPC Harding Park.
Dustin Johnson (+160) over Rory McIlroy: These odds would be justified if Rory's current form matched his long term trends, but that simply isn't happening right now. Over each of their last four tournaments, Rory is only about 0.77 strokes better than Dustin Johnson. DJ is coming off a very good ball striking week, cleaned up his act on and around the greens in Memphis and is a good fit for TPC Harding Park. Meanwhile, it is alarming how bad Rory is with his irons right now. Since the PGA Tour returned, Rory has only gained 0.07 strokes per round with his irons, which is over a full shot per round worse than before the PGA Tour went on hiatus. I don't see that reversing itself in one weeks time, and I like the value of taking DJ as a big underdog against him head to head.
Ryan Palmer (-155) over Emiliano Grillo: Ryan Palmer has been about 3 shots per tournament better than Emiliano Grillo both over the course of the season and in recent form. Both their ball striking overall is pretty good, but Emiliano Grillo is much, much worse on and around the greens. Ryan Palmer also gets the benefit of teeing off in much calmer weather conditions Thursday morning, while Grillo faces the worst weather of the day right from the jump. Given all these factors, Palmer should best Grillo head to head.
Jim Furyk (-135) over Cameron Smith: Both of them have the unfortunate circumstance of drawing a Thursday afternoon tee time, so each are on the same playing field to start their tournaments. Furyk has been about 1.4 strokes per tournament better than Cam Smith this season, and over 4 strokes better over each of their last four tournaments. Normally a player who overcomes loose ball striking with a great short game, Cam Smith has struggled in that department recently and doesn't have the length in his game to overcome his inaccuracy off the tee. Furyk should beat him head to head.
Andrew Landry (-155) over Andrew Putnam: Andrew Landry has been just under 2 strokes per round better than Putnam over each of their last 16 rounds. While neither are great ball strikers, Landry has shown he can at least keep the ball on the planet off the tee, while Putnam doesn't seem to know where his ball is going. Putnam ovecomes his ball striking deficiencies with great putting and scrambling, but he's only gaining about 0.13 strokes per round over his last 16 rounds in that area. That's not enough to make up for the 2.38 strokes he loses off the tee or with his irons over that same stretch. Landry should beat him head to head.