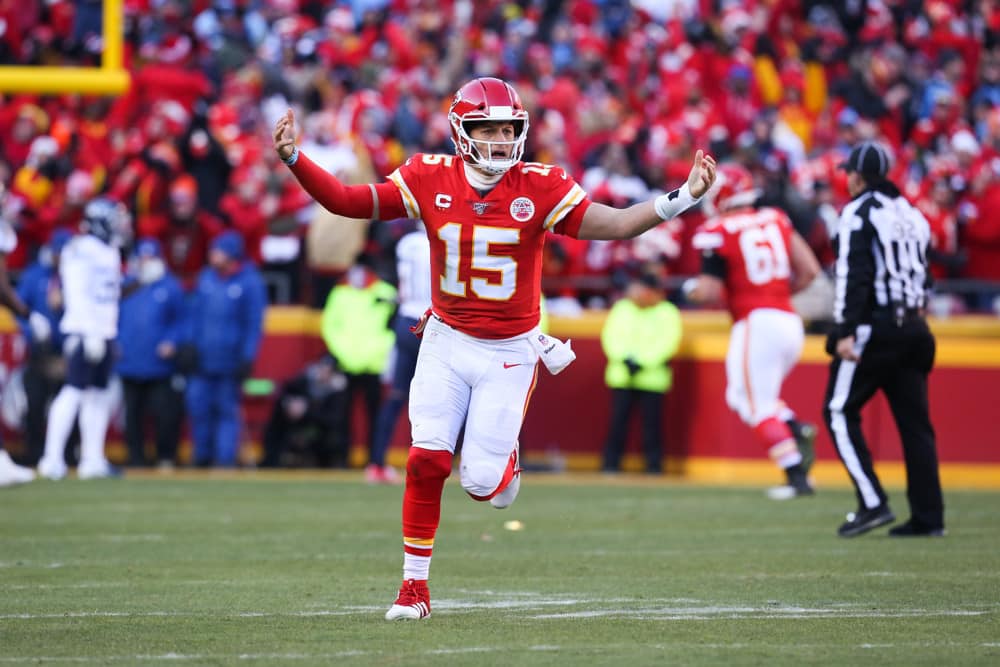 Just how ridiculous is the massive contract that Chiefs quarterback Patrick Mahomes agreed to this week or might Kansas City have actually been smart and gotten him for an overall discount many years down the road?
It is all part of our "Roundtable discussion" from this week's Three Dog Thursday podcast on the Sports Gambling Podcast Network of shows.
Our panelists include longtime National NFL writer, multi-time author of numerous NFL books and Pro Football Hall of Fame voter, Jason Cole.
Jason and I go over that specific point how about weather the Chiefs may look really good in 2026 and beyond, if quarterback average salary trends are well above $40 million per season.
You can see and hear the discussion from the Three Dog Thursday YouTube page here:
As for the defending Super Bowl champion Chiefs with Mahomes at the controls, the latest under over total is set at 11.5 wins for them in 2020 via MyBookie.ag. That gaudy number is only approached by both the San Francisco 49ers and the New Orleans Saints out of the NFC with 10.5 U/O win totals.
Further, the Chiefs remain the odds-on favorite to repeat as Super Bowl LV Champions next February at 6-1, followed by the Baltimore Ravens at 6.5 -1 and the Tampa Bay Buccaneers (now with Tom Brady) and San Francisco 49ers at 8.5 -1
Also in the Roundtable discussion, Danielle McCartan, part-time host with WFAN sports radio in New York and Indianapolis broadcaster, Will Haskett, weigh-in on the start of the baseball season.
Danielle gives her insight on the stacked Yankees roster with the shortened 60 game schedule. The Yankees are currently the overwhelming American League favorite to appear in the World Series at 1.5-1, while the disgraced Houston Astros are 3.5-1.
Haskett defends his beloved Chicago Cubs, who currently clock in as a 10-1 doggie to win the NL, significantly behind the favored L.A. Dodgers at 1.5-1 for the pennant.
Finally, Will, who also works for Sirius/XM PGA Tour radio and called play by play of last week's tournament in Detroit, has an interesting thoughts on the physical transformation of last week's winter Bryson Dechambeau.
Dechambeau has bulked up with over 25 pounds of muscle and has now become the longest hitter on the re-start of the PGA Tour season. With whispers of possible P E D usage vs. DeChambeau's claims of physical fitness and huge caloric intake, the debate continues about whether his success is legit and will it sustain?
Currently, after his latest pro victory, the former U.S. Amateur champ Dechambeau is a 12-1 future odds favorite to win the upcoming PGA Championship in San Francisco in August. With golf's adjusted schedule due to Covid-19, that will be the first major of this season.
Rory McIlroy is a 9-1 fave, while Tiger Woods is 15-1 for the PGA Championship.
Hear and see it all as part of "3 Dog Thursday!"
And, make sure to search for show on Apple Podcasts, Spotify Google Podcasts etc. and rate/subscribe to the show!