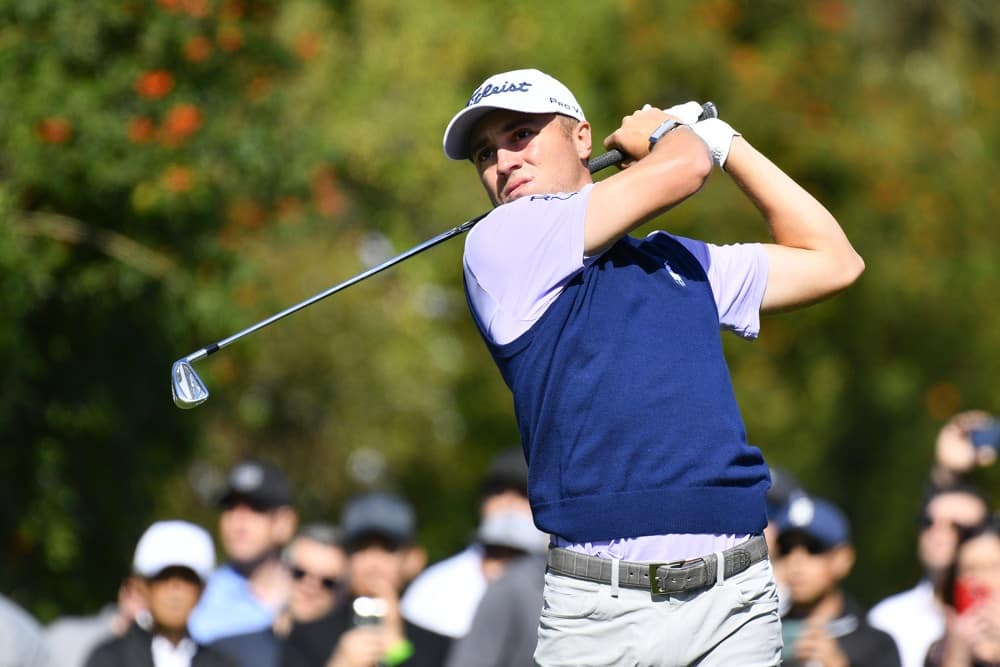 For those who missed it, please check out the 2020 Workday Charity Open Preview and Betting Strategies column for the types of golfers you should look to target for your bets.
With that in mind, here's who I like this week at Muirfield Village (with odds courtesy of MyBookie.ag).
Champion Futures (with Top 10 Odds)
Justin Thomas – 10/1 (+120): I typically don't like betting odds these short for a winner of a strong field, but everything around Justin Thomas screams regression to the mean this week. Thomas was putrid with his irons and his putting at the Travelers Championship, surprisingly missing the cut on a golf course that seemed to suit his strengths. Those all should bounce back in a big way this week and put him right back in the mix on another golf course that rewards excellent ball striking.
Xander Schauffele – 18/1 (+190): Xander got off to a fast start at the Travelers before fading on the weekend to a T20 finish. His performance off the tee and putting improved from poor performances at Harbour Town, but he still struggled a bit with his irons. After a week off, I see that bouncing back towards his mean to allow him to vie for another win on tour.
Justin Rose – 22/1 (+200): Justin Rose came out of the gates following the COVID break on fire with fantastic ball striking with new clubs in the bag, but he came crashing down to earth at Travelers with a mediocre performance similar to ones before his switch. I'm inclined to think that was an outlier and he's much closer to the player we saw at Colonial and Harbour Town again. A regression in ball striking at one of his best venues on the PGA Tour should mean big things for him.
Marc Leishman – 40/1 (+400): Leishman's ball striking has been just as good the last few weeks as it was before the COVID  shutdown, but his putting and short game has let him down to stifle his finishes on the leaderboard. Leishman has a solid history at Muirfield Village both on the leaderboard and on the greens, where he's gained at least 0.5 strokes on the greens per round in four of his last five trips there. A bounce back on friendlier surfaces along with sustained efficiency tee-to-green could give him his second win of the year.
Others to Consider (with Top 20 Prop Odds)
Joaquin Niemann – 40/1 (+190): Niemann's ball  striking has been great following the COVID break, gaining over 1.2 shots combined off the tee and with his irons in 12 rounds. He's never been a great putter but severely underachieved at the Travelers on the greens, even for his standards. A bounce back in that department makes him a sleeper to win.
Gary Woodland – 55/1 (+200): I just can't quit him, as he's once again being disrespected in the  odds. It can't be this bad for Gary Woodland off the tee, who's lost over nine strokes in that category in his first three tournaments back on the PGA Tour. That's due to regress to the mean at some point, and when it does he'll be back towards the top of leaderboards with a shot to win.
Bubba Watson – 70/1 (+250): Bubba's results at Muirfield Village are hit or miss, but unlike last week at Detroit Golf Club he can be a lot more creative with his shot shaping at Muirfield Village. He also really underachieved with his putting last week and if that bounces back he could nab an unexpected win.
Other Props and Matchups
Collin Morikawa Top 10 (+270): Now that the pressure of sustaining his made cut streak is off, Morikawa should be freed up this week. In addition, the ball striking he showed in his last two tournaments were way off his long-term trends, and after a week off that should regress to the mean. His putting woes still give me pause to place a futures bet on him to win the tournament, but I expect a strong performance at Muirfield Village and a Top 10 finish.
Viktor Hovland Top 20 (+120): Hovland has been cranking out Top 20 after Top 20 thanks to fantastic ball striking, which again should be rewarded at Muirfield Village this weekend. But the short game and putting is still putting a ceiling on his finishes on the leaderboard. Until that improves, I can't go above betting him anymore than Top 20 props on him. But because the ball striking has been so great, I'll once again invest some capital into that.
Others to Consider for Top 20 Props: Harold Varner III (+300), Russell Henley (+330), Joel Dahmen (+350), Max Homa (+400), Maverick McNealy (+400), Brendan Steele (+500), Tom Hoge (+550), Matthew NeSmith (+900)
Max Homa over Lanto Griffin (-130): Homa has been pretty good tee-to-green since the return from the COVID break and that performance is in line with his long-term trends. He hasn't been very good around the greens of late but is due for a regression to the mean. As for Lanto, his play has fallen off since the Fall, especially with his performance tee-to-green. Homa should beat him head to head.
Joel Dahmen over Louis Oosthuizen (-120): Dahmen has been a favorite of mine of late and has delivered solid performances week after week. As for Louis, while these are the types of golf courses he typically shines the play just hasn't been there and doesn't snow many signs of regressing to the mean anytime soon. Dahmen should beat him head to head.
Joaquin Niemann over Jordan Spieth (-130): Niemann is a guy I really like this week for the reasons stated above. As for Spieth, while he's started tournaments hot his awful ball striking always seems to get the best of him before the end of the weekend. I expect that trend once again and for Niemann to finish ahead of Spieth on the leaderboard.
Sungjae Im over Matt Kuchar (-105): Sungjae is in a bit of a slump with three bad ball-striking performances in a row. Call it a hunch that all regresses to the mean this week and he puts up a respectable finish. As for Kuchar, while he's had great past success at Muirfield Village his ball striking has really tailed off this year, which is something that needs to be on point at a demanding tee-to-green golf course. I like the underdog Sungjae to beat Kuchar head to head.