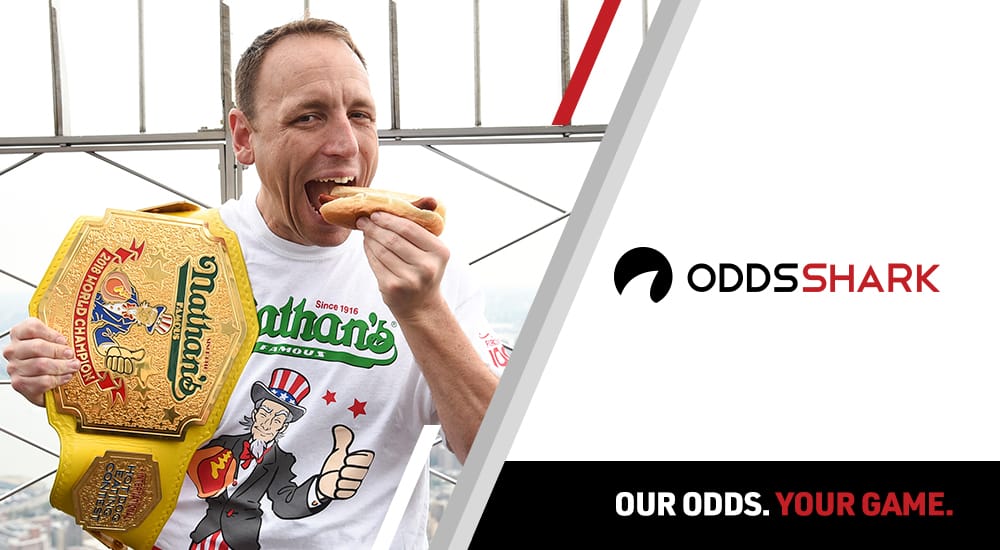 After downing 71 hot dogs in 10 minutes to win yet another Nathan's Hot Dog Eating Contest last year, Joey Chestnut is once again the heavy betting favorite at sportsbooks monitored by OddsShark.com to come out on top at the annual competition on the Fourth of July.
Chestnut is the clear -1600 betting favorite on the Nathan's Hot Dog Eating Contest odds for  the men's competition at the sportsbooks, with the field a +700 underdog for the event. Chestnut won the contest for the 12th time last year with his 71 hot dogs eaten, with Darron Breeden second with 50, Geoffrey Esper third with 47, and Matt Stonie trailing with just 46.
That result, however, was a dip for Chestnut, who had set the world record in 2018 with 74 hot dogs eaten in the 10-minute competition. Chestnut ate 72 at the event in 2017, and 70 back in 2016. Stonie had consumed 62 hot dogs when he won the competition in 2015.
Chestnut has made noise about beating his world record this weekend, and the OVER/UNDER for total hot dogs eaten in the men's championship is listed at 73.5 at online betting sites with both the OVER and the UNDER set at -120 odds. Chestnut has also been given a spread of 15.5 hot dogs over the field at -145 odds, plus an OVER/UNDER of 45.5 hot dogs at the halfway mark, and an OVER/UNDER of 9.5 hot dogs after the first minute.
Over in the women's competition it's once again Miki Sudo set as the betting favorite, with -850 odds on her winning the event compared to +450 for the rest of the field. Sudo has taken home the belt at the women's event in each of the past six years, winning with 31 hot dogs eaten last year. Michelle Lesco was second with 26.5 hot dogs in 2019, with Juliet Lee and Sarah Reinecke each consuming 23 to tie for third place at the event.
The OVER/UNDER for hot dogs eaten by the winner of the women's championship is then set at 37.5, with the OVER the -125 favorite and the UNDER the slight -115 underdog. Sudo has a spread of 6.5 hot dogs over Lesco at -175 odds for Saturday afternoon at Coney Island.