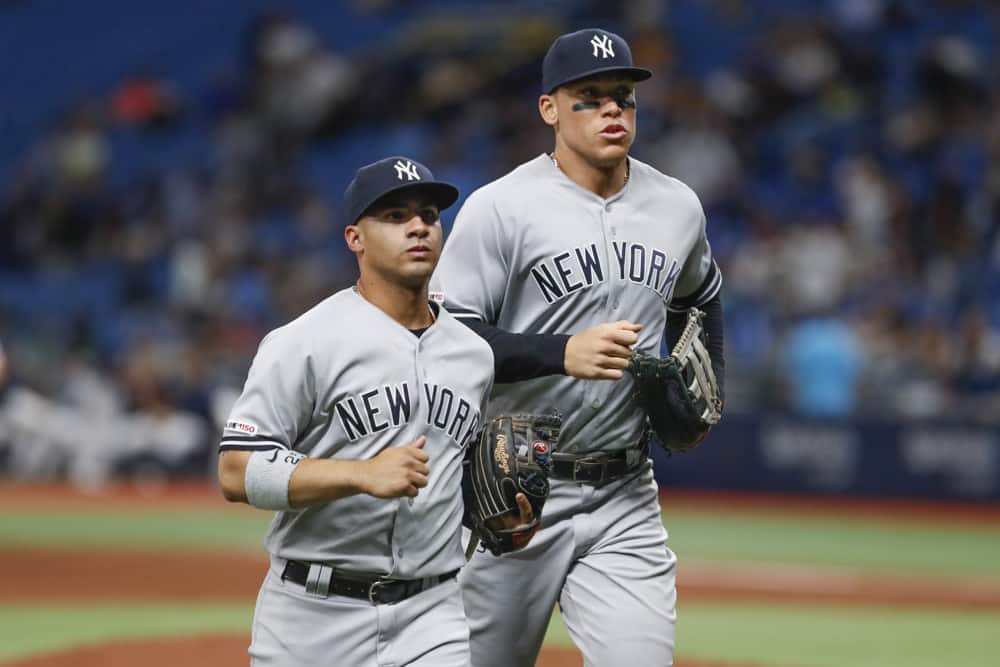 Greetings gang! Optimistically speaking we should have MLB this year, at least in a limited form. You have to go back over 100 years in history (1878) to find the last time the MLB season featured only 60 games. The only positive thing that I can take away from the upcoming season is that we will still see two separate meetings between all the major rival matches (Yankees/Mets, Dodgers/Angels, Cubs/White Sox, etc.).
Given that everything goes without a hitch and the MLB can pull off 60 games in 66 days across 28 cities, there are still win totals available to bet. Handicapping these are different than normal as scheduling will play more of an effect than natural. Also, there is an option for players to opt to stay home instead of playing, and some of these have yet to be announced. I'll update these as schedules are released and when any breaking news is announced, but until then, here's my take on the win totals.
*You can bet these win totals as well as tons of other things over at MyBookie.ag!*
RELATED
Updated 2020 MLB Win Totals: National League Preview And Picks
AL East Division
Tampa Bay Rays – 33.5 (O-130/U+100)
Tampa Bay is one of the teams that I will need to see something from once the season begins. They lost a decent bit of talent, but also added some great additions. Outfielder Hunter Renfroe is sure to add an extra pop to the lineup, something the Rays seemed to lack last season. I tend to wonder if trading away Tommy Pham to pick him up will hurt them in the long run though as Pham was somewhat of a team leader and Renfroe has been known to go on cold streaks. The thing about Tampa Bay is that they will have great pitching and won't have to rely on their bats, so I have a hard time picturing them staying under this win total.
Pick: Over 33.5 Wins (-130)
Baltimore Orioles – 20.5 (O-125/U-105)
I'll start my breakdown of the Orioles by saying this, we all knew this team wasn't going to stand a chance this year regardless. However, they could potentially benefit some from the shortened season. They lost Mark Trumbo to free agency and the only additions to the team that were meaningful were veteran shortstop Jose Iglesias and veteran starting pitchers Wade LeBlanc and Tommy Milone. I do like the pickups and this win total is set ridiculously low. I don't know that they can hit .500, but 21 wins can easily be done.
Pick: Over 20.5 Wins (-125)
Toronto Blue Jays – 27.5 (O-130/U+100)
One team that should be interesting to watch will be Toronto. Their batting lineup won't be much different, but it is certainly top heavy. Bo Bichette, Cavan Biggio, Loudres Gurriel Jr. and Vladimir Guerrero Jr. make one of the toughest top fours in any MLB lineup. There's a ton of question marks behind them however. The good news for the Blue Jays is their pitching staff has improved with the addition of starters Hyun-Jin Ryu and Tanner Roark. Their bullpen was pretty good last season, and adding these two plug a big hole in what was their starting rotation. I like Toronto to catch some people off guard in the shortened season.
Pick: Over 27.5 Wins (-130)
Boston Red Sox – 30.5 (O-115/U-115)
I am one of the people questioning if Boston's upper management knows what they are doing at this point. I thought they may have been onto something when they signed first baseman Mitch Moreland early in the offseason, but things went south from there. They traded away Mookie Betts and David Price, and outfielder Alex Verdugo was the only thing of note they received in return. Their best pitcher Chris Sale is out for the year and we still have no clue who their fifth starter will be. We saw how disorganized the Red Sox were last season, and things are about to get much worse for them with their current pitching situation.
Pick: Under 30.5 Wins (-115)
New York Yankees – 36.5 (O-125/U-105)
I don't need to spend a ton of time talking about the Yankees because this play is obvious. The break was exactly what they needed as one can assume Aaron Judge, Giancarlo Stanton and Aaron Hicks will all be ready to roll once play resumes. The addition of Gerrit Cole is huge for their pitching rotation as well. We aren't totally sure whether Jordan Montgomery or Jonathan Loaisiga will be their fifth starting pitcher in the rotation, but I don't think it matters with the talent in their batting order.
Pick: Over 36.5 Wins (-125)
AL Central Division
Minnesota Twins – 34.5 (O-125/U-105)
We are going to start this division with another no-brainer. Minnesota has the highest win total of any team in this division, and with a good reason. They won 101 games during the full season a year ago, and their lineup is the same with an even better pitching rotation behind it after adding Kenta Maeda and Homer Bailey. The Twins will be without Michael Pineda for 30 games as he will still be suspended after a positive drug test. Pound the over on this one though because Minnesota has one of the best rosters in the MLB.
Pick: Over 34.5 Wins (-125)
Kansas City Royals – 25.5 (O-115/U-115)
Good luck figuring out this Kansas City team. They have seemingly fallen off a cliff since their 2015 World Series win, and they are looking to return to form. On paper, this team has a lot of talent and should be one of the more tough teams in the AL. For whatever reason though, the Royals have been the personification of under-performing. I like the pieces in place with Jorge Soler and company, but it almost seems like they let things get into their heads after a bad run. I'm on the under for Kansas City, but I wouldn't load up on this one because they have the talent if they can piece it together correctly.
Pick: Under 25.5 Wins (-115)
Detroit Tigers – 22.5 (O-130/U+100)
Let's move along to a Detroit team that won the least games in all of the MLB last year. Pitching wasn't a huge issue for them last season, rather the fact that they could barely get the bats going. They picked up infielders C.J. Cron and Jonathan Schoop from division-rival Minnesota and they added catcher Austin Romine from the Yankees as well. I'm not saying that I expect the Tigers to win the division by any means, but they are going to top this win total for sure.
Pick: Over 22.5 Wins (-130)
Chicago White Sox – 31.5 (O-125/U-105)
Spoiler alert, this White Sox team is going to do big things in the near future. They picked it up towards the end of the season last year, and they made some outstanding additions during the offseason. Catcher Yasmani Grandal and DH Edwin Encarnacion will add a ton of pop to an already potent batting order, and they added Dallas Keuchel who looked decent in his return to the MLB with Atlanta last year to their starting rotation behind ace Lucas Giolito. I am admittedly a big Cubs fan so it hurts me to say this, but the White Sox will be a scary team this year.
Pick: Over 31.5 Wins (-125)
Cleveland Indians – 33.5 (O-130/U+100)
Cleveland is another one of those teams that I don't really know what to expect from them. They haven't made many changes during the offseason, and that kind of scares me from a team that relied on pitching so much a year ago. Another thing that scares me from this team is the fact that they traded away starting pitcher Corey Kluber, and this was a big loss in my opinion. This play may come as a surprise to some, but I like the under. A team can only rely on pitching so much and I believe that the high run of the Indians is over.
Pick: Under 33.5 Wins (+100)
AL West Division
Houston Astros – 34.5 (O-115/U-115)
All scandals aside, the Astros have lost some of their strength. Their batting order hasn't changed much and it should still be as potent. However, they lost a foursome of pitchers in Will Harris, Wade Miley, Gerrit Cole and Collin McHugh, and I expect this to hurt them a lot more than it will help them. All of this negativity aside, I still personally believe that this win total is set too low. Houston still has a batting lineup that can knock the cover off the ball, and they will get their fair share of wins regardless of the pitching.
Pick: Over 34.5 Wins (-115)
Oakland Athletics – 33.5 (O-125/U-105)
I will say that I enjoy routing for Oakland and they have a lineup that is potent almost top to bottom. All signs appear to indicate that their fifth starter in their pitching rotation will be A.J. Puk. He was an absolute beast in college at Florida and started two games last season with a 2-0 record in 11.1 innings pitched and only 10 hits although he did give up four earned runs. I love everything about what the Athletics are doing right now, and they are going to hit the over on this win total with ease.
Pick: Over 33.5 Wins (-125)
Texas Rangers – 29.5 (O-125/U-105)
Mark my words right now, this Rangers squad is going to be special. They added third baseman Todd Frazier and catcher Robinson Chirinos to the batting order, and those were two big upgrades. On top of this, they added starting pitchers Corey Kluber, Kyle Gibson and Jordan Lyles to pair with Mike Minor and Lance Lynn. Texas has one of the most solid starting rotations in all of baseball, and it's almost scary how little credit they are being given. This is one play that you can take to the bank, and it is that the Rangers will go over this win total with ease.
Pick: Over 29.5 Wins (-125)
Seattle Mariners – 24.5 (O-125/U-105)
We're going to look back into the bottom of the barrel with this one. Seattle has made a name for themselves as perennial cellar-dwellers and I don't see this changing any time soon for them. DH Daniel Vogelbach and shortstop J.P. Crawford are two up and coming talents in the MLB, but unfortunately for them there just isn't much else in place around them. Their batting order is okay at best and their pitching rotation is horrible. I don't expect the Mariners to even win a third of their games during this shortened season.
Pick: Under 24.5 Wins (-105)
Los Angeles Angels – 31.5 (O-125/U-115)
Let's end this article on a high note shall we? The Angels added third baseman Anthony Rendon who led the Nationals to a World Series win, and that is only one upgrade for the team albeit a big one. They added starting pitchers Julio Teheran and Dylan Bundy, two young but good pitchers, and they will have Mr. Do-It-All Shohei Ohtani fully healthy as well. It's tough to picture a world where the Angels aren't competing in the playoffs this year given the massive amount of talent on the team.
Pick: Over 31.5 Wins (-125)
RELATED
Updated 2020 MLB Win Totals: National League Preview And Picks