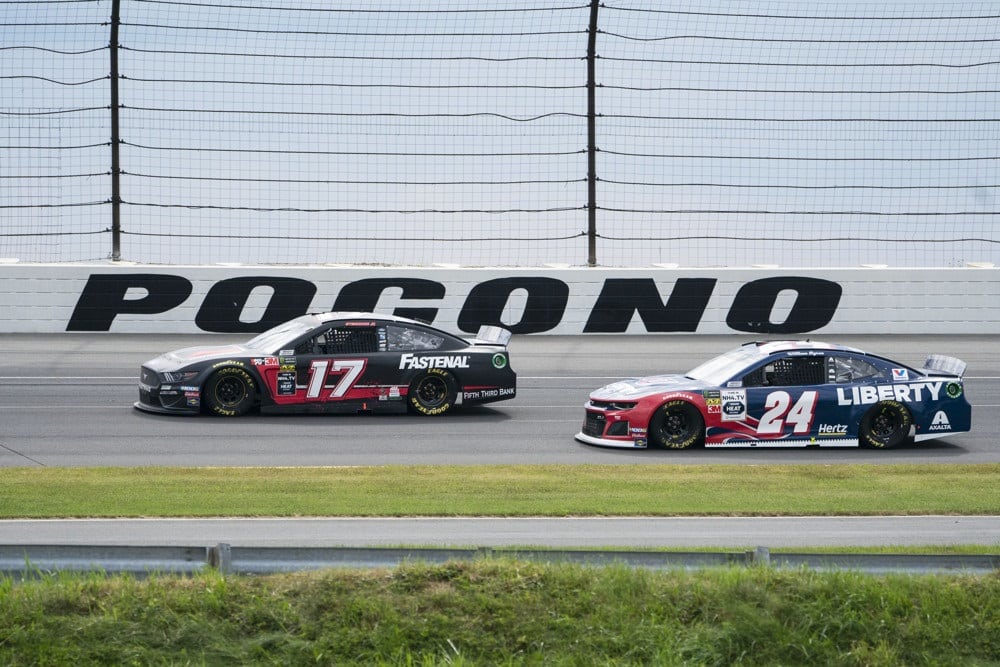 The NASCAR season rolls on and heads to the Northeast, as the fastest stock car drivers in America for to Pocono Raceway for a doubleheader weekend of racing, a first in NASCAR.
Here's everything to know about the track and the race before putting together a DFS Lineup (values courtesy of DraftKings).
Recent Winners
2019 (Summer) – Denny Hamlin
2019 (Spring) – Kyle Busch
2018  (Summer) – Kyle Busch
2018 (Spring) – Martin Truex, Jr.
2017 (Summer) – Kyle Busch
2017 (Spring) – Ryan Blaney

Pocono Raceway was first opened in 1969 and is only one of three race tracks run by NASCAR that is not owned by either Speedway Motorsports, Inc. or International Speedway Corporation. But that's not the only thing that makes it truly an independent race track – it also has no other direct comparable on the NASCAR schedule and possesses attributes of several race tracks all on one 2.5 mile race course.
While considered a "tri-oval", it is anything but and looks nothing like other 2+ mile tri-ovals such as Michigan or Fontana. Track designer Rodger Ward, a former Indianapolis 500 winner, wanted to create a completely unique track that borrowed elements from some of his favorite tracks. The three flat, sweeping turns were modeled after the following:
Turn 1 – 14 degree banking modeled after Trenton Speedway
Turn 2 – 8 degree banking and modeled after Indianapolis Motor Speedway (aka the Tunnel Turn)
Turn 3 – 6 degree banking and modeled after the Milwaukee Mile.
In addition, this is the only-non Road Course on the schedule where shifting gears is a popular tactic by the drivers. Mark Martin began to experiment with utilizing the transmission throughout the race in 1991 to good success. This was later copied by other drivers in the series and it became the primary way to race around the track. In addition, the flat banking of the turns helps keep average speeds down, which puts a reliance on braking because of the lack of grip. Because of the overreliance on the transmission and braking, this is one of the most stressful tracks on the race car in NASCAR. In many ways, it's actually more akin to a road course on the race cars than it is a regular oval.
Typically, Pocono hosts a race once in early Summer and then a few weeks later in July. Starting this year, however, the track will play host to a doubleheader with races on both Saturday and Sunday at reduced lengths. Saturday's race will be 130 laps, and Sunday's will be 140 laps. That's about 30-60 laps shorter than the traditional races at the track.
Other Race Notes
1. The starting lineup once again will be drawn from random based on year to date owner points. Spots 1-12 will comprise of the current Top 12 in ownership points at random, followed similarly by spots 13-24 for the next group of cars, followed again by cars 25-36 in ownership points at random, with the remaining four spots filled by other non-chartered NASCAR teams.
For the starting lineup for Saturday's race, click here.
2. Above anyone else, Joe Gibbs Racing is the cream of the crop at Pocono Raceway. They've won four of the last six races at Pocono, and if you count Martin Truex Jr. in 2018, whose Furniture Row race team had a technical alliance with Joe Gibbs, their equipment has won the last five races at the track. The Joe Gibbs cars have also led over half of the laps at Pocono since 2017. Besides Denny Hamlin, the race team overall has really struggled in 2020, and if they struggle again this weekend it may be time to start raising some red flags about the organization.
3. Hot off the heels of a thrilling finish at Talladega, Ryan Blaney is the hottest driver in NASCAR. He's finished inside the Top 4 in seven of the last 8 races, leading 231 laps in that stretch. His lone poor performance was at Bristol, a race where he dominated Stage 1 but crashed out early in Stage 2 to ruin what most likely was another Top 5 car. Pocono Raceway was the site of Blaney's first win in NASCAR, and he has all the momentum to grab another win at the track.
DFS Picks
Brad Keselowski – $9,900: Relative to other tracks, Pocono isn't a very successful one for Team Penske. Brad Keselowski has been the lone bright spot for the team since 2017 with five Top 10's in six attempts. His lone poor performance was a 38th place finish in 2018, but he finished 3rd in Stage 1 before a crash ended his day. Keselowski starts 8th and a Top 10 seems to be his floor at the track, making him a fairly safe option.
Martin Truex Jr. – $9,700: Truex Jr. broke out of his slump with a win at Martinsville three weeks ago, but he delivered a lackluster performance at Homestead and was a complete non-factor at Talladega. He should get things rolling on a track he won at in 2018 along with three other Top 10 finishes since 2017.
Kyle Busch – $9,300: Kyle Busch is going to return to victory lane at some point, it's just a question of when. If he struggles this week it's probably time to sound the alarms for him and his team, but there's no better track for him to break through than Pocono, where he's won three of the last six races. He's probably going to be a very popular pick in DFS this week, but there's a lot of FOMO to not include him.
Tyler Reddick – $7,400: Reddick has been very impressive the last two weeks, finishing 4th at Homestead and leading late and winning a stage at Talladega before getting shuffled back at the end. Daniel Hermic drove the #8 last year and while it was a year to forget for him, he did finish 7th and 13th in the car at each Pocono race. Reddick should have a fast car to have Top 10 upside at the track.
Erik Jones – $7,100: After a good run at Bristol a few weeks back, Erik Jones' performance had slipped with three straight finishes outside the Top 20. He returned to the Top 5 last week at Talladega, in a week that also coincided with reports his contract with the team has been extended. Did that maybe free him up? If so, then he should have another good finish on a race track where he has five Top 10's in his last six races. With his starting position of 19th on Saturday, he has a very high ceiling.
Chris Buescher – $6,500: Buescher's past performances himself at Pocono isn't impressive, but Roush Fenway racing has been very consistent at the track the last few years. While they haven't posted any Top 10's, the race team has only fielded a car that finished outside the Top 20 four times in 12 total attempts. Buescher starts 24th on Saturday, meaning the odds are likely he'll finish inside the Top 20 and provide a few extra points for finishing positional differential.