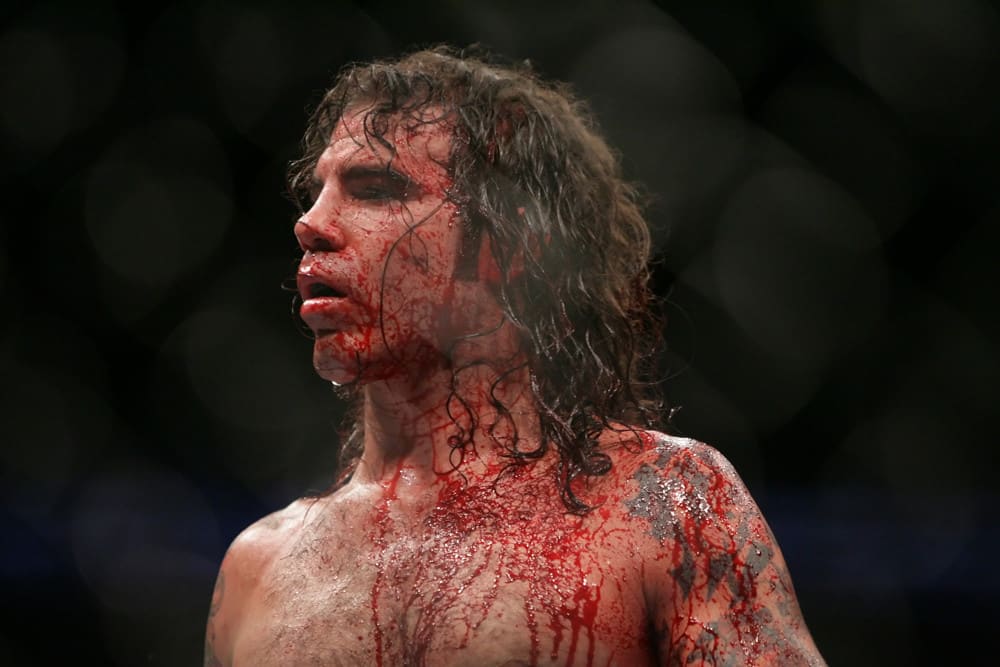 The UFC train rolls on this Saturday at the UFC APEX in Las Vegas, as UFC Fight Night: Blaydes vs Volkov is set to take place. This despite a fighter from a previous card – Billy Quarantillo, who competed on the May 30th card at the APEX – testing positive for COVID-19 this week (it came to light because he was scheduled to be one of the cornermen for Matt Frevola, who has since been removed from Saturday's card, to be safe). But, UFC president Dana White recently said that "the entire world's turned to pussies overnight," so he obviously knows better than us.
The one positive from White's delusional hardheadedness is we have a live sports event this Saturday to draft a DraftKings team for, so let's get to it.
Curtis Blaydes – $9,400
Big bucks for the big man, Curtis 'Razor' Blaydes, but he'll be worth it – trust me. Blaydes should have his way with Alexander Volkov in the main event on Saturday, and has a very good chance of finishing him off with his heavy hands, either on the feet or via ground and pound after Blaydes takes him down. Plus, Razor is the top average point earner on the card, with 90.7 FPPF.
Gillian Robertson – $8,300
I'm not just buying Gillian Robertson because she's a fellow Canadian, honest (us Canadians are totally honest). Robertson is a superb grappler, while Cortney Casey gets taken down often. There's a real good chance Robertson gets her down and submits her, earning us some real good points. Robertson averages a solid 76 per outing as is.
Max Rohskopf – $8,400
Taking a UFC newcomer coming in on short notice with my next pickup, which might sound risky for $8,400. But Max Rohskopf is worth the purchase. He was a champion wrestling in college (pictured above), and has taken to MMA grappling like a fish to water. His opponent on Saturday, Austin Hubbard, has struggled mightily with grapple-heavy opponents in the past, so this will be a nightmare matchup for him. Rohskopf has a real legitimate chance of tapping Hubbard out on Saturday's prelims.
Clay Guida – $7,100
If it seems like Clay Guida has been in the UFC forever, he has – he debuted at UFC 64 in October of 2006 (he's been a pro since 2003). While adding a grizzled veteran to your squad isn't normally a good idea, I think Guida is a live dog for Saturday and well worth his cheap $7,100 price tag. He has a very favorable matchup in Bobby Green, another shopworn veteran, who seems to encourage opponents to hit him in the face, which Guida will gladly oblige. Guida's nonstop pressure should earn him a victory and rack up some decent points for his price point.
Brianna Van Buren – $9,000
Another high priced pickup for a rather inexperienced fighter, but I like Brianna Van Buren in her fight against Tecia Torres on Saturday. First off, the Tiny Tornado has lost four-straight fights in the octagon, while 'Tha Bull' Van Buren has won four-straight fights, including her UFC debut last July. And Van Buren matches up well strength-wise with Torres (hence Tha Bull moniker). Hopefully she's good for at least the 81 points she scored in her lone UFC appearance.
Josh Emmett – $7,500
Running out of money with my DraftKings roster, so I'm going to have to make a compromise with my last pickup. While I predicted Shane Burgos to win on Saturday in the co-main event against Josh Emmett, it should be a close matchup and Emmett has some crazy knockout power. So at $7,500 I think it's a gamble worth taking.