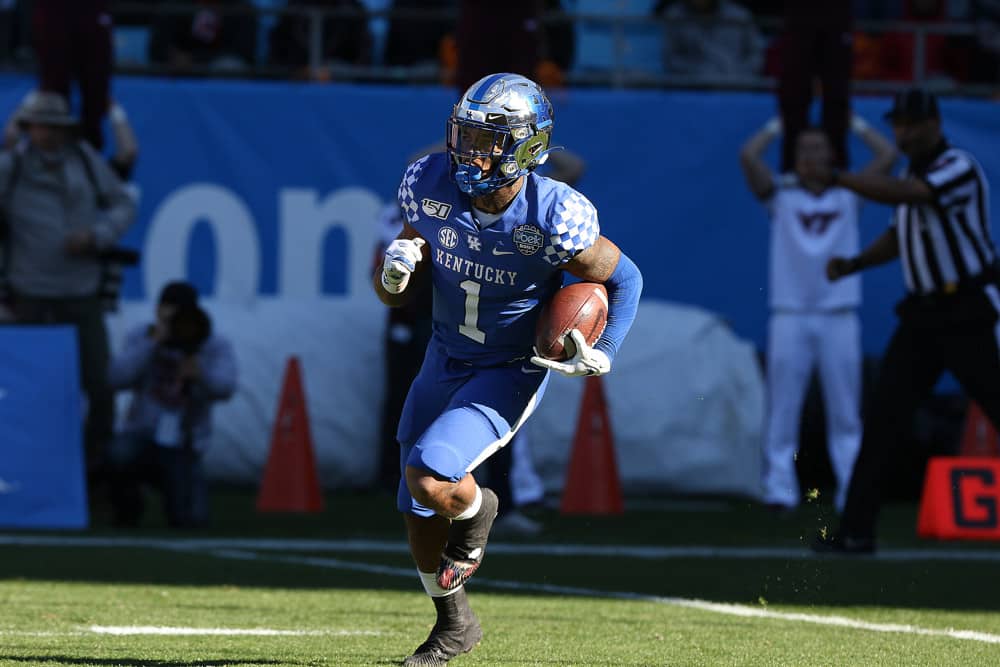 Fantasy Football season grows closer with each passing day. More and more of the degenerates out there are having their startup and dynasty rookie drafts.
Looking at this year's crop of rookies can get many fantasy players excited about the potential. However, as with all draft classes, there are many rookie red flags to heed. The 2020 Draft Class is a deep class with talent at a bevy of positions, but do not simply avoid the rookie red flags. Educate yourself and make a measured decision about the red flags for these prospects.
RELATED
6 Fantasy Football Dark Horses For Dynasty Rookie Drafts
1. Jonathan Taylor's Wisconsin Workload
Everyone is super high on Jonathan Taylor. He has the measurables and college production that have fantasy owners salivating. Taylor ran for 6,174 yards and 50 touchdowns in college, averaging more than six yards-per-carry in each of his three years at Wisconsin. Factor in Taylor's literal track star speed, he ran a 4.39 40-yard dash at the combine, and you have a star in the making.
https://twitter.com/NFL/status/1233559440017821702
JT's college numbers are out of this world, his 926 carries are tenth most among running backs since 2006. Looking at the list of players with 800+ carries on the college career carries is not reassuring for the company that Taylor is keeping. Among those on the list are XFL stars Donnell Pumphrey and Keenan Reynolds, Chargers backup Justin Jackson, and fellow Rookie AJ Dillon. Taylor may have more talent than other players on that list, but you have to wonder, is he going to be the first since Matt Forte to have had 800+ carries in college and scored 200+ fantasy points in multiple seasons? Probably not. The rookie red flags are big and bright in regards to Taylor. Avoid investing heavily in Taylor early in dynasty drafts.
2. AJ Dillon's Depth Chart Position
As mentioned above, AJ Dillon had a prolific college career. He rushed for more than 4,000 yards at Boston College over three years. The much-hyped Golden Eagle back established himself as a durable and physical runner in college. Someone who was more throwback, but still had that three-down back potential.
Now he finds himself on an uber-talented Green Bay Packers team. One that already has one superstar running back and a sidekick of respectable talents as well. Despite a crowded depth chart, Dillon is being hyped as the thunder to Aaron Jones' lightning. Does Jones need a big bruiser to come in and spell him though? Probably not. Jones had a stellar 12 touchdowns from inside the 20 last year and was gashing defenses left and right. Couple that with Aaron Rodgers still being able to sling the football and it does not look good for Dillon. Dillon will start the year third on the depth chart unless Jamaal Williams is removed from the picture. Do not count on him much this year, but he could play a short-yardage role in years to come.
3. Ke'Shawn Vaughn's Unrealistic Expectations
Vaughn spent all four years of his college career as a serviceable back at Illinois and Vanderbilt. He truly broke out over his junior and senior years at Vandy as he developed into a 1000+ yards a season back who had decent receiving abilities out of the backfield. He was not just a carry monster though as he averaged 7.9 yards-per-carry as a junior.
Cut to the 2020 Draft and Vaughn is thrust into the biggest spotlight of his career. Offense meant to the Vandy and Fighting Illini fans everywhere y'all's teams trash. The Tompa Bay Buccaneers called his name and immediately the buzz of Vaughn being the lead back in a Tom Brady led offense started to circulate. The dirt was being heaped on Ronald Jones' grave and Vaughn was the second coming of Walter Payton. Tap the brakes though. Vaughn was never a stellar receiver out of the backfield at Vandy or Illinois, and who knows how he will pick up pro-level pass protection. Most likely, Jones and Vaughn are headed for a time-share in Tampa.
4. Laviska Shenault and the Multitude of Jags Receivers
Shenault displayed all sorts of talent for the Colorado Buffaloes in his sophomore and Junior years. He only needed nine games as a sophomore to clear 1000 yards. In his junior year he dipped considerably to just under 800 yards though. He has never put up stellar numbers in the touchdown department, but Shenault is a reliable receiver who can make plays.
Unfortunately for Shenault, so can every other receiver on the Jaguars roster. The Jags have a revolving door policy for receivers, bringing in new ones as often as possible regardless of who they already have on the roster. DJ Chark, Dede Westbrook, Keelan Cole, and Chris Conley are all already on the Jacksonville roster. Each of these receivers has posted respectable NFL numbers, but Jacksonville HAD to go add Shenault. As of now, Shenault will be hard-pressed to crack the starting lineup on a run-first Jaguars team. Unless they open up the playbook and let Minshew air it out and clear some veterans from in front of him, Shenault is an investment in your 2021 team.
5. Lynn Bowden the Positionless Wonder
Bowden was a do-it-all wonder at Kentucky. When the Wildcats quarterback depth was decimated by injury, Bowden stepped up and told his coach he was ready to do whatever was needed. After getting the call to move from receiver to quarterback, Bowden responded by leading the Wildcats to a 6-2 record and a Belk Bowl berth. Oh, and he rushed for 1400 yards over the course of the 2019 season.
https://twitter.com/BleacherReport/status/1253875610486599681
Now Bowden heads to the Las Vegas desert where they have him slotted at a position, running back, that he has not played exclusively ever. Bowden is the kind of athlete and competitor who coaches love to hype. He is a team player who has the moves to make plays all over the field, all he needs is the ball in his hands. All of this versatility could lead to Gruden and the Raiders asking too much of their young and dynamic back(?). However, his pass-catching abilities and running ability out of the backfield make him an instant threat to unseat Jalen Richard as the receiving option out of the Raiders' backfield. Bowden comes with so many rookie red flags. However, his ability to get on the field in many ways makes him worth the risk.
6. Tua Tagovailoa and his Injuries
The one-time consensus number one pick rewrote the Alabama record book during his brief time on campus. He led the Tide to a national championship in 2017. He was also the driving force behind a talented 2019 Crimson Tide team before the hip injury that led to his fall from chosen one status. The scouting report says he has it all, arm strength, accuracy, mobility, and the intangibles you want in your franchise quarterback.
All of that went out the window in November against Mississippi State when he dislocated his hip and suffered a posterior wall fracture just before halftime. Couple the hip injury with a history of ankle sprains and other injuries and it paints a picture of an uber-talented, but the oft-injured player. Daniel Jeremiah also brought up a concern that Tua struggles under pressure, could Tua have spent so long playing in a clean pocket he cannot perform with a pass rush in his face? This concern, along with his injury history, should give fantasy players pause before drafting him. Do you believe that Miami has built a strong offensive line? If you do, then go ahead and add Tua as your quarterback of the future.
RELATED
Biggest Fantasy Football Questions For Every Team: NFC West