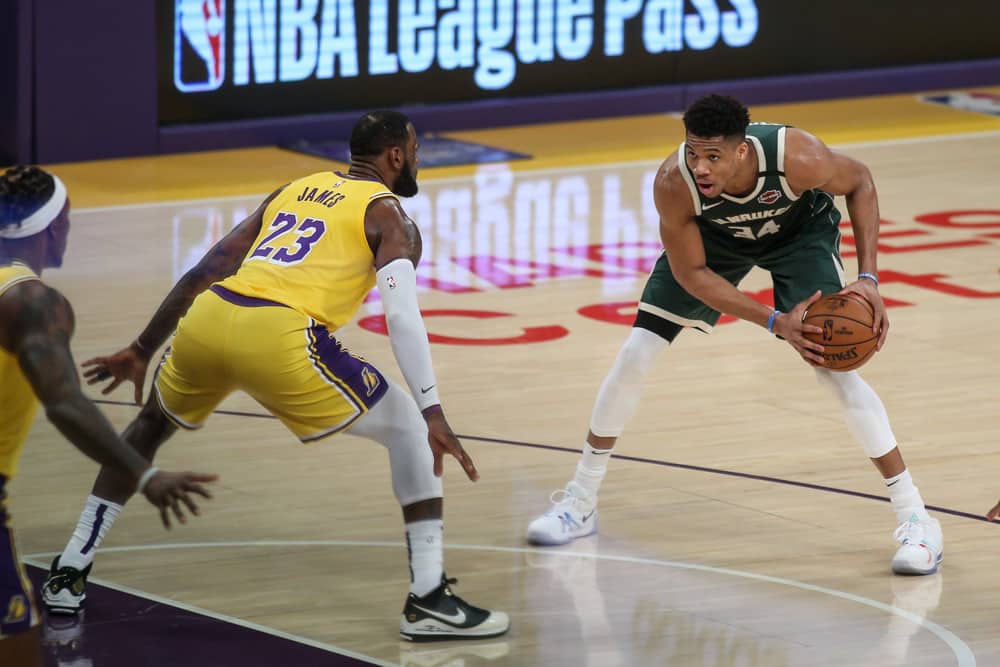 The NBA is coming back!! Probably. More than likely. Definitely maybe. Adrian Wojnarowski dropped a few of his patented "Woj Bombs" this morning on Twitter announcing the news.
So the NBA's inviting 22 teams to Orlando: 13 Western Conference, 9 Eastern Conference. Eight-regular season games per team. Play-in for the 8th seeds. July 31-October 12. Vote tomorrow to ratify.
The NBA's back.

— Adrian Wojnarowski (@wojespn) June 3, 2020
Sources: Joining the 16 current playoff teams in Orlando: New Orleans, Portland, Phoenix, Sacramento and San Antonio in the West and Washington in the East. If the 9th seed is more than 4 games behind the 8th, No. 8 makes playoffs; Fewer than 4 games, a play-in tournament.

— Adrian Wojnarowski (@wojespn) June 3, 2020
The play-in format requires a double-elimination format for the 8th seed, a single-elimination for the 9th seed, per sources.

— Adrian Wojnarowski (@wojespn) June 3, 2020
So, to summarize:
22 teams would continue the season:
Milwaukee
Lakers
Toronto
Clippers
Boston
Denver
Utah
Miami
Oklahoma City
Houston
Dallas
Indiana
Philadelphia
Memphis
Brooklyn
Orlando
Portland
New Orleans
Sacramento
San Antonio
Phoenix
Washington
Eight regular season games for each team to settle playoff seeding. Top eight in each conference makes playoffs as per usual, however, if the difference between the eighth and ninth seeds is four games or less, the eighth and ninth seeds will have a "play-in" series to determine who makes playoffs. If eighth seed wins, they are in. If ninth seed wins, they play another game, winner take all. Capisce?
The season would begin July 31st, with the latest possible date for it to end as October 12th.
All teams and games will take place at Walt Disney World Resort, where no one will be able to leave the "bubble". Families/guests will not be allowed until the playoffs begin.
All this needs to be voted on by the NBA Board of Governors tomorrow, but they are expected to approve.
Finally some good news in this tumultuous world we are currently living in. While it's exciting to think we'll soon have some live, "major league" North American sports back to watch, what is more exciting is the prospect of some hot gambling action, am I right #degens?!
As of this writing, I haven't come across any online books that have updated odds or posted any props to reflect this new setup. Currently, the only teams given a fighting chance at winning the NBA Championship are the Los Angeles Lakers, the Milwaukee Bucks, and the Los Angeles Clippers. So if you think this Disney tournament would favor a team other than that, now might be your time to jump on it.
Here are a few betting implications to consider for the Disney COVID-19 NBA Playoff Championship.
Goodbye Homecourt Advantage
The main purpose of the 82-game regular season, other than bringing in millions and millions of dollars to the league's coffers, is for teams to jockey for playoff positioning and homecourt advantage. Well bye bye to homecourt advantage in the Magic Kingdom (unless Mickey Mouse is on your team).
With homecourt advantage out the window in an NBA bubble, some contenders are angling for an alternative leg-up, sources tell ESPN. Extra possessions, extra coaches challenges and even first dibs at picking a team hotel on site are being discussed https://t.co/26G5Iwo0rt

— Dave McMenamin (@mcten) June 3, 2020
So a wise (perhaps) gambling strategy could be fading teams that rely heavily on the confines of their home arena. The first that comes to mind is obviously Denver, who use their "mile high" elevation to run teams off the court in the Pepsi Center – they are 13 games above .500 at home and only 4 on the road. Miami is even worse, as they are +22 in South Beach and -5 away. But the Philadelphia 76ers take the cake: 29-2 at home, 10-24 on the road. WOW!
The Lakers still look like the wise bet, as they are a much better team away from Staples Center, surprisingly: 23-8 at home, 26-6 away. Dallas is in the same boat – they are only 19-15 at home, but 21-12 on the road.
Rust vs Healing
The last NBA game was played on March 11th, when that heel Rudy Gobert shut the league down. Based on my math, that means the 22 teams continuing the season will have had four and a half months on the sidelines by the time action resumes. That's longer than a normal NBA offseason. So you have to consider whether this prolonged break will help or hurt a particular team.
If a team leans heavily on a couple of players or have a lot of veterans or have been banged up most of the season, this break could have been a blessing. LeBron James's body surely enjoyed a forced break, as did "load manager" Kawhi Leonard. But if a team doesn't fit the profile I mentioned above, or have young players, the break may have allowed complacency to set in, and players may not come back in great physical shape.
Team Chemistry
Intangibles, such as team chemistry, could play a bigger role than normal in determining which team rules supreme this summer. First off, the extended absence from playing with one another should benefit the teams who are familiar with one another, allowing them to get back on the same page quickly when action starts back up. Also, being locked up together, quite literally, for months on end this summer will put a strain on teams that don't get along well with one another.
No Strip Clubs
So put all your money on Houston. Unless Minnie Mouse and Daisy Duck get freaky.