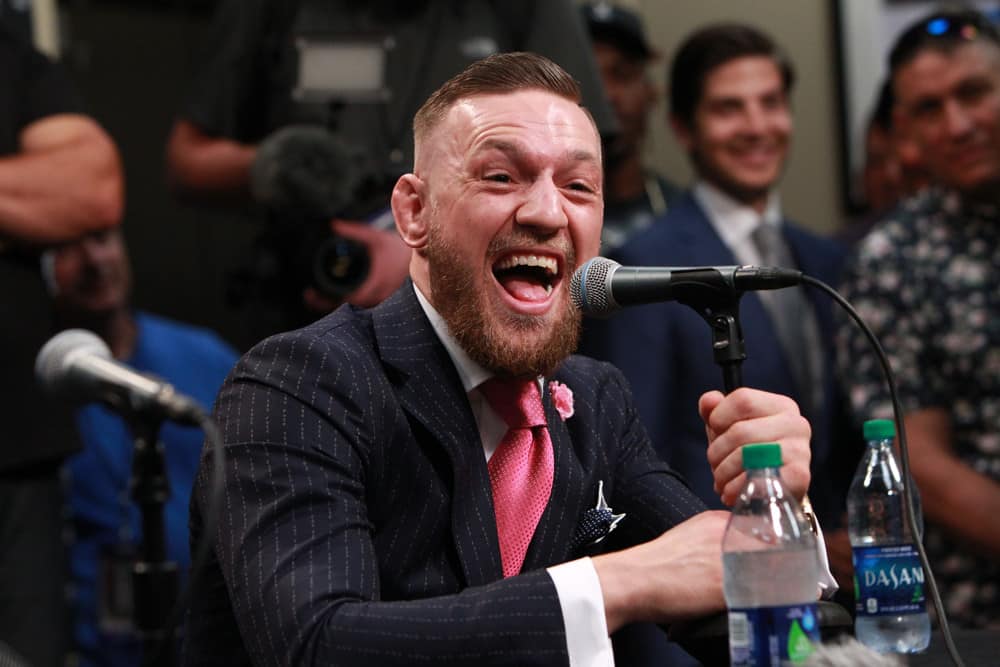 The Mouth from the South (Conor McGregor is from the Southside of Dublin, so that moniker works) sure knows how to get under people's skin. Whether it really is strictly "business", like he told Khabib Nurmagomedov in the cage during their fight, he trash talks like no other. However, even when he's not hyping up a fight he still talks a good game – take just recently, when he decided to announce his GOAT MMA list, surely just to rankle some of his opponent's feathers.
Surprisingly, doing a "10 Fighters Conor McGregor HATES!!" article is actually tough, because there's a good chance he really doesn't hate any of these guys – like he said himself, it's just business. And business picks up when he opens his mouth. But, putting that aside, let's pretend he truly thinks everything he says and he truly does HATE!! these following ten guys.
RELATED
10 NBA Players Michael Jordan Hates

1) Khabib Nurmagomedov
This list couldn't start with any other name but the #1 enemy of the state of Conor McGregor, Khabib Nurmagomedov. When it comes to hate, there is no fakeness here – McGregor seems to generally hate the UFC Lightweight Champion, and the feeling is mutual. He hates him so much he threw a dolly through a bus window to try to get to him and got himself arrested. He hates him so much he mocked his religion and his wife. He hates him so much he caused a riot after their lone fight against each other. Despite sending out his support for Khabib as his father battles a bad case of COVID-19, there is no love lost between these two.
2) Justin Gaethje
The newly-crowned interim UFC Lightweight Champion has entered this list with a bullet. First, just the fact that he has a UFC belt now (sorta – interim belts are lame) puts him in Conor's crosshairs. But Justin Gaethje also made it personal recently, criticizing McGregor's parenting skills and how he lives his life. Could add up to an explosive battle if these two meet in the octagon (or outside it, for that matter).
3) Jeremy Stephens
Does Conor hate Jeremy Stephens? Maybe, maybe not. But he sure clowned him royally a few years ago.
4) Brock Lesnar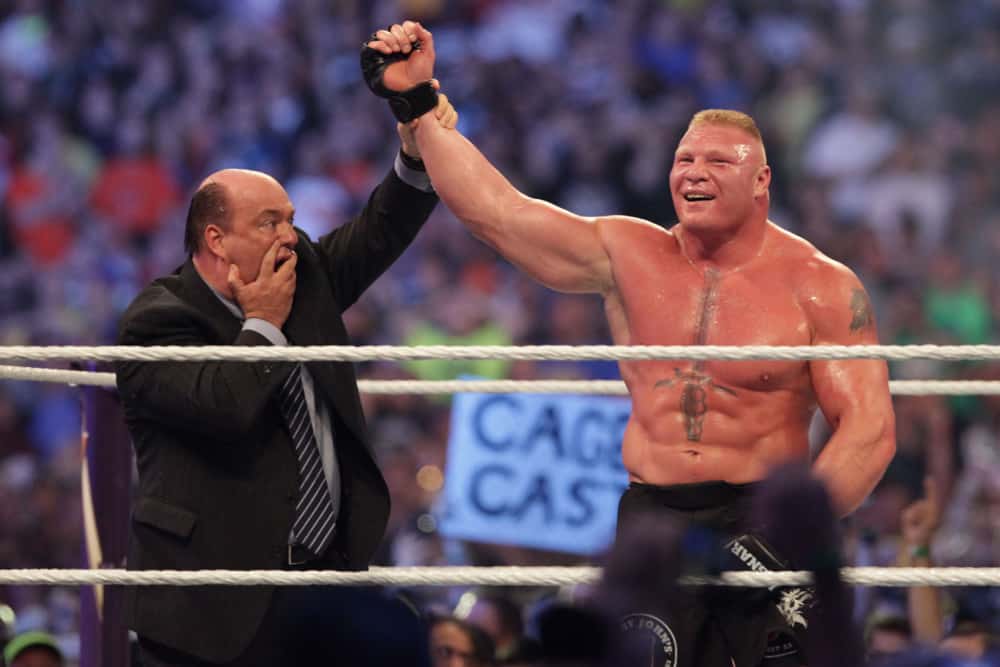 You've got to question a guy's sanity when he picks a fight with Brock Lesnar. The current WWE superstar isn't your stereotypical "fake" fighter – the man proved his credentials in the UFC octagon and on the amateur wrestling mats. But that didn't stop McGregor from hating on him, claiming "he's juiced up to the (expletive) eyeballs so how can I respect that?". The former UFC Heavyweight Champion didn't take that slight laying down, retorting that "I take shits bigger than that kid", which is a boast I'm not willing to argue against.
READ ALSO
UFC Fight Night: Woodley vs Burns Odds, Previews, Picks For Every Fight
5) Jose Aldo
Poor Jose Aldo. The greatest featherweight MMA fighter the world had known allowed Conor McGregor to get into his head, which lead to his untimely demise via a McGregor left hook in 13 seconds at UFC 194. McGregor was unrelenting in his hate for Aldo in the fight leadup, insulting his native Brazil, stealing his title belt, and throwing darts at his photo in an Irish pub, among other slights.
6) Nate Diaz
McGregor's top rival before Khabib made it onto his radar was Nate Diaz, and the two split a pair of meetings with each other in the cage. It was nothing but respect between the two combatants, until a few years ago when Conor went OFF on him during a Q&A (transcribed by Fox Sports):
"Nate's a (expletive). Nate's a (expletive) (expletive). Let me tell you why. I had the biggest respect for Nate and I still have big respect for Nick (Diaz), he's out doing his thing, but when he took that phone call, that video call off Floyd Mayweather and was like 'hello, Floyd's fans' and he was Floyd's (expletive) that night," McGregor said during his recent Q&A interview in England.
"I was like you (expletive) (expletive). You absolute (expletive). When he had that video call, he should have been on the other end of that line and when Floyd was saying 'you made McGregor tap out' and 'yeah, I did' and then Floyd was saying 'I'm going to finish the job'. He should have said 'shut your (expletive) mouth, I'll strangle you, too' and post that everywhere. Then all of a sudden it would have been like (expletive) Floyd! It would have been me and Nate again. But he was Floyd's (expletive) that night. He was Floyd's employee that night."
Them's are fighting words!
7) Fabricio Werdum
McGregor doesn't discriminate based on size – Fabricio Werdum is another heavyweight that he has thrown daggers at. In 2016, while giving an acceptance speech at the MMA Awards for Fighter of the Year, he took aim at Werdum, who was the heavyweight champion at the time and had just pulled out of a scheduled fight (transcribed by MMA Fighting):
"You got the heavyweight champion, who's a pu–y, pulling out with a sore toe. How is the heavyweight champion going to pull out with a sore toe? What kind of champion is that? The game is on its knees, so I apologize I can't be there at the awards, but I am out here putting it in, working, putting in the true work, the work it takes to keep every one of yous fed. So thank you, and thank me."
Werdum has kept the feud going over the years, calling McGregor a "prostitute" and saying he doesn't represent the sport properly.
8) Eddie Alvarez
The much-traveled Eddie Alvarez, now with ONE Championship in Asia, was the UFC Lightweight Champion heading into his matchup with McGregor at UFC 205 in 2016. McGregor promised to not just take the champ's belt, but to make it so his wife and kids don't recognize him after the fight. Harsh. And he did his best to deliver on that promise, TKOing the champ in the second round.
9) Rafael dos Anjos
More Brazilian hate in this one, as McGregor once again personally attacked a Brazilian opponent. McGregor's words about RDA, transcribed by The Sports Drop: "I am going to send you back to our Brazilian TV partners, Globo and Combat Sport, and have you answer to the Brazilian people why we have to book you a hotel in your own home country, why your kids names are Bob and Donald – why are you raising American children?". RDA ended up pulling out of their scheduled fight with an injury.
10) Tony Ferguson
The Man, until Justin Gaethje took the crown away from him a few weeks back. And McGregor wasn't shy from throwing his opinion on that fight into the fray.
I love Tony. We represented him amazingly at Paradigm sports and were betrayed for a promise of a baseball contract. But frame and preparation here was just embarrassing. His methods and conversation are humorous/enjoyable but he was never the level perceived. Although tough.

— Conor McGregor (@TheNotoriousMMA) May 11, 2020
I love Tony, but……
READ ALSO
UFC Fight Night: Woodley vs Burns Odds, Previews, Picks For Every Fight