The whirlwind and jam packed NASCAR schedule continues as the racing world emerges from its COVID-19 cocoon. After a wild and controversial ending to last Wednesday's race at Charlotte, the circuit heads north for one of the biggest races of the season for the Coca Cola 600 at Charlotte Motor Speedway.
Here's everything to know about the race before filling out a DraftKings lineup.
Recent Winners
2019 – Martin Truex Jr.
2018 – Kyle Busch
2017 (Fall) – Martin Truex Jr.
2017 (Spring) – Austin Dillon
2016 (Fall) – Jimmie Johnson
2016 (Spring) – Martin Truex Jr.
Track History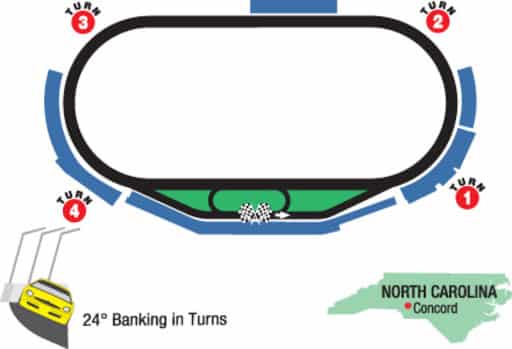 Charlotte Motor Speedway was the creation of one of NASCAR's founders, Bruton Smith. The track first opened in 1959, and in 1960 it hosted its first race – The World 600. The first race at the track was held in June due to construction delays, but the goal for Smith was for the track to hold a major race on Memorial Day weekend.
While originally they didn't want to compete directly with the more prestigious Indianapolis 500 on that weekend, they wanted to create an entire racing weekend for fans with two major events in the two different sports. But as NASCAR gained popularity, it started to look for ways to compete directly with the open wheel racing circuits. Beginning in 1974, it moved the World 600 to the same day as the Indianapolis 500 to run directly head-to-head with their open wheel racing counterparts.
In 1992, the race track added lights so that races could be run at night. Fans had also clamored for the track to move the May race to night so they don't have to sit in as oppressive North Carolina heat and humidity. The move to the evenings also presented an opportunity to showcase NASCAR on its own without any competition from the Indianapolis 500 and make the Sunday of Memorial Day a complete day of racing. Beginning that year, the Coca Cola 600 was held Sunday evening, where it's held that spot on the schedule ever since.
Charlotte Motor Speedway is a very fast quad-oval where drivers can race a little more wide open without using braking too much. Its layout is very familiar to fans because several tracks on the circuit have nearly identical setups, including Texas Motor Speedway, Atlanta Motor Speedway and Las Vegas Motor Speedway. Not only can bettors this weekend look at past results from Charlotte but they can also look at the results at these very similar race tracks to identify teams and drivers who have fast cars on 1.5 mile quad-oval layouts.
Lap averages are generally in excess of 180 MPH and the high banking allows for the cars to maintain a lot of speed through the corners. This can enable for some competitive and exciting racing between two equally matched cars, and the ends of some races at Charlotte have been very memorable with dramatic last lap passes.
However, like a criticism of other tracks sometimes a handful of drivers have cars who are clearly head and shoulders above the rest, which leads to a very spread out field and yield a relatively boring race. Last year, NASCAR tinkered with the aerodynamic package for the track's annual All-Star race to try and recreate some of the restrictor plate races at Daytona and Talladega and give the fans more exciting pack racing.
The reception from fans were generally pretty positive, and that setup might be implemented more often down the road. Given the current state of the pandemic and the inadequate time to prepare for the race, however, the teams will be using a more traditional set up this weekend.
Other Race Notes
1. Unlike the previous two races, drivers will run traditional qualifying on Sunday afternoon to yield a starting lineup. This is important for DFS purposes for a few reasons. First, all the DFS values will be coming out before qualifying takes place, meaning there could be easy ways to spot overvalued or undervalued drivers.
But a more important and pressing reason is because qualifying is so close to race time, DFS contestants will want to make sure they take one final look at their lineups and make a few changes in relation to positional differential points. Either you'll want to reduce your exposure to drivers more at risk for negative positional differential points, or look for opportunities for historically fast cars at Charlotte who may have had a poor qualifying time but could rise up the leaderboard for positive points.
2. Over the past few years, the Toyota's (and specifically the Joe Gibbs cars) have been head and shoulders better than the Chevrolet's and the Ford's on the quad-oval layout at Charlotte Motor Speedway. Since 2017 the Toyota's have led 1,066 laps at Charlotte Motor Speedway, which is more than double the number of laps the Chevrolet's and Ford's have led combined. They also usually finish much better overall than Chevrolet's and Ford's on standard 1.5 mile quad-ovals, with an average finish of 14.5 on these tracks since 2017. This is about 2.5 spots higher than Ford's do and about 4.5 spots higher than the Chevrolet's.
While Denny Hamlin has two early wins on the year, overall the Toyota's have been a little disappointing in 2020. This could be the week they all get back on track.
3. One team who surprisingly does not have a great recent track record at Charlotte are the Penske cars, who boast three really strong divers in Joey Logano, Brad Keselowski and Ryan Blaney. What's even stranger is that Penske traditionally have very strong cars on 1.5 mile quad-ovals, where collectively they've had 7 wins and 55 Top 10's in 91 races.
But at Charlotte Motor Speedway the story is much different. Since 2017 the trio have only a combined 2 Top 10's in 10 races on the 1.5 mile quad-oval with an average collective finish of almost 20th. They also trail the Joe Gibbs, Hendrick and Stewart Haas teams in stage points earned by a very significant margin, meaning they haven't fielded nearly as strong of cars as their chief rivals at Charlotte in recent memory. They even have amassed less stage points than the Chip Ganassi cars, who don't have as talented of drivers or equipment and are only a two car operation.
Is this just a product of a small sample size, or do they truly struggle at Charlotte? They'll have to answer that question this Sunday.
DFS Picks
Martin Truex Jr. – $10,600: Truex is valued worse than two of his teammates yet his record at Charlotte is the best of all. Since 2016, Truex has three wins on the quad-oval with an average finish of 3.5 and has led 832 laps. That is nothing short of complete dominance. I expect Truex to be a very chalky play in DFS this week, but I like his discount in relation to his teammates and contestants can go contrarian elsewhere.
Chase Elliott – $9,700: Anyone who watched last week's race knows that Chase had the fastest car in the field, and if it weren't for Kyle Busch's reckless and boneheaded decision he very well would have won the race. Karma often works in mysterious ways in NASCAR, and I think Chase will be repaid a bit this weekend at Charlotte. Chase also has a pretty good track record on 1.5 mile ovals and owns a pair of Top 5's in four career starts on the Charlotte quad-oval.
Kurt Busch – $8,700: The Chip Ganassi cars, and specifically the #1 car, have a really good history at Charlotte Motor Speedway. Jamie McMurray piloted both the #40 and #1 Chip Ganassi cars to victory lane and with the #1 car had eight career Top 10's on the quad-oval. Kurt Busch also has a good recent track record at Charlotte with a pair of Top 10's in his last four starts on the quad-oval. Busch might be overlooked for a few other drivers in this price range, but between a fast car and a good driver history he should be solid.
Matt Kenseth – $7,700: As mentioned previously, the Chip Ganassi cars have a good track record at Charlotte Motor Speedway, and throughout his career Charlotte was one of Matt Kenseth's most successful tracks. He scored his first career victory at Charlotte back in 2000 and has since added 12 other Top 10's in the Coca Cola 600. Like Busch, Kenseth is a veteran driver well equipped to navigate a 600 mile race and should have a fast car at his disposal.
Aric Almirola – $7,500: While the Stewart Haas cars have struggled at Charlotte since 2017, Aric Almirola has been one of the bright spots. Since coming over form Richard Petty Racing, Almirola has an average finish of 12.5 on the quad-oval and overall has raced well on similar 1.5 mile quad-ovals in the #10. He's quietly had a very steady season in 2020, and that should continue this weekend.
Ty Dillon – $5,700: Using all the drivers above doesn't leave a lot of room in the budget at the end, so this last spot is definitely subject to change to try and capture positive position differential bonus points. For now, the last spot in this DFS lineup will go to Ty Dillon, who has four Top 20 finishes in his last 5 starts and finished 10th at an almost identical Las Vegas Motor Speedway in February. Other options here are Michael McDowell, Corey LaJoie or even the underrated Brennan Poole. Probably whoever is starting deepest in the field on Sunday should end up being the final pick.