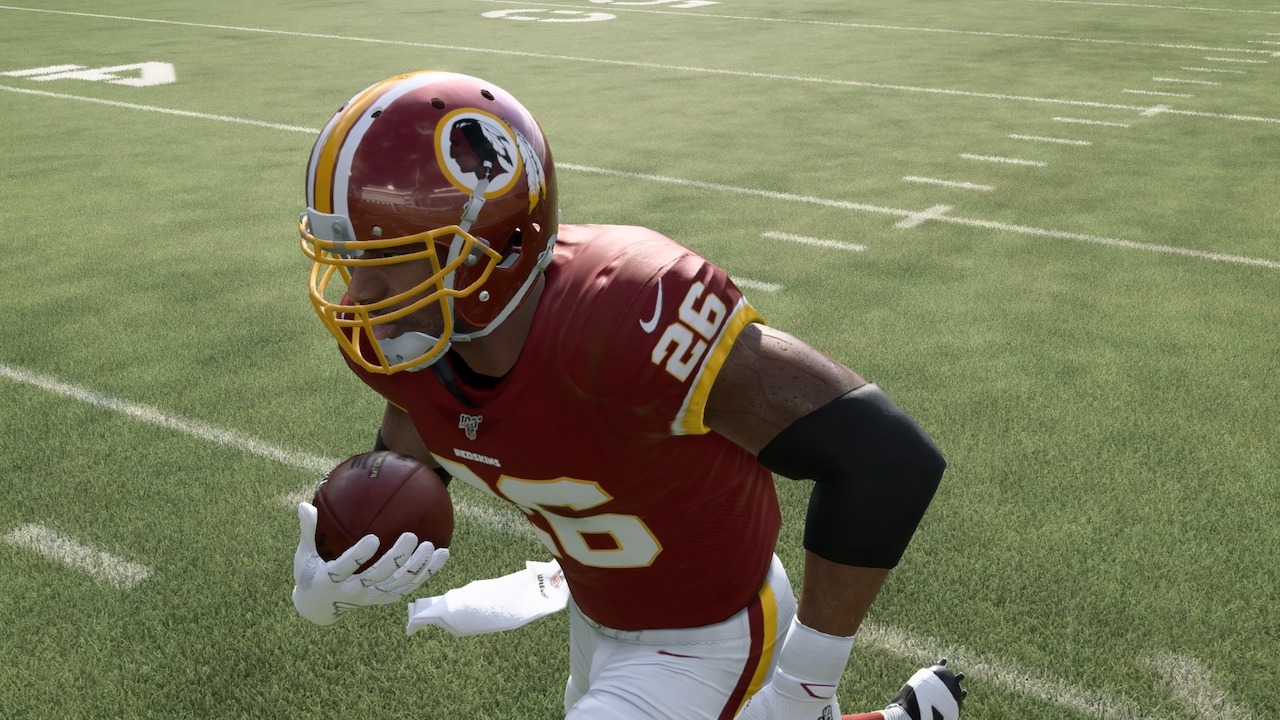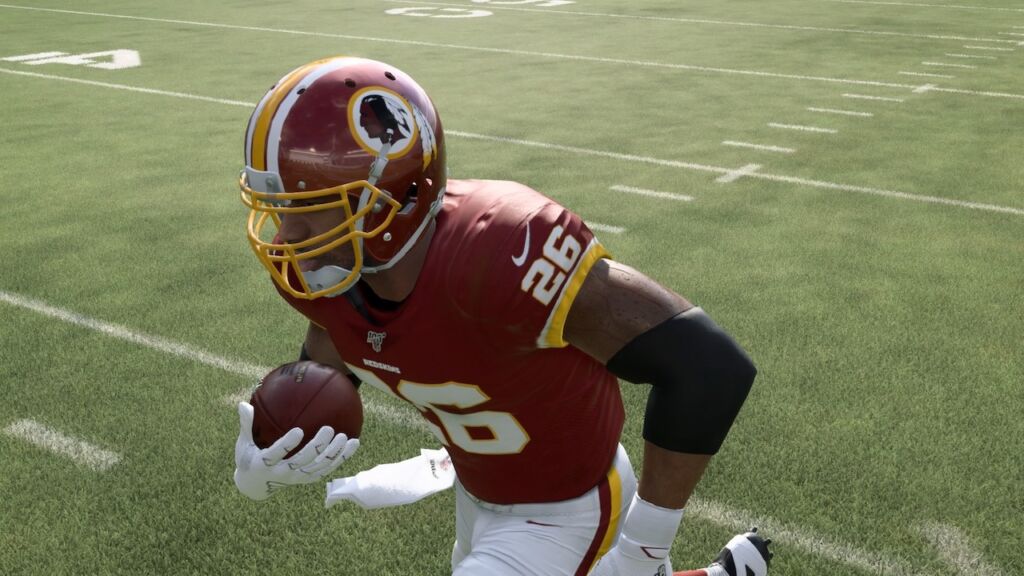 Sunday night was the conclusion of the Sweet 16 round in both the Madden Mayhem bracket contests.  I wanted to crunch all the data on the entries of each contest to see how each team compares.
The data is broken down by team to see the total number of brackets that had that team crowned champion and also the total number of brackets that had that team in the final four.
RELATED
Madden Mayhem Leaderboard
Madden MAYhem Sweet $1600 Leaderboard
5 Takeaways From Madden Mayhem Week 3: Madden Simulation Betting Recap
Madden Mayhem (32 Teams)
Pictured below is the breakdown of the Madden Mayhem (32 team) contest.  The "LIVE TEAMS" are the teams that have advanced to the Elite Eight and the "DEAD TEAMS" are all the teams who have recorded a loss and are sitting back at home watching from the couch.
Something interesting that we see from this data is that the Washington Redskins, who have put up 34 points in each of their first two games, upsetting both the Philadelphia Eagles 34-23 and the Dallas Cowboys 34-17, only have 2 (0.17%) brackets out of 1,159 entries have them as champions and only 6 (0.52%) brackets have them in the final four.
We see the Chiefs as the heavy favorite with 346 (29.85%) champion brackets and 939 (81.02%) final four brackets.  Second is the Saints with 199 (17.17%) champions and 673 (58.07%) final fours. Both of those teams are still alive, but the third favorite is a team who got sent home in the first round by the Cincinnati Bengals with a miracle last minute kick return for a touchdown!
We can see that only 52.28% of all brackets have potential to have the correct champion with the majority of those being Chiefs and Saints.
The brackets that have one of the Redskins, Colts, Bears, or Bills crowned champion only account for a total of 1.64% of all entries.
Madden Mayhem Sweet $1600 (16 Teams)
The "LIVE TEAMS" here are the same as before, the teams that have moved onto the Elite Eight, but the "DEAD TEAMS" here are all the teams that lost in the Sweet 16 round.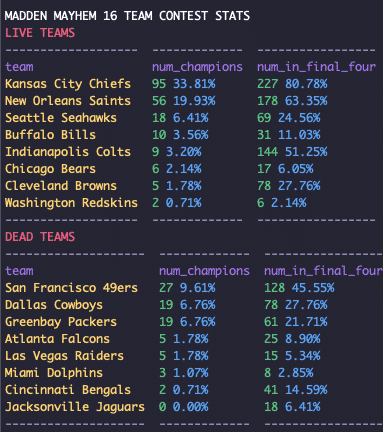 There are much fewer entries into the 16 team contest than we see from the main 32 team contest, but there are the same numbers for the Washington Redskins, who are the least favorite entry, tied with the Bengals at two champion brackets each, behind the Jaguars with zero.
The Chiefs and Saints are again the top two favorites. The next two favorites, 49ers and Cowboys, are both teams that lost last round.
RELATED
Madden Mayhem Leaderboard
Madden MAYhem Sweet $1600 Leaderboard
5 Takeaways From Madden Mayhem Week 3: Madden Simulation Betting Recap