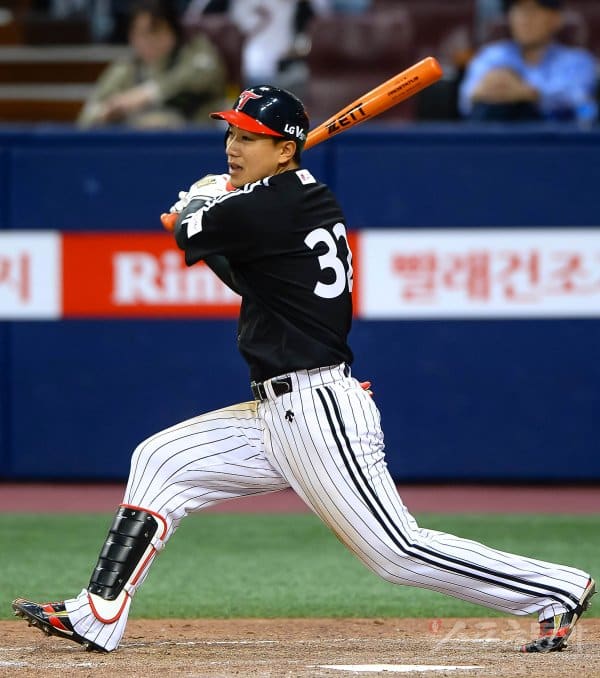 As weekly pitching rotations for all ten KBO teams have developed into a picture far clearer than the MLB 2020 contingency plan, the ability to immerse into the alternative pro baseball product has become all the more inviting to the timid-toed Daily Fantasy gamer.
And with teams already beginning to define themselves through separation in the standings, the traditional element of fun in setting Daily Fantasy lineups has now become a bit more achievable for the casual DFS participant. Because, simply stated, it's far more engaging to know who you're stacking and why you're stacking them (as opposed to the piñata-swing many of us have been taking at every niche Daily Fantasy offering since the dawn of this pandemic).
Just as the old NBC adage insinuates, "The More You Know" will make any subject that much more intriguing, and far more worthy of subconscious investment. And if you have a hunch that there may be bad chalk pitching on a KBO slate, you're going to be inclined to throw that extra entry into the pond (at least if you're a Degen like myself).
With a new series of matchups taking place in the KBO over the next three early mornings, we've got that much more data to pick our punches, with beyond a semblance of confidence in doing such. Let's dive into some of the batters and pitchers of noteworthy interest for the Tuesday-Thursday KBO slates, and get back the normalcy of cashing in on lineups.
(For slates between Tuesday, May 19th – Thursday, May 21st)
Hitters
Chun Woong Lee (OF), LG Twins (vs. SAM)
One of a number of noble career-long-loyal players to his original ball club in the KBO, Chun Woong Lee enters his seventh season with the LG Twins, who are already more than 25% to their 2019 win total (25 W). Eleven games into the season, Chun Woong Lee is batting a concrete .333 average (14 hits on 42 AB), .812 OPS, .362 wOBA, along with a modest 114 wRC+.
Albeit early into the season, the 2020 numbers speak positively in comparison to his career overall (.308 BA, .318 wOBA). Most importantly for our sake, his fantasy numbers have been consistent as can be: averaging 13 DraftKings Fantasy Points and scoring 11 or more in five of his last six games played, Chun Woong Lee is a stellar play through this week.
If he remains in the same price range as he is currently ($3,500 on Tuesday), he's worth every penny in this matchup. Samsung Lions have allowed 71 runs (tied for third-most allowed in the league), while allowing the second-fewest home runs (8 HR). For what it's worth, Chun Woong Lee has yet to score a home run this season despite the productivity.
Baek Ho Kang (1B/OF), KT Wiz (vs. HAN)
Do you remember what you were doing when you were 20-years old? Well, Baek Ho Kang is smashing the innards out of baseballs for a living, and he's in his third season. When I say smashing, I'm not over-embellishing in the slightest.
Baek Ho Kang is boasting a .333 BA, a monstrous 1.148 OPS, and four home runs already this season, which finds the only downside to that now being his DraftKings salary tag catching up to him ($5,800 on Tuesday). He's scored over 20 DraftKings Fantasy Points in his past two games (20, 26 DKFP), and double-digits in six of his past eight.
While the price tag has been quite the ask all season (never cheaper than $5,500, and likely due to his 7-RBI preseason performance), Baek Ho Kang is a great tournament play given the high ceiling and a salary to scare a few people off.
Ah Seop Son (OF), Lotte Giants (vs. KIA)
Again, we find ourselves another lifer as Ah Seop Son is now in his thirteenth season with the Lotte Giants and still batting like he's 26-years old. In fact, his averages haven't looked anything shy of his best season yet (yes, only eleven games in, but promising nonetheless).
The 32-year young Lotte veteran is hitting with an outstanding .405 BA, complimented with a .400 BABIP, with home runs being pretty much the only category on the downward since 2019. With an added 179 wRC+, the fantasy scoring potential is marginally compensated for in the home run category, and at an extraordinary price point (as low as $2,900; not higher than $3,800 thus far).
Stacking the Lotte Giants would be the chalk move to start the series, and very rightfully so. With that being said, I wouldn't be surprised if Ah Seop Son was a core piece of that lineup cast molding: a value price for impressive, prominent offensive categories, and making spend-up players comfortably achievable. I would easily consider Ah Seop in both Cash Games and Guaranteed Prize Pool tournaments, while opting to get different at other positions in my GPP rosters.
Other Batters I Will Gladly Consider:
HIGH ($4,500+):
-Mel Rojas Jr (OF), KT
-Dixon Machado (2B/SS), LOT
-Hyung Woo Choi (1B/OF), KIA
-Preston Tucker (OF), KIA
-Hyun Soo Kim (OF), LG
-Jae Hwan Kim (1B/OF), DOO
-Byung Ho Park (1B), KIW
-Eui Ji Yang (C), NC
-Jae Gyun Hwang (3B), KT
MID ($3,600-4,400):
-Jun Woo Jeon (OF), LOT
-Sung Bum Na (OF), NC
-Jae Il Oh (1B), DOO
-Won Seok Lee (3B), SAM
-Dong Min Han (OF), SK
-Byung Hun Min (OF), LOT
-Keun Woo Jeong (2B), LG
-Ji Wan Na (OF), KIA
BARGAIN ($2,000-$3,500):
-Roberto Ramos (1B), LG
-Chi Hong An (2B), LOT
-Chun Woong Lee (OF), LG
-Jin Hyuk No (2B/3B), NC
-Sung Yeol Lee (OF), HAN
-Dong Yeop Kim (OF), SAM
Pitchers
Chan Kyu Lim, LG Twins (vs. SAM)
Facing one of the lower output offenses in the Samsung Lions, Chan Kyu Lim looks to follow up on a dominant pitching performance against the SK Wyverns this past Wednesday (6 IP, 1 ER, 7 K: 26.5 DKFP). Granted the opposition wasn't by any means the toughest task in the KBO, but the Lions aren't exactly Murderer's Row themselves.
Given the affordable price point of $6,900, Chan Kyu Lim is assuredly a chalk play, and much more the welcomed Cash Game play than anything. Samsung's struggle to get up to par offensively in comparison to the majority of the league will drive the field right into the investment of Chan Kyu's affordability and recent performance.
While I will most certainly be getting my share of Chan Kyu Lim in my Tuesday morning entries, it will be a question of where I'll be most comfortable with him in lineups, and likely having to build rules around the exclusion of other chalkier players in tandem with him.
Won Tae Choi, Kiwoom Heroes (vs. SK)
On the other hand, we've got chalk in the form of noticeably bad opposition in combination with a standout performance against the Lions. He tossed a very acceptable 7 1/3 inning outing, dishing 6 strikeouts in 89 pitches, 2 earned runs, and 4 hits while allowing no bases on balls.
Recency bias aside, chalk is chalk and we're going to have to navigate around it to some degree. With an always-stagnant number of games per slate and a slimmer number of teams to rotate stacks and pitchers between, pitching will more often trend chalkier regardless on any given slate with the slightest deemed-to-be [surface level] edge. Whether that edge is slanted in part to opposition inferiority, salary break, or both, it isn't necessarily the more popular pitching selections that will bury you in tournaments (so long as he holds up).
And with that said, I am going to go off the deep end with this guy as one of my two pitchers in a majority of my rosters and will die on that hill. The Wyverns seem like they've got some offensive ineptitude that may linger beyond the first two weeks we've witnessed in the wee hours of the AM.
Chae Heung Choi, Samsung Lions (vs. LG)
For a ball club having a few hiccups in their bat-swinging productivity at the plate, they most definitely have one of the most inspiring starting pitcher rotations in the KBO. And likely due in line to start for Samsung on Wednesday or Thursday's slate, Chae Heung Choi has shown some very invigorating stuff on the mound (if only they can get his innings up and pitch-count down, with time).
Chae Heung has faced two significantly greater opposing ball clubs thus far (in contrast to those faced by the aforementioned pitchers above) and here's how it went: he shut out the KIA Tigers to start the season (5.0 IP, 5 K, 1 H, 5 BB: 21.65 DKFP) and hung on to a 106-inning performance that allowed four runs while striking out seven batters, and minimizing the walks to two (18.70 DKFP).
He's definitely got plenty of room for improvement but, if the early numbers are any indication, appears to be headed in the right direction as he sharpens on the great start to the season he's put together thus far. I don't have pricing two days out, but he jumped from $5,000 to $7,900 in his first two games. I would suspect he'll be sitting somewhere in the $8,400 vicinity to split some hairs in the field.
Other Pitchers I Will Happily Be Rostering:
(UPDATED For Thursday, 5/21 Slate)
Tues:
-Mike Wright, NC
-William Cuevas, KT
-David Buchanan, SAM
-Jun Won Seo, LOT
-Shi Hwan Jang, HAN
Wed:
-*Chang Mo Koo, NC
-*Seung Ho Lee, KIW
-*Chris Flexen, DOO
-*Je Seong Bae, KT
-*Tyler Wilson, LG
-*Dan Straily, LOT
-*Drew Gagnon, KIA
* = Team Projected Starter Wednesday (updates for Thursday pitching on 5/20)
Thurs:
-**Jae Hak Lee, NC
-**Hyun Hee Han, KIW
-**Ki Young Im, KIA
-**Hyeong Jun So, KT
** = Team Projected Starter Thursday
Stacks 
(UPDATED For Thursday, 5/21 Slate)
While I will be getting to just about stacks from every team in the next three days, the following are going to be favorites that I'll be chasing for a variety of reasons rolled into one ranking (in numerical order):
-NC Dinos (1)
-KT Wiz (2)
-Kiwoom Heroes (3)
-Doosan Bears (4)
-LG Twins (5)
-Kia Tigers (6)
-Samsung Lions (7)
As always, have fun and let's cash some REAL sports lineups! Feel free to hit me up on Twitter and anytime in our FREE SGP Slack Chat!