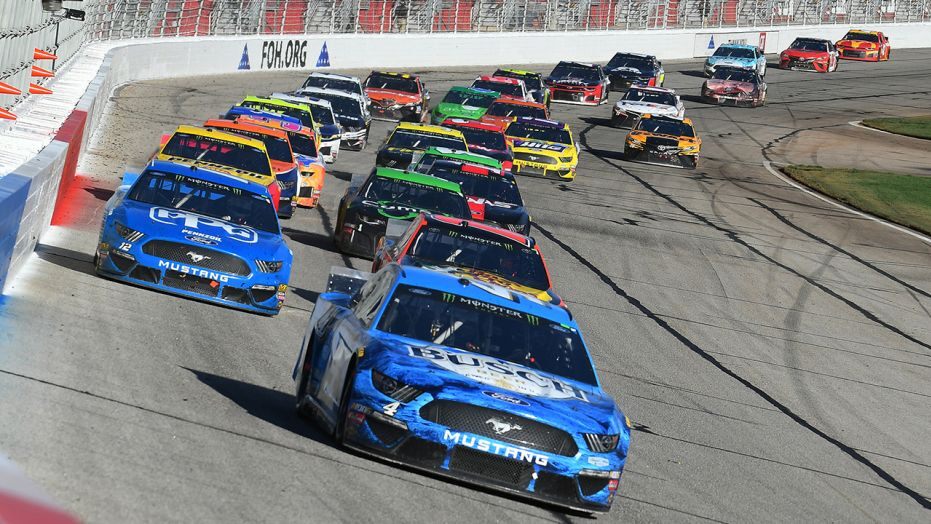 Even though most of the sports world is on hold if not completely canceled for the season, NASCAR appears to be continuing races moving forward, at least for the moment. NASCAR's DFS action will be through the roof this weekend if everything remains a go. I'm here to give you a few must-plays for DraftKings from each race this weekend!
*Stats courtesy of racing-reference.info*
*Check out Will's picks and fades for the Cup Series race HERE*
Vet Tix Camping World 200 (Truck Series) DFS Plays
Kyle Busch/Chase Elliott ($15,000/$14,000)
I place these two guys together because both veterans will be worth playing. Because of their price, however, it will be virtually impossible to play them together. They will both be towards the top of the field which is an important quality in NASCAR DFS. Elliott has raced in the truck series once in the past at Atlanta with a fifth pace finish. Busch has 11 truck series starts here with five wins and eight top fives. Expect both of the veteran drivers to run well Saturday.
John Hunter Nemechek ($6,900)
I can't quite figure out why John Hunter is so cheap. He's the son of veteran driver Joe Nemechek who had a lot of success in his 29 year career. He's no rookie when it comes to the truck series either, although this is his first truck series start of the season. Nemechek has won at Atlanta once before at this level of racing in three previous starts and six wins total in the series. He has shown a lot of potential lately in both the Xfinity and Cup Series this year, and I see him having a good run.
Derek Kraus ($6,700)
Call it a hunch, but I am all over him this weekend. He only has seven career starts in the truck series and only two this year, but he had a top five finish in one of those starts. Derek is only 18 years old, but he's quietly been solid in DFS so far this season. Kraus was a stud in the K&N Pro Series last year with seven wins and 17 top five finishes in 26 races. I like for him to have another great run Saturday, much like the race he had at Daytona earlier in the season.
EchoPark 250 (Xfinity Series) Plays
Justin Allgaier ($11,700)
This play is as chalky as it gets, but there's a reason why you should play him. Aside from Joe Nemechek who isn't quite the drive he was in past years, Allgaier has the most success in previous years at Atlanta. He's an Xfinity Series veteran and he has two top five finishes as well as five top ten finishes in nine starts on this track. He and Nemechek are the only two drivers in the field with two previous top five finishes here. I expect a great finish from Justin Saturday afternoon.
Alex Labbe ($7,400)
He isn't a pretty driver by any means, but he's been solid for DFS purposes this year. He's averaging 34.3 fantasy points per race which ranks 11th among drivers in the field. Alex has one only top ten finish in four races this season, but he's been consistent. His average place of finish is 15.8 while his average starting place is 20.2, and finishing ahead of your starting position is a great boost for fantasy. I don't expect him to win, but he'll have another solid DFS run.
Joe Nemechek ($5,400)
I've touched on Front Row Joe a little earlier, and with a price this cheap you can't help but play him. He's 56 years old and he isn't nearly as good as he was in his prime, but he has a good record at Atlanta. He is the only driver in the field Saturday that has won before on this track in the Xfinity Series. He also leads all drivers in the field with 16 career wins. I don't look for Nemechek to take the checkered flag, but I believe he will continue to race nicely at Atlanta.
Folds Of Honor QuikTrip 500 (Cup Series) Plays
Kevin Harvick ($11,500)
You've got to bite the chalk with Harvick, but it's worth it. He's been racing great this year. In fact, his lowest finish through four races is ninth place and he hasn't qualified lower than tenth. Kevin leads all of NASCAR with an average of 53 fantasy points per race. He also has a nice track record at Atlanta. He has two previous wins here with eight top five finishes and 14 top ten finishes. I wouldn't be surprised to see him grab his first win of the season Sunday.
Erik Jones ($8,200)
Don't let last week's poor run scare you away from playing Jones in your lineup. He has run well on these types of tracks in the past and he has a good track record at Atlanta as well. He has three career Cup Series starts in his career here, and although he only has one top ten finish in past years, his average finish is 10.7th place. Erik grabbed a tenth place finish at Auto Club Speedway week before last. I like him rebound this week and have a good run at Atlanta.
Daniel Suarez ($5,800)
I'm going to need everyone to ignore the average season that Daniel has been having. He finishing higher than he is starting which is important, and he's run well on this track in the past. In three career starts at Atlanta, Suarez has grabbed one top ten finish and his place of finish is 15.3. He has never won a race in the Cup Series in his career, but he's been consistent. I believe that he could be due for a good run and possibly a top five or ten finish Sunday afternoon.