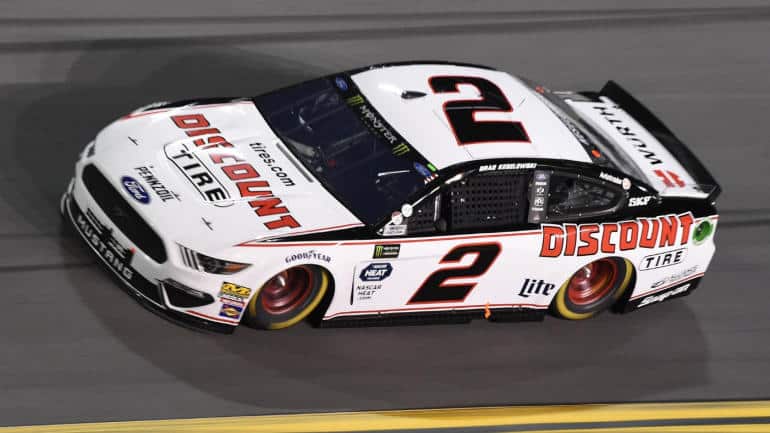 The NASCAR Cup Series rolls on into Sunday's Folds Of Honor QuikTrip 500 from Atlanta Motor Speedway. Brad Keselowski is looking for back-to-back wins at Atlanta after taking the cake in last year's race. Jimmie Johnson leads all active drivers with five career wins here with 14 top five finishes and 16 top ten finishes as well. Chase Elliot has the highest career average finish at Atlanta among active drivers as he averages a 10.5 place finish through four races.
*Stats provided by DriverAverages.com & odds courtesy of MyBookie.ag*
*Be sure to enter our free $1,00 March Madness Contest! Follow the instructions HERE to enter!*
NASCAR Drivers To Watch
Kevin Harvick (+450)
Despite not winning yet, Kevin Harvick has put together a nice start to the 2020 NASCAR campaign. He leads all drivers with an average finish of sixth place, and he has two top five finishes and has not finished outside of the top ten once. Harvick has been a good driver at Atlanta in the past. He has two career wins on this track as well as eight top fives and 14 top ten finishes. Look for him to be towards the top of the field once again this week.
Brad Keselowski (+500)
Keselowski is not only the defending winner of the Folds Of Honor QuikTrip 500, but he has been good at Atlanta his whole career. His average finish on this track is 15th place through 11 career starts. He has two wins, four top fives and seven top tens here in the past. He hasn't won this season although he has one top five and two top ten finishes. Brad has drove well on this track in the past and I believe that he may be due for a win Sunday.
Kyle Busch (+700)
This pick may seem cliche, but it's another strong one. Kyle is a talented driver and he has a winning record on this track. He hasn't won yet this season, but this could be the right time for a win. He has two top five finishes and an average finish of just 13.5th place. The younger of the Busch brothers has run 21 races at Atlanta in his career, and he has two wins with five top fives and eight top tens. I could see him taking the checkered flag this weekend.
Drivers To Fade
Jimmie Johnson
Although Johnson has the most career wins on this track among active drivers, he is past his prime. He's struggled here the past two years, only finishing 24th and 27th. Jimmie does have one top five and two top tens through four races this season, but I don't see his struggles at Atlanta stopping. As nice as it would be for us to receive some nostalgia and see the number 48 car back in victory lane in Atlanta, I wouldn't bet any money that it will happen.
Denny Hamlin
Another NASCAR veteran on my fade list this weekend, I am avoiding Denny due to his career record here. He has 20 career starts at Atlanta with only one win and four top five finishes in the past. He has an average finish of 18th place on this track, which is low for Hamlin's standards. He's been running good for the most part early this season, but he ran into trouble last week and I've got a hunch that he could be due for another bad week at this track.
Clint Bowyer
One last veteran on the track that I would avoid this weekend is Bowyer. Although he has an average finish of 11.5th place through four races this season, he has struggled in his career at Atlanta Motor Speedway. In 19 starts at this track, Clint has never won here and he  has only two top five finishes. He may look enticing due to how well he has been driving up to this point this season, but I would save your money and shop around for a better driver.