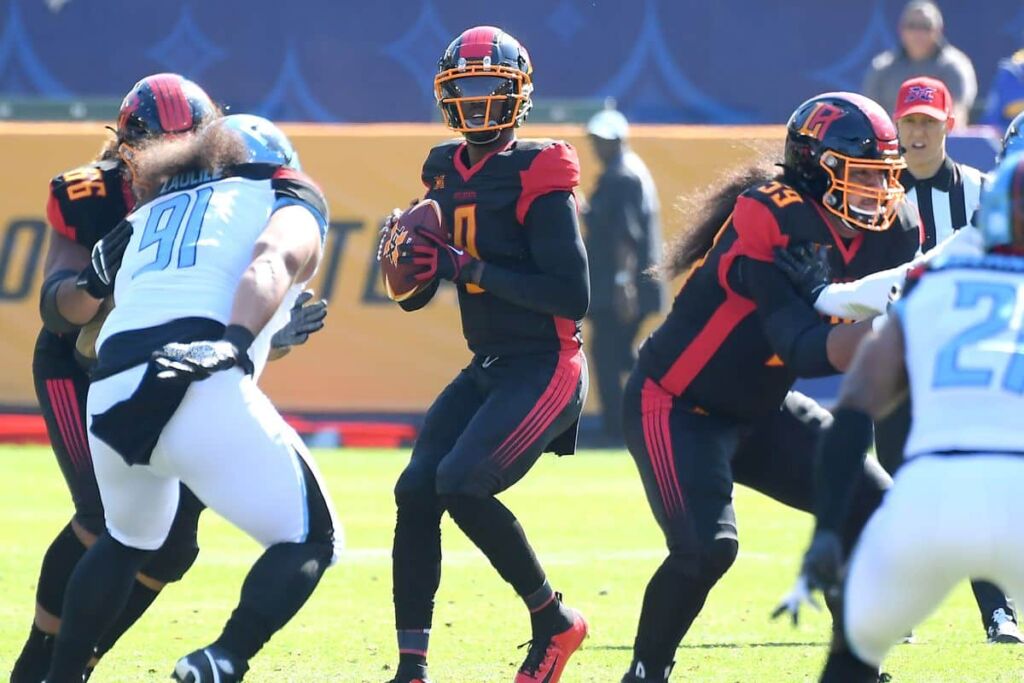 Can you believe this? We're already increasingly fiending for more XFL Daily Fantasy action after a mere two weeks in play?
I am certain there are a number of us already clamoring for a 16-game 2021 season before Week 3 of this season has even kicked off, as the public support for the league has been a bit of a surprise to most of us. And it's awesome.
With the first week casting the line and the second one reeling us all in, the XFL has proven to be much more enjoyable than a simple boredom-based slate filler but an extremely entertaining product (albeit sloppy at times). And with Week 3 on the horizon, when better than mid work week to dive into roster construction for the weekend's two-day slate?
Let's pony up some early DraftKings reservations for the weekend and LET IT RIDE!
READ ALSO
XFL Sortable Stats
XFL Fantasy Football Rankings Week 3: PJ Walker Over Cardale Jones for QB1
XFL Fantasy Football Week 3 Waiver Wire Pickups
Josh Johnson, LA (QB, $9,200)
After missing Week One due to a thigh injury, Josh Johnson made his XFL debut last Sunday and put up some solid fantasy digits in his first game in action since playing backup to Mark Sanchez for the Washington Redskins in 2018. And at the same time the Los Angeles Wildcats offense didn't find its stride until the fourth quarter (in which they nearly tied the game after being down ten points), it was Johnson who nearly got them there with newfound rapport in stud slot receiver Nelson Spruce.
Johnson slung the rock for 18 completions on 34 attempts, 198 passing yards and two touchdowns through the air, while posting no interceptions. While there is clearly plenty of room for improvement, it's the verticality of Johnson's game that makes for considerable fantasy appeal, especially considering a middling price tag at the quarterback position. He leads the league in average depth of target with 13.8 yards per pass attempt, and possesses a number of viable receivers to distribute the ball to.
The DC Defenders are proven to be top notch thus far, but the season is still young and upsets are more than likely to occur. And regardless of the final on the scoreboard, so long as the Wildcats make it competitive then Josh Johnson stands a noteworthy chance to exceed value at a discount for the position.
Deandre Thompkins, DC (WR, $5,700)
While the generic brand-name knockoff at wide receiver may prove a tad comical in namesake (c'mon, it's a bit too close!), the on-field productivity is definitely no joke when it comes to Deandre Thompkins, who made his XFL debut in Week Two for the DC Defenders after sitting the first game with a foot injury.
Thomkins, for all we know, could be that diamond in the rough who transcends an XFL career into NFL opportunity. He scored a mere six receiving touchdowns through his four years at Penn State, but already has a touchdown in one game played in the XFL, along with 92 receiving yards stemming from six receptions on a generous team-leading nine targets against the New York Guardians. But I won't jump the gun beyond wishful thinking here.
DC quarterback Cardale Jones is playing like someone else who's aligning their own stars to shine under, and clearly has established an early rapport in Thompkins pass-catching abilities. Despite Rashad Ross and Eli Rogers naturally eating into his target share with their demanding talents, Deandre Thompkins is every bit as much a considerable threat on offense and comes in at a discount compared to his Defenders counterparts.
Cameron Artis-Payne, DAL (RB, $8,300)
After Lance Dunbar shifted our attention following his Week One leading the Dallas Renegades in carries, Cameron Artis-Payne proved last Sunday that the backfield in Dallas could be the first lethal tandem on every down in the XFL. Blowing the doors off his with a massive 31.1 DraftKings Fantasy Point performance, Artis-Payne looks like the PPR-dominant running back we'll be itching to roster on a weekly basis.
Jamming out to 99 rushing yards on 14 carries, bow-wrapped with 32 receiving yards on five receptions and two touchdowns, Artis-Payne produced beyond a well-rounded game for those anticipating his footprint performance into the XFL. Looking like he can provide the multi-facted talents of a James White-caliber on a weekly basis is a DFS delight to us all, and all the while which Lance continues to produce on carries as well.
The price tag may be a bit much at first glance upon plugging into your roster construction, but discovering value options at other positions becomes the route of encouragement as Cameron Artis-Payne now makes for a large dose of FOMO (Fear Of Missing Out) if you elect to avoid him in your lineup.
Nick Holley, HOU (WR, $4,400)
The versatile running back turned wide receiver has yet to dazzle us quite to the effect of those previously mentioned here, and the season is still young with potential to do so in weeks to come. With that said, and injuries suddenly lingering in the Houston receiving corps among their top targets, Nick Holley may be in a sneaky position to steer into some significant fantasy production come Saturday.
Even with his fellow Roughneck receiver mates Cam Phillips, Kahlil Lewis, and Sammie Coates in action, Holley has been targeted five time in each of Houston's first two games, while rushing for 11 yards on one carry in Week Two. Now with Phillips and Coates carrying Questionable tags heading into Week Three and each of them missing Tuesday's practice, suddenly Holley's opportunity looks to be in a prime position to balloon.
And let's not forget that he also possesses a resume at running back through college in two of his five years at Kent State. Edelman Jr. here was also listed at quarterback for one season and wide receiver for the other two, which makes for an added element of interest considering the double-forward passing allowed in the XFL.
Should the whole lot of Houston receivers wind up playing, he still makes for a fine GPP play against a Tampa Bay Vipers defense already looking bound for the bottom. If any of them miss the game on the other hand, Nick Holley stands in line as an excellent value staple to any Cash Game or tournament roster.
James Butler, HOU (RB, $8,500)
Yes, two Houston players in a row. Yes, because Tampa looks that bad. And as I mentioned prior, opportunities will open up should Cam Phillips and Sammie Coates miss the game with injuries this week, although for the case of James Butler's role as primary running back it may not even matter, with game flow likely already going in his favor.
Butler has managed three touchdowns in only two weeks of action: two on the ground and one through the air (a dump-off pass), and proving to be a constant factor in this Houston offense. If this game blows out how I anticipate it will on behalf of the Roughnecks, Butler will get plenty of opportunity to cash in on pay dirt.
While Butler hasn't been a yardage monster by any means, his touchdown-dependent play thus far hasn't proven to be an issue in this high-octane Houston offense, scoring 19 DKFP in his first game of the season while still solidifying 11 DKFP in Week Two. His price tag and lack of yardage to this point may keep the field ownership at bay, which given the potential of additional opportunities due to injured offensive members Phillips and Coates, James Butler could be an excellent GPP play this weekend.
READ ALSO
XFL Sortable Stats
XFL Fantasy Football Rankings Week 3: PJ Walker Over Cardale Jones for QB1
XFL Fantasy Football Week 3 Waiver Wire Pickups