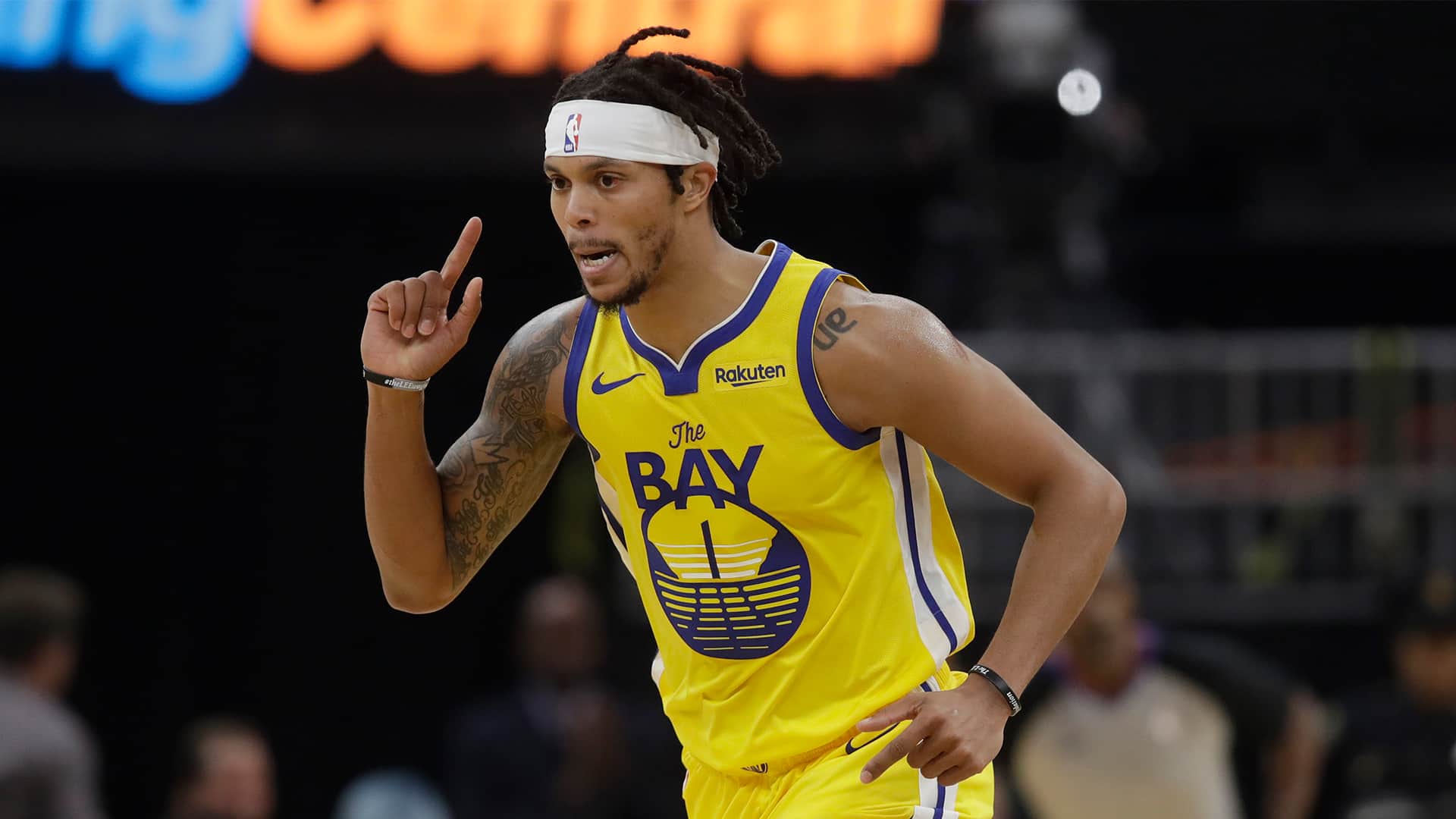 First and foremost: MERRY CHRISTMAS (Eve, as of the time posting this) and happy holidays to all of you awesome readers out there! I wish you all the very best of holidays with friends and loved ones, along with plenty of cash in the form of winning lineups.
For those of us who have partaken in years past, we are well aware of the beautifully disastrous pitfalls that come with holiday tilting. Oddly enough, NBA isn't the only DFS event available on Christmas, as League Of Legends has the Demacia Cup available on DraftKings to squander the rest of your dignity and wages on.
So in order to avoid the darkest depths of the degen gambling gutter on this national holiday, it's best to come well-prepared to this five-game NBA Christmas Day Main Slate! Let's delve into this holiday's finest the Daily Fantasy Basketball realm has to offer under the tree…
Guard
Jamal Murray, DEN ($7,100 DK/$7,600 FD)
The New Orleans Pelicans are pretty bad at a variety of team metrics, and defending opposing point guards happens to be one of them. And Jamal Murray, who ranks in the top 15 in overall DraftKings Fantasy Points at the position for the 2019-20 season, is priced a bit too cheap in a paced-up matchup with the wavering Pels.
Jamal Murray has posted over 40 DraftKings Fantasy Points in three of his last four games played and a 24.9% Usage rating on the year. Murray faces a New Orleans unit who allows the third-most fantasy points per game, surrendering a 61.84 DKFP average to the Point Guard position.
Murray's price point makes him a flexible tournament play allowing for elasticity in the financial department to a minute degree, while providing the possibility of 40-50 fantasy point upside given the massive pace-up spot for the Nuggets, as the Pelicans' Pace (103.51) is roughly six possessions greater than that of the Nuggets (97.52) this season.
On a short slate, considering all of the above mentioned benefits to the Option A in Denver's backcourt, it's difficult to get around playing Jamal Murray.
Damion Lee, GS ($5,400 DK/$4,400 FD)
The Golden State Warriors are showing no signs of their Championship days any time soon, but in terms of fantasy production they've been quite the bargain on most slates. Damion Lee is one of the recent emerging pieces in this rubble of a disaster season for the Warriors, and on a short slate, he provides fantastic Guaranteed Prize Pool (GPP) tournament upside given his 40+ ceiling capability looming as a possibility in this paced-up spot. And given his now-starting role at Shooting Guard for the Warriors, averaging nearly 30 minutes per game in his last five games played (29.6 min), he hasn't had a better opportunity yet.
The Houston Rockets have allowed the second-most fantasy points to Shooting Guards this year, averaging 59.63 DKFP per game allowed to the position. Given the home court atmosphere on primetime in a starting role, Damion Lee should pay off his price tag with some ease.
Along with the fact that the Rockets run at the league's third-highest pace at 104.41, four more possessions on average per game than the Warriors (100.44), the third-year backcourt shooter serves as an excellent tournament value and a solid Cash Game play as well.
Other Guards:
James Harden, HOU ($11,600 DK/$11,700 FD)
Russell Westbrook, HOU ($8,900 DK/$9,600 FD)
Ben Simmons, PHI ($8,100 DK/$8,000 FD)
Lou Williams, LAC ($5,800 DK/$5,100 FD)
Alec Burks, GS ($5,600 DK/$5,700 FD)
Kyle Lowry, TOR ($8,500 DK/$8,000 FD)
Gary Harris, DEN ($5,100 DK/$4,600 FD)
Rajon Rondo, LAL ($4,700 DK/$4,400 FD)
George Hill, MIL ($4,300 DK/$4,100 FD)
Monte Morris, DEN ($3,300 DK/$3,900 FD)
Forward
LeBron James, LAL ($9,900 DK/$9,800 FD)
LeBron James sustained a thoracic muscle strain in the Los Angeles Lakers' recent loss to the Indiana Pacers, which sat him out against the Denver Nuggets (another loss), but King James is looking to bounce back in a pivotal game for the Lakers on Christmas Day against the archrival Los Angeles Clippers.
James' absence was more than evident in their most recent loss to Denver (a 104-128 blowout), and anything short of full participation for the Lakers veteran leader would mean impending doom for their chances against the Kawhi-ed Clippers in a pseudo-home-court matchup. Averaging 57.17 DKFP over his last seven games makes for an excellent Cash Game play with a 90-fantasy point ceiling for GPP top play potential.
At his four-digit price point, the chance at mid-season vengeance for the loss against the Clippers to start the season and also retain the first seed in the Western Conference, the Lakers will desperately require LeBron James to be at his fullest to begin cementing their stance out West.
Rondae Hollis-Jefferson, TOR ($5,300 DK/$4,100 FD)
The grenade that went off in the Toronto Raptors locker room sent shockwaves through the defending Champion roster, along with the Daily Fantasy world. Among the beneficiaries to rotational minutes in the Northernmost frontcourt is Rondae Hollis-Jefferson, who has been factoring in as an effective sixth man coming off the bench and providing monster minutes, along with the production well beyond his price point (for now).
Hollis-Jefferson is a stellar value play, much more of the GPP nature with paying mindfulness to the other pieces rotating into this Raptors equation with the newfound absence of Pascal Siakam. However, his price point on FanDuel is an absolute steal and warrants Cash Game feasibility worth the frugal investment.
The Celtics are a stiff test, but do surrender the eleventh-most fantasy points in the league to Power Forwards, with 46.77 DKFP allowed to the position per game, leaving some promise to achieve value given the affordable salary cost, including his share of impressive ceiling potential given his price tag.
Rondae Hollis-Jefferson is the stocking stuffer that can afford your lineups pricier plays at other positions while providing value cheer (I tried with the festive).
Other Forwards
Anthony Davis, LAL ($10,100 DK/$10,700 FD)
Giannis Antetokounmpo, MIL ($11,300 DK/$11,200 FD)
Tobias Harris, PHI ($6,700 DK/$6,800 FD)
OG Anunoby, TOR ($5,400 DK/$5,900 FD)
Jaylen Brown, BOS ($6,800 DK/$6,700 FD)
Will Barton, DEN ($6,600 DK/$6,500 FD)
P.J. Tucker, HOU ($4,400 DK/$4,800 FD)
Draymond Green, GS ($6,100 DK/$6,500 FD)
Jayson Tatum, BOS ($7,800 DK/$7,300 FD)
Center
Montrezl Harrell, LAC ($5,500 DK/$5,500 FD)
Arguably the greatest gift on the slate, Montrezl Harrell comes as the best value play anyhow. Given the level of productivity he provides in combination with a solid usage rate (23.9%), Harrell is priced too low on a slate of this mini size.
Harrell has resumed his role as the beast off the bench this season, and averaging 34.5 DKFP per game with the achievable hope for 40+ fantasy points in any given game. He draws a matchup with the Lakers who have ranked at the bottom of the league against the Center position over the last two weeks (based on a weighted aggregate of metrics).
Averaging nearly 30 minutes per game on the season adds hope for the ceiling play, along with a cross-town primetime matchup with their purple and gold rivals, Montrezl Harrell is a fantastic value option in all formats.
Other Centers:
Joel Embiid, PHI ($9,800 DK/$9,900 FD)
Willie Cauley-Stein, GS ($4,200 DK/$4,700 FD)
Enes Kanter, BOS ($5,200 DK/$4,600 FD)
Dwight Howard, LAL ($4,100 DK/$4,400 FD)
Nikola Jokic, DEN ($9,400 DK/$9,400 FD)