Predictions-
Everton 1-2 Chelsea
Bournemouth 1-3 Liverpool
Tottenham 2-1 Burnley
Watford 0-2 Crystal Palace
Manchester City 3-2 Manchester United
Aston Villa 1-1 Leicester
Newcastle 1-1 Southampton
Norwich 2-1 Sheffield United
Brighton 1-1 Wolves
West Ham 2-1 Arsenal
Summary
I don't want to sound like a broken record, but there will be huge focus on Everton and Arsenal once again, after both teams sacked their Manager and now under caretaker care. Arsenal have already had 1 poor Draw and a defeat under Freddie Ljungberg, and I can't see it getting better this Matchday, while Everton begin life without Marco Silva by hosting Chelsea, under the watch form Duncan Ferguson- a man who could possibly wake the players up and push a credible performance out of them. Meanwhile, Watford have a appointed a Manager – their third of the season – as Nigel Pearson begins life as the new coach against Crystal Palace, who come to Vicarage Road.
In other matches, Leicester will need to win a tough midlands derby to stick with Liverpool, while City must overcome United in the Manchester Derby. Liverpool probably have the easiest task of the big 3 – although it's not reflected by the odds – when they travel to a Bournemouth team who are a woefully out of form, uncharacteristically netting just 5 goals in their last 8 outgoings. Jose Mourinho takes charge of Spurs for the 5th time, looking bounce-back from his first loss
Game of the Week: Manchester City vs Manchester United
Manchester United clearly play better against the better teams, coming off a 2-1 win over Tottenham. United have now played 4 of their 5 home matches against last season's top 6 – remaining unbeaten, with 2 wins and 2 draws – including a 4-0 win over Chelsea and a 1-1 draw vs Liverpool, the only points Liverpool have dropped all season. United have also beaten Leicester 1-0, a team who currently occupy a top 6 position.
Both City and United come into the derby on the back off confidence building mid-week wins, after City kept their faint title hopes alive by beating Burnley. City's 4-1 win means City have smashed in 43 goals in 15 games so far, making the Citizens comfortably the league's highest scorers this Season. However United will find some encouragement from the fact that City conceded at least once in each of their last 5 Premier League outings. City's league fixtures have averaged a very entertaining 4.0 goals per game this season, with over 2.5 goals and both teams scoring collectively cashing in 9 of their contests.
The combined XI sees a good number of United players representing the Reds, although mostly at the back, with main calls being to take Wan-Bissaka over Kyle Walker, who isn't an automatic 1st choice any longer, along with taking Rashford over Maherez and Bernardo Silva, who often compete with each other for a spot in Pep's first XI. Aguero is included, but his injury means he's probably likely to miss out once again tomorrow.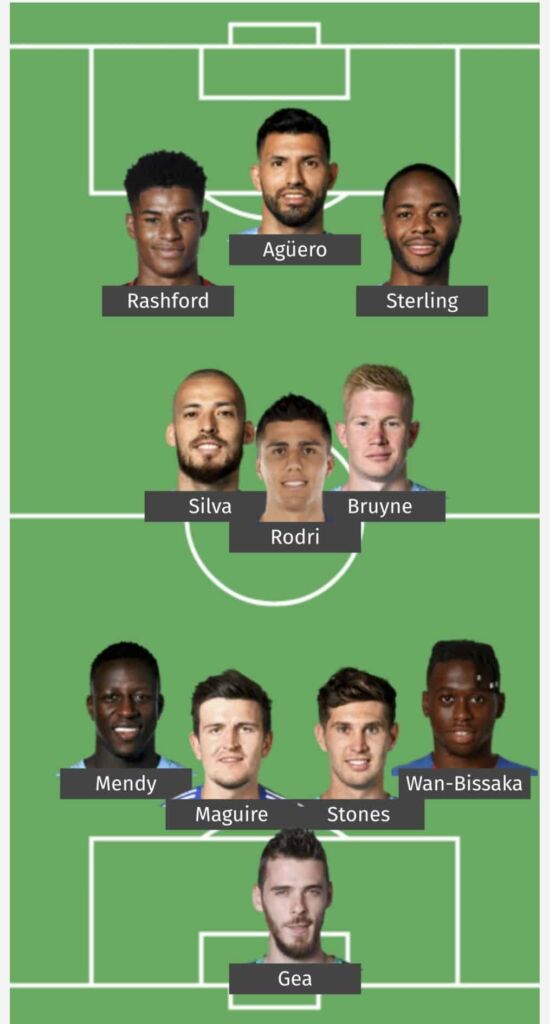 Prediction-
Goals could be the order of the day here. As previously mentioned, City's Premier League matches have averaged 4.0 goals per 90 minutes this season, while Man Utd's last six fixtures averaged 3.6 goals per game, and last four Manchester Derbies have averaged 3.5 goals per contest.
Manchester City 3 Manchester United 2