The PGA Tour rolls on with the second leg of the Asian swing, as yet another star studded field tees it up in the inaugural ZOZO Championship at the Accorida Naranshino Country Club in Chiba, Japan.
This is a new event on the PGA Tour schedule, taking the place of the CIMB Classic at TPC Kuala Lumpur. That golf course was not a very popular one with the players, and the PGA Tour never seemed to grab a secure foothold to advance their #GrowTheGame mission statement there. So with the desire for a new Asian venue and a population of golf crazed fans in a economically powerful country, a marriage between the PGA Tour and Japan was long overdue.
This will be a challenging event for bettors. Anytime a strong field takes on a new golf course it can be difficult to whittle down the field to pick the right guys. And with no strokes gained data kept at last week's CJ Cup, those who use those statistics religiously will have to step out of their comfort zone when making picks.
Here's everything there is to know about the ZOZO Championship before placing a single wager on the tournament.
The Field
With a lucrative purse once again up for grabs, this event boasts a very strong field featuring some of the top players in the world. Highlighting the field is the most popular name in golf – Tiger Woods. He makes his first professional start after struggling through the summer and going under the knife for knee surgery in September. The golf world got a sneak peak of his game in Monday's Skins Game, and while he got off to a rocky start he settled into a groove and netted $60,000 in skins. He has been absolutely awful since the final round of the Memorial in May, but he appears to be well rested and physically in shape ahead of the ZOZO Championship.
Joining Tiger Woods are his fellow competitors in the Skins Game Challenge in Jason Day, Rory McIlroy, and home crowd favorite Hideki Matsuyama. They're also joined by last week's CJ Cup winner Justin Thomas, Jordan Spieth, Tony Finau, Xander Schauffele, Paul Casey, Tommy Fleetwood, Patrick Reed, Gary Woodland and Adam Scott. In all, 30 of the world's Top 50 golfers are participating in the ZOZO Championship.
The notable omission in the field is Brooks Koepka, who had committed to the ZOZO Championship but re-aggrevated a knee injury when he slipped on wet concrete during the CJ Cup. It's a disappointment he had to withdraw given his recent comments about Rory McIlroy, but here's hoping for a speedy recovery for the World's #1 player.
The Golf Course
The ZOZO Championship is being played at the Naranshino Country Club, which is owned and operated by Accordia Golf (the Japanese equivalent of the TPC Network in the United States). The Naranshino Country Club first opened in 1965 during the height of the Japanese golf boom, and it plays as a Par 70 at just a shade over 7,000 yards long from the Championship Tees.
As Japan recovered economically following World War II, the game of golf became very popular for businessmen to either enjoy a leisurely round away from their job or to take their clients out on the golf course. Between 1958 and 1979, almost 1,300 golf courses were built in Japan, most of whom were built by foreign architects and heavily borrowed from parklands golf course set-ups seen in Great Britain.
When I first charted the golf course, I couldn't help but chuckle how much from an overhead view it looked like a hedge tree maze: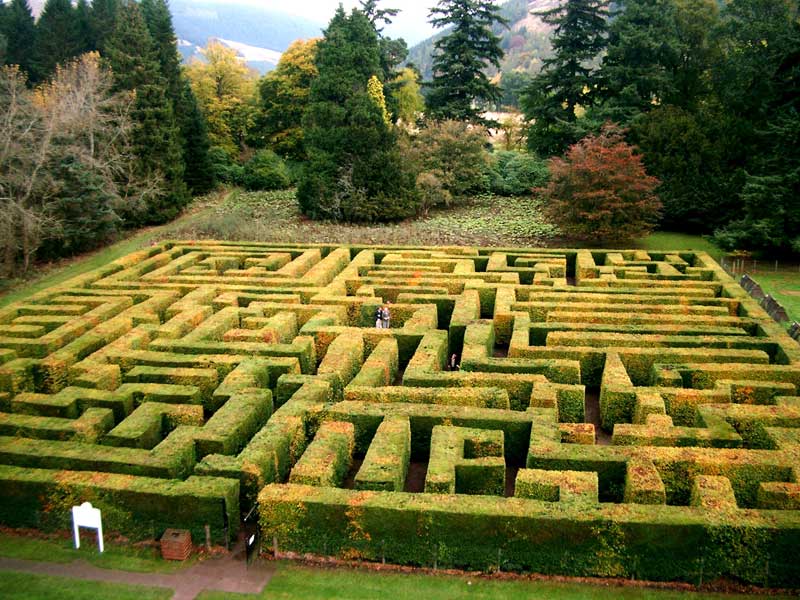 But this isn't a unique look that Naranshino Country Club has. Almost all urban and suburban golf courses in Japan (especially around Tokyo) are very tight and tree-lined tracks. As mentioned previously, golf courses serve as a purpose primarily for Japanese businessmen to blow off steam or entertain clients. The architects wanted to hide as much of the urban sprawl as possible by surrounding each hole with walls of trees to make the player forget about their long work hours. Viewers who enjoy watching golf courses that are more wide open and spacious certainly will not enjoy the claustrophobic pictures on their television screens this week.
If you look closely from the overhead shots, you'll notice that each hole has two greens. This is a very popular design feature of Japanese golf course architecture. Instead of building one large green complex of one grass type, the architects often build two smaller ones with one green grown with a summer species of grass (i.e. korai grass) and the other with a winter species of grass (i.e. bentgrass). It's a way to ensure golf can be played all year round and in all varieties of climates. It also gives the golf course a bit of flexibility with pin setups and prevents greens from being too trampled down by foot traffic.
There are several flaws with this style of golf course and employing a two green system. For one, having two greens limits both their size and how creative the architect can be with their sloping. As such, may of the greens in Japanese golf are more flat and unimaginative. In addition, because of the heavy emphasis to gear a golf course towards the businessman, many golf courses are flat, straight forward, and equally unimaginative. Even the bunkers on a traditional Japanese golf course are shallow so to not present too big of a challenge for them.
Naranshino Country Club has a few interesting greens and some elevation changes on the back nine, but overall it suffers a bit from the pitfalls of unimaginative Japanese golf course design. Though very well maintained, there just isn't a whole lot of pizazz about it that'll wow the viewer this weekend.
Betting Strategies
As mentioned previously, bettors who typically rely on their spreadsheets for Strokes Gained data will have to divorce themselves a bit from it this week. There was no Strokes Gained data kept at last week's CJ Cup, so besides looking at rudimentary data like Driving Accuracy or Greens In Regulation % there's not a whole lot to go on other than looking at a player's finish on the leaderboard. In addition, the European Tour doesn't divulge tournament by tournament performance with strokes gained, so most of the European Tour players in this field also don't have recent strokes gained form to rely on. As such, bettors are going to have to take a more philosophical approach to try and match players typical strengths to a new golf course, as well as try and look at the odds and DraftKings values and find underpriced or overpriced players.
Though it looks tight from the overhead view, the golf course isn't as congested as it seems on the ground. That doesn't mean the players will be able to pull driver and bomb and gouge it, though. The guys who played the Skins Game hit driver a lot during the exhibition and took aggressive lines off the tee, but I don't think the players in the tournament will be quite as bold. The name of the game in the Skins Game was birdies or bust. They were there to put on a show and not to grind out pars or play positional golf. During the tournament, the players should be a little more cautious.
The fairways are only about 25-30 yards wide on each hole, and while it's not as punishing to hit out of zoysia rough as compared to other types of grass, it's not ideal. Zoysia grass allows the ball to sit up a bit, meaning that the players should be able to get good contact on the face on their approach. But balls that sit up in the rough are prone to flyer lies, and that makes it very difficult to control both spin and distance. Conversely, hitting from the fairway off zoysia grass is perfect to go flag hunting, and with the short distances on the scorecard I expect this to be predominantly a less-than-driver golf tournament.
When that happens, it's tempting to lean on stats like driving accuracy, but that's a misleading stat to use on a golf course that takes the driver out of the players hands. When they're hitting irons and fairway metals more often off the tee, it's those who have a better command of their approach shots on longer approaches are the ones to target. I prefer to look at stats like Proximity to the Hole from 200+ yards than ones that just measure driving accuracy.
Iron play is going to be very key this week because as mentioned previously the greens at Naranshino Country Club are relatively small and don't feature a whole lot of complex sloping. There's not a lot they can do to tuck the pins and create tough pin positions, so players should be able to fire at them all week. The greens will also run slow (per Geoff Ogilvy during the Skins Game, they should run around 11 on the stimpmeter), which should help give better putters an advantage over those who are weaker ones. Typically when greens are flat and slower than average, stronger putters who have better control of pace and reading breaks can take advantage of these surfaces better than those who struggle.
As far as where the winning score will be, as long as the weather cooperates I expect players to go pretty low this weekend with lots of birdies. The only true defenses on the golf course are the tight fairways and a few water hazards. Sure there will be a few players that completely blow up with reckless ball striking, but there will be more than a handful of players who have excellent ball striking weeks and get hot with the putter to post a double digit under par score.