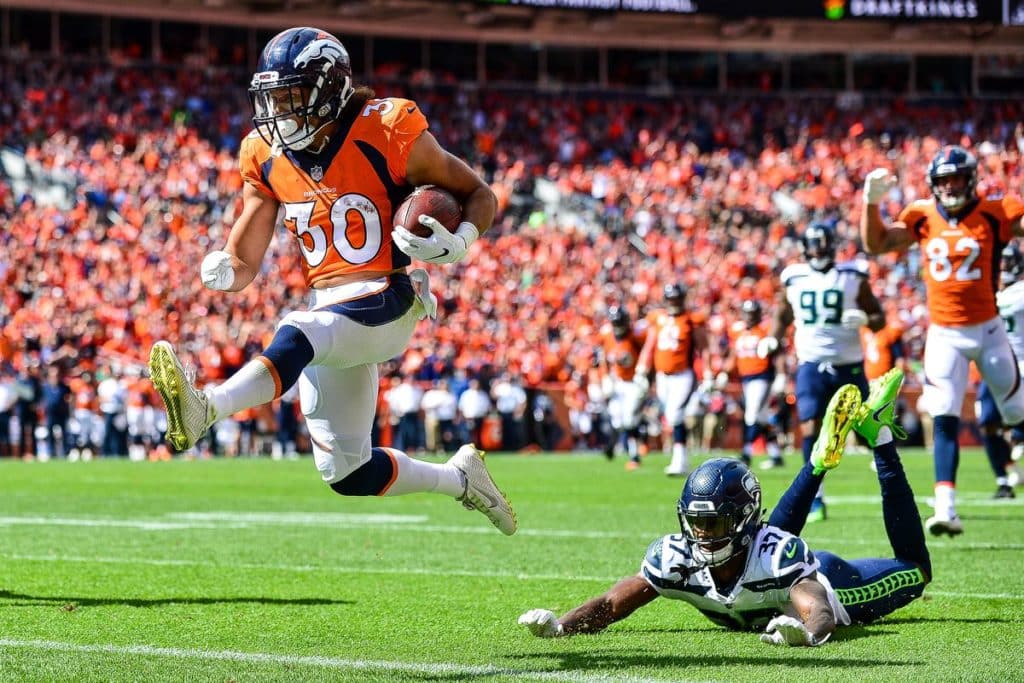 As the on-field identities of teams throughout the NFL now begin to establish themselves, we approach the Main slate of Week 4 with somewhat of a grasp on where distribution on offenses seems to be going, and where some weaknesses reside. With a variety of interesting matchups this week, and a sample size of data to look at over the past three weeks, we've got some spots to [hopefully] exploit and seize value upon.
We've got our first set of bye week teams (Jets, 49ers), and we've also got Miami on the slate, so prepare for some presumable public ownership headed toward Charger chalk. There's a Pat Mahomes spot that I also suspect to be littered with field ownership, and many other options beneath his lofty price tag that I find to be just as worthy (but we'll get into that shortly).
After a profitable week where I had my share of victories to celebrate (Engram, Olsen, Dorsett, Gore, Cooper, Allen), along with my fair share of lumps (Carson, Diggs, Godwin, Ertz), let's get ready to sink our talons into Week 4, starting with our usual look at some approach.
The Gameplan
We have a bit of a Rubik's Cube situation going on at running back, and by that I mean we're faced with a variety of injuries and question marks in some key places (eg: Seattle). I'm looking at stacking a lot of the obvious in Christian McCaffrey and Austin Ekeler, along with a portion of the mid-tier that's got some guys like Phillip Lindsay and Justin Jackson going into some potentially over-looked spots that are on the top of my radar.
The quarterback position is a lot of fun to tinker with in this week's first attempt at roster construction, leaving a lot of room to work with depending on which salary rung you end up swinging into. Despite having a lack of star-studded targets (with T.Y. Hilton unlikely to play on Sunday), Jacoby Brissett finds himself at home in Lucas Oil Stadium with a very appealing price tag in a promising matchup against the Raiders, who rank 25th in the league in passing yards allowed per game.
Going with Brissett and stacking either or both of Marlon Mack and Eric Ebron with him makes for a gamut of options with what you can budget for the rest of your roster, while providing yourself a considerable ceiling at a very affordable cost. If you really want to get cost-efficient, you can tack on one of his other supremely cheap targets such as Zach Pascal gives you a significant amount of money to work with at your remaining positions. I will be getting to a rather heavy share of a variety of Colts stacks, all headlined with Brissett. Mind you, a pairing of this with Lindsay or Justin Jackson will allow for near-max spending at your remaining positions (just food for thought).
UPDATE (Saturday, 9/28):
Last week, it was Antonio Brown screwing things up for my prescribed gameplan (or at least a segment of it). This week, it's Melvin Gordon. With Justin Jackson suddenly sidelined for Sunday's matchup at Hard Rock Stadium following a reported calf injury at practice (as well as seen in a walking boot), Gordon now is a go-to for the Los Angeles Chargers and will get a significant amount of work handed to him (I would imagine so around the goal line in particular), especially if and when there's a blowout. Regardless of Gordon having to get worked back into the system, besides he and Ekeler they have nobody else back there at the moment.
On FanDuel specifically, Melvin Gordon is utterly egregiously priced at the BARE MINIMUM PRICE of $4,500. If I were a man of reason (which I can be), I'd lean to believe the strong possibility that Gordon will be the highest-owned player on the slate by a landslide.
I'm feeling a bit more contrarian than usual this week (as if I'm not already enough) and want to take a dart throw…like a dart throw…Josh Rosen. Hear me out though. For starters, I would condone this play strictly in GPP formats and in the form of the most minimal shares possible. But the intriguing part about this is the fact that the Chargers DST is going to be likely very heavily owned and the only intent behind this play is the power of the Hedge. Not only will Rosen be virtually un-owned, but if Miami actually [somehow] puts up a game under Rosen doing any damage, but those who end up rostering the Chargers would get a bit of a sting in the standings. Not to mention he's dirt cheap, so you can afford the moon with him too. I would pair him with any of Devante Parker, Mike Gesicki, or Preston Williams, who share a vast majority of targets (when they don't happen to be dodging the football).
But back to reality. In all honesty, I'm all-in on Jacoby Brissett this week, or at least a majority share across my entries for that matter. With T.Y. Hilton confirmed officially as Doubtful with a quad tear, I'm actually approaching this from a different angle and will be employing most of those rosters without Brissett with Colts stud rusher Marlon Mack. I believe this way you're covered in one facet of the brunt of the Colts offense, and those of my lineups rostered-up with Brissett will receive one of Ebron/Campbell/Pascal/Rogers/Cain in tandem. I love what this stack allows for on your roster, along with the potential ceiling.
Chris Thompson strikes me as an interestingly affordable play considering the defense he'll be going up against in the New York Giants, who rank 25th against running backs in the pass (per Football Outsiders: DVOA Defense vs. Receivers Rankings). These Giants are also ranked 23rd in rushing yards allowed averaging 128.0 per game, which actually favors Adrian Peterson considering he's lead Washington in carries the past two weeks, 22 carries to Thompson's nine carries. But where Thompson lacks in carries by number, he makes up for them in actual yardage and receptions. I would honestly not mind pairing Thompson with Case Keenum in any of my shares of him at quarterback. [Be mindful though: the Redskins are dealing with some offensive line injuries this week at center and guard, so this could lead to some hurried plays when Keenum is under duress.]
Damien Williams is out once again and LeSean McCoy was a full participant in practice Friday, all things pointing to a full workload to be dished his direction. The Lions are 22nd in rushing yards allowed per game (125.3 yards/game) as well, and something tells me that based on his up-and-down status this past week that his ownership may actually be down. Don't hold me to that assertion, but it's a solid play regardless.
Quarterback
Daniel Jones, NYG ($5,300 DK/$7,300 FD)
Consideration: Cash Games, GPP (All Field Entry Sizes)
This is going to be a very popular play, but given the Swiss cheese Redskins defense coming into MetLife Stadium, it's hard not to go with a frugal Daniel Jones to start off your lineups with. In a first starting appearance stat line that you've likely heard about thirty times by now, Jones threw 23 completions for 336 yards on 36 attempts, two touchdowns, and rushed for two more scores against the Buccaneers. Needless to say, he was a fantasy goldmine in Week 3.
Taking his home field for the first time as an NFL starting quarterback, the Gift of Gettleman will be met with the resurgent and raucous New York/New Jersey fan faithful, and squares off with a Redskins defense ranking 27th overall per Football Outsiders DVOA Defensive Efficiency Ratings. Washington allows an average of 260.7 passing yards per game, and sits at 30th in the league in points allowed per game averaging 31.3.
Daniel Jones is the 17th most expensive quarterback on Sunday's main slate, and provides a very high ceiling while saving you plenty of cash. The only likely downside will be the amount of ownership he'll carry with him considering his recent performance (and media attention with it). And don't forget, this Washington team is playing on short rest after getting destroyed at home by the Chicago Bears on Monday Night Football earlier this week.
Jacoby Brissett, IND ($5,400 DK/$7,300 FD)
Consideration: Cash Games, GPP (All Field Entry Sizes)
You have to love a slate with a selection of promising price-conscious quarterbacks, and Jacoby Brissett is becoming a familiar face in this price bracket. And with his very effective performance becoming a consistency, it's hard to believe he'll be so cheap much longer.
Facing an Oakland Raiders defense allowing 398.7 yards per game (25th), Brissett will potentially be without his main aerial threat in T.Y. Hilton, which means there should be a lot of distribution between Marlon Mack and Eric Ebron, while bottom-shelf-priced receivers like Zach Pascal and Parris Campbell should be worth a look in pairing with Brissett as well,
With the public ownership likely heading in the direction of Daniel Jones, I'm thinking I'll be seeing an equal share of Jacoby Brissett in my ownership split between both quarterbacks, as each provides a massive amount of headroom at other positions. And in Brissett's case, almost assuredly less field attention as Jones.
Other Cash Game QB Considerations
Matt Ryan, ATL ($5,900 DK/$7,900 FD)
Matthew Stafford, DET ($5,500 DK/$6,900 FD)
Other GPP QB Considerations
Russell Wilson, SEA ($6,100 DK/$7,800 FD)
Jared Goff, LAR ($6,300 DK/$7,700 FD)
Case Keenum, WAS ($4,900 DK/$7,200 FD)
LONGSHOT GPP QB
Josh Rosen, MIA ($4,500 DK/$6,200 FD)
Running Back
Austin Ekeler, LAC ($8,000 DK/$8,100 FD)
Consideration: Cash Games, GPP (Small/Medium Field Entries)
Another week and another favorable fantasy spot against the Miami Dolphins. This week's beneficiaries in Austin Ekeler, along with Justin Jackson ($4,100 DK/$6,200 FD) Melvin Gordon ($7,700 DK/$4,500 FD), appear as if they could both be in positions to deliver some of the best running back performances of the entire main slate. I'm not sure you've seen, but the Dolphins are rather dreadful, and especially on defense. [UPDATE: Melvin Gordon is $4,500 on FanDuel and needs to be addressed. He is going to be supreme chalk on FD specifically due to the Pricing Dept. falling asleep at the wheel on this. But he's an absolute must-play under those circumstances.]
Miami's defense is allowing an average of just under 500 yards per game (499.3), which is the worst in the league. They Dolphins are also allowing an astounding 208.0 yards per game, and both Ezekial Elliott and Tony Pollard managed 100 yards a piece on the ground last week against them. While both Ekeler and Jackson are in a stellar spot to blow the doors off, Ekeler will without a doubt be among the top chalk, making Justin Jackson a fantastic GPP-only pivot considering his ridiculously attainable cost and high upside.
At the same time that I don't mind playing Ekeler in GPP's, the problem with super high ownership at a high price tag is that you need it to essentially break the slate because otherwise the amount of ground you'll have to make up is significant should it turn out to be bad chalk. This is why, if Austin Ekeler ends up being above 30% owned, I'll be shifting to Jackson more than I originally anticipated, while most likely matching the field (at that rate) on Ekeler.
Phillip Lindsay, DEN ($5,200 DK/$6,900 FD)
Consideration: GPP (All Field Entry Sizes)
I know this doesn't come off as the safest of plays, and it isn't meant to be (which is why I've listed him as GPP-only). But in a matchup with more promise than one may think at first glance, Phillip Lindsay stands to be a high-risk play at home in Mile High Stadium against a Jaguars defense who may be without star cornerback Jalen Ramsey (flu/trade demand).
While looking like he was being restrained by Coach Fangio's split work designation to teammate Royce Freeman, Lindsay took a step ahead from Freeman in Week 3 against the Packers, besting him in rushing attempts 21 for 81 yards to Freeman's 15 for 63, and tying him for second-most team receptions with four a piece (where Lindsay had 49 additional yards receiving, to Freeman's 10). It is most definitely a gamble but I believe Lindsay has begun to take over more of the backfield workload.
Against a Jaguars defense sitting 26th in Football Outsiders' DVOA weighted Rush rankings, and allowing 110 yards per game via the run. If Ramsey is missing from the roster come Sunday, we'll be looking at an even weaker secondary, and Lindsay is fantastic in the receiving game. At his beyond-affordable price, Phillip Lindsay is going to find his way into a fair number of my rosters likely exceeding the field's ownership.
Other Cash Game RB Considerations
Mark Ingram III, BAL ($6,600 DK/$7,800 FD)
Carlos Hyde, HOU ($4,300 DK/$5,900 FD)
Christian McCaffrey, CAR ($8,800 DK/$9,000 FD)
Marlon Mack, IND ($6,100 DK/$7,300 FD)
LeSean McCoy, KC ($5,600 DK/$6,300 FD)
Other GPP RB Considerations
David Johnson, ARI ($6,800 DK/$6,800 FD)
Josh Jacobs, OAK ($5,100 DK/$6,000 FD)
Chris Thompson, WAS ($4,500 DK/$5,300 FD)
Rex Burkhead, NE ($4,400 DK/$5,600 FD)
LONGSHOT GPP RB
Wayne Gallman, NYG ($4,600 DK/$5,800 FD)
Wide Receiver
Tyler Lockett, SEA ($6,300 DK/$6,600 FD)
Consideration: Cash Games, GPP (All Entry Field Sizes)
The Arizona Cardinals are extremely suspect in the secondary, and the Seahawks have some major issues at running back, leaving Tyler Lockett in an excellent place for fantasy production come Sunday afternoon at University of Phoenix Stadium. Allowing an average of 286.3 passing yards in their first three bouts of the season, the Cardinals have also already surrendered nine touchdowns to the passing game. This stands as a glaring spot for Lockett, especially considering his proven high ceiling and modest price tag.
While the likes of Will Dissly and D.K. Metcalf have thought to have threatened Lockett's consistency, he's averaged 13 targets in his last two games and a touchdown in two of three games this season. Russell Wilson stacks beautifully with Lockett, and naturally more so on DraftKings given the full-point PPR format and the volume Lockett generally receives. Plus, there are yardage bonuses on DK, where both Wilson and Lockett could blow those wide open against this subpar Cardinals defense.
I find Tyler Lockett to be an extremely promising play in both Cash Games and GPP's of all sizes given his high ceiling/high floor value offered.
Demarcus Robinson, KC ($5,200 DK/$6,700 FD)
Consideration: GPP (All Entry Field Sizes)
Very much a déjà vu moment as I feel like I'm beating the same drum once again, Demarcus Robinson finds himself in an inspiring high ceiling situation against the Detroit Lions (along with finding himself in my write-up for the third time in four weeks). And at this egregious salary cost, I wouldn't doubt that he'll be some semblance of chalky in GPP's.
But Robinson has the right to be chalky, being featured in a Tyreek Hill-less Chiefs offense under the guidance of the walking Over lock-bet that is Patrick Mahomes. While he doesn't garner the most targets on the team, he has managed to score a touchdown in each game following Tyreek Hill's absence, and has been a product in this Andy Reid Chiefs offense for three years. His consistency in the most prolific offense in the current NFL is one that would be absurd to be ignorant of, as both he and rookie Mecole Hardman stand as mutual beneficiaries during the void of Hill's typical deep threat on the field.
This Lions team is performing much greater than many had anticipated, but I can't help but trust in Patrick Mahomes and this offense against a Detroit defense who's ranked 22nd in the league in passing yards allowed per game (269.3). Not to mention a banged-up running game for the Chiefs only further encourages Mahomes to launch the ball all over the field, and this means opportunity for Robinson.
Other Cash Game WR Considerations
Keenan Allen, LAC ($7,600 DK/$8,100 FD)
Terry McLaurin, WAS ($4,500 DK/$6,300 FD)
Larry Fitzgerald, ARI ($5,600 DK/$5,900 FD)
Other GPP WR Considerations
Phillip Dorsett, NE ($4,700 DK/$5,900 FD)
Brandin Cooks, LAR ($6,200 DK/$7,300 FD)
Julio Jones, ATL ($7,800 DK/$8,500 FD)
LONGSHOT GPP WR
Zach Pascal, IND ($4,500 DK/$5,400 FD)
Tight End
Darren Waller, OAK ($5,200 DK/$6,700 FD)
Consideration: Cash Games, GPP (All Entry Field Sizes)
In spite of the 34-14 blowout on behalf of the Vikings in Minnesota last Sunday, it was Darren Waller who was the bright spot being overlooked from this outing due to the brooding scoreboard insinuation of "nothing to see here". Reeling in a game-high 13 receptions on 14 targets, Waller churned out 134 yards receiving as the only promising highlight for the Raiders offense.
Heading into Lucas Oil Field against the Colts, whom despite their remarkable start to the season (especially given the last-minute retirement of Andrew Luck), have displayed weakness against the tight end position, allowing an average of 60.7 yards per game to tight ends and surrendering an average of eight receptions per game as well to the position.
Waller is quite possibly going to go overlooked given the current outlook of this Raiders offense in the public eye, and could be lesser owned given his slightly higher price tag compared to other tight ends.
Mark Andrews, BAL ($5,000 DK/$6,100 FD)
Consideration: GPP (All Entry Field Sizes)
Although he posted his first disappointing game of the season last week in Kansas City, his three receptions came on a total of seven targets which was the highest on the team next to "Hollywood" Brown (nine targets). Against a Cleveland Browns team who ranks 27th against the position (per Football Outsiders DVOA Defense vs. Receivers), Andrews looks to have a bounce-back game at home in Baltimore as one of Lamar Jackson's two primary targets (when he's not handing off to Mark Ingram or running himself for a first down).
While the price tag is just a tad high in comparison to other tight ends who are in promising spots at slightly cheaper prices, Andrews' consistent number of targets to this point in the season combined with a weak opponent at the position adds up as a great GPP play when considering the damage Andrews can do. Besides last week's dud, he posted over 100 receiving yards in each of the first two games along with those touchdowns mentioned, totaling over 27 DraftKings Fantasy Points in each outing.
I believe I will be getting to a share of Mark Andrews that should best the field ownership, which I also don't believe will be much of a feat to achieve.
Other Cash Game TE Considerations
Will Dissly, SEA ($3,600 DK/$5,400 FD)
Eric Ebron, IND ($4,000 DK/$5,300 FD)
Other GPP TE Considerations
Travis Kelce, KC ($7,200 DK/$7,600 FD)
Delanie Walker, TEN ($4,800 DK/$5,700 FD)
GPP LONGSHOT TE
James O'Shaughnessy, JAC ($3,000 DK/$4,600 FD)
Defense/Special Teams
Cash Game DST
Baltimore Ravens ($3,200 DK/$4,200 FD)
Los Angeles Chargers ($3,800 DK/$5,300 FD)
Indianapolis Colts ($3,100 DK/$4,200 FD)
GPP DST
Atlanta Falcons ($2,900 DK/$3,900 FD)
Minnesota Vikings ($3,400 DK/$4,000 FD)
New England Patriots ($3,700 DK/$4,800 FD)
LONGSHOT DST
Denver Broncos ($2,900 DK/$4,100 FD)