Since 2000 quarterbacks and running backs have combined to win the offensive rookie of the year award 16 times.
When looking at the defensive rookie of the year award, the numbers suggest a linebacker has the best odds. From 2003 to 2012, nine linebackers have won the award.
Below are the odds and my best bets for the Rookie of the Year awards.
READ ALSO
5 NFL Sleeper Teams To Keep On The Radar
Offensive Rookie of the Year Candidates
Kyler Murray +175
Murray is the starting quarterback and is the future of the Cardinals franchise. Arizona hired Kliff Kingsbury to bring a fresh face and an explosive offense to the desert. At Texas Tech, Kingsbury ran his own version of the "Air Raid" and his offenses put up big numbers, but they were a middle of the pack Big 12 program overall.
Murray will have some weapons around him including David Johnson, Larry Fitzgerald and young talented players such as Christian Kirk and Andy Isabella. I predict Murray will put up some big numbers in his rookie season and will bring some much-needed excitement to the franchise.
Josh Jacobs +700
Jon Gruden will give Jacobs every opportunity to win the running back job after selecting him in the first round of April's NFL draft.
Oakland will have a much-improved offense with the additions of Antonio Brown and Tyrell Williams at receiver which should open some running lines for Jacobs.
Jacobs is a big back who likes to punish defenders and has good speed when he gets into the open field. He is a solid receiver out of the backfield which will help Derek Carr on third and short situations. Another factor in considering Jacobs is the fact that Gruden has coached a Rookie of the Year award winner in the past when he drafted Cadillac Williams in 2005 and he finished with 1,178 on the ground.
Dwayne Haskins +650
Many mock drafts had Haskins being picked in the top 10, but he fell to Washington at pick number 15.
With the uncertainty at the quarterback position, Haskins has a chance to win the job and be the starter week one. He is competing with Case Keenum and Colt McCoy for the position and all things are equal at this point.
Haskins is a big-time talent who is 6'4 and 230 pounds and had 50 touchdowns and only eight interceptions a year ago at Ohio State. To win the award, Haskins will need to either start the season or gain the starting job within the first four weeks. Something to keep an eye on regardless of who wins the job is the absence of star left tackle Trent Williams who is holding out. Williams is arguably the best player on the offense and the Skins desperately need his talent and leadership.
Defensive Rookie Of The Year Candidates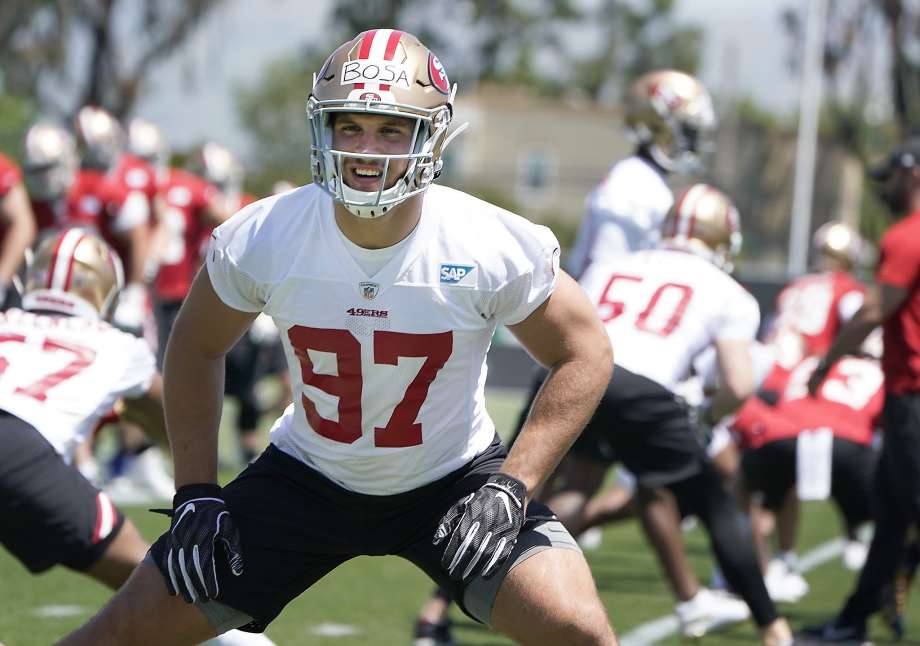 Devin White +600
Todd Bowles takes over as defensive coordinator in Tampa and he has a future pro bowler in rookie Devin White and another explosive linebacker, Lavonte David.
The Bucs have a lot of issues on defense, but they are set at the linebacker position. White is going to play every snap and will have multiple opportunities to make big plays. He's a violent football player who gets down hill, and with his elite speed can also cover tight ends and running backs in the pass game.
If he can stay healthy in his rookie season, White will make an immediate impact and instantly improve the Tampa defense.
Nick Bosa +500
Nick Bosa missed the majority of last season at Ohio State with a groin injury sustained against TCU. Bosa then injured his hamstring during mini camp in May. It was not a severe injury, but Bosa needs to overcome some concerns to reach his full potential.
Even sitting out most of last season, he was picked number two overall by San Francisco. The Niners could potentially have a great defensive line with Deforest Buckner and the additions of Dee Ford and Nick Bosa. Buckner and Ford combined for 25 sacks a year ago and both need to be accounted for.
In theory, Bosa should have one-on-one opportunities which could produce the quarterback pressures and the sacks necessary to get his name in the discussion for the award.
Ed Oliver +800
Buffalo will have an elite defense and Oliver with his explosive first step will have the opportunity to apply pressure from his defensive tackle position. Oliver is considered undersized for a defensive tackle standing at 6'2 and weighing less then 290 pounds, but his athletic ability makes him a unique talent. Due to his quickness and speed, he can get penetration in the backfield and wreck havoc. Oliver will have some splash plays in the run and passing game that will stick out on game day. Oliver will have some problems at the point of attack with inside runs, but in definite passing situations he is going to a problem for interior lineman.
Best Bets
Offensive Rookie Of The Year
Josh Jacobs +700
My pick is between Josh Jacobs and Kyler Murray, and I'm going with Jacobs for Offensive Rookie of the Year. Jacobs is going to have the touches and production in Jon Gruden's offense and will get the majority of red zone opportunities.
The last quarterback to win the award was Dak Prescott in 2016, who had a playoff team around him and was not asked to carry the team. Kyler Murray is in a much different situation and is going to have to produce from day one which is a challenge for any rookie quarterback entering the league. Arizona has one of the worst offensive lines in football, which is another challenge facing Murray early in his first season. I expect an up and down season for Murray with some amazing individual plays, but also some frustrating throws that all young quarterbacks struggle with.
Defensive Rookie Of the Year
Devin White +600
This pick came down to White and Bosa and I'm leaning towards White winning the award. I'm extremely high on White and his ability to come in and make plays sideline to sideline. The addition of Ndamukong Suh will keep lineman off White which will allow his athletic ability to take over. He will be a very productive player in Todd Bowles defense and will stand out as one of the leaders of the Tampa team.
READ ALSO
5 NFL Sleeper Teams To Keep On The Radar