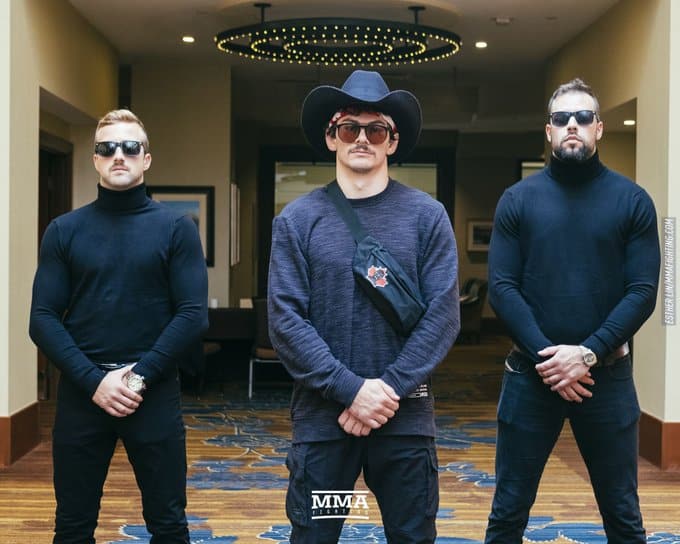 (Don't Mess with The Canadian Gangster)
This is a rare, exciting month for MMA fans. The UFC is running two pay-per-views, with the second being UFC 240: Holloway vs Edgar, which goes down this Saturday from Edmonton.
Unfortunately, while UFC 239 was the most stacked card of the year, UFC 240 is underwhelming.
In the main event, featherweight king Max Holloway will put his strap up against former lightweight champ Frankie Edgar. Not only is the reigning champion 10 years younger than Edgar, he's also five inches taller.
Blessed's incredible skill level, endurance, toughness and experience despite his young age, not to mention Edgar being 0-4 in his last four title fights, explains why the defending champ is a massive -415 favorite according to MyBookie.
While the main event isn't worth betting on, as well as the co-main (Cris Cyborg -650 versus Felicia Spencer), there are a few fights worth putting some dough down on. Here are our picks.
READ ALSO
5 Fastest Knockouts in UFC History (With Video)
Olivier Aubin-Mercier (+175) vs Arman Tsarukyan
This number jumped out at us right off the bat, but it speaks to the respect people have for the 22-year-old prospect Tsarukyan.
He has great experience outside the UFC and is a terrific wrestler. However, he did lose his octagon debut and it wasn't too long ago that Aubin-Mercier was the highly-touted prospect.
After 11 UFC appearances (7-4), The Canadian Gangster has some doubting him after dropping his last two fights. However, he should be able to outclass Tsarukyan on the feet, and is a strong enough wrestler to be worth the underdog bet here.
Tanner Boser (-170) vs Giacomo Lemos
We're going with our second Canadian fighting on home soil. But while our pick above, OAM, is a Canadian fighting in Canada, he's still almost 2,300 miles from his home turf of Montreal.
However, Albertan Tanner Boser will be fighting less than three hours from his home base of Bonnyville. Besides the crowd being on his side, The Bulldozer's main advantage in this fight (and in pretty much all of his heavyweight fights), is his crazy cardio and experience. He's fought 16 more times professionally than Lemos, and against a way higher level of competition. And his gas tank is bottomless, as he's gone deep in fights in the past (which Lemos hasn't).
We expect Boser to leave the home crowd happy here and outlast Lemos for the win.
Seung Woo Choi (+100) vs Gavin Tucker
Sorry Canadians, but we're picking against you finally with this one. While Tucker is a native son (albeit Newfoundland, which is about as far from Alberta in Canada as you can get), he also could be in for a case of the dreaded "ring rust." Injuries have kept him out of action since September 2017, when he lost his first professional fight.
But the most pressing issue in this matchup is the fact that Tucker gets hit a lot, and Choi is a knockout machine (five of his seven wins via (T)KO). Additionally, the South Korean has a four inch height advantage, an eight inch reach advantage, and is six years younger, leading us to expect Choi to hear the boo birds when is arm is raised in victory Saturday night.
Overall Results for This Column
Record: 5-5
Earnings (based on $100 bet per): $73.99
Return on Investment: 7.4%
READ ALSO
5 Fastest Knockouts in UFC History (With Video)