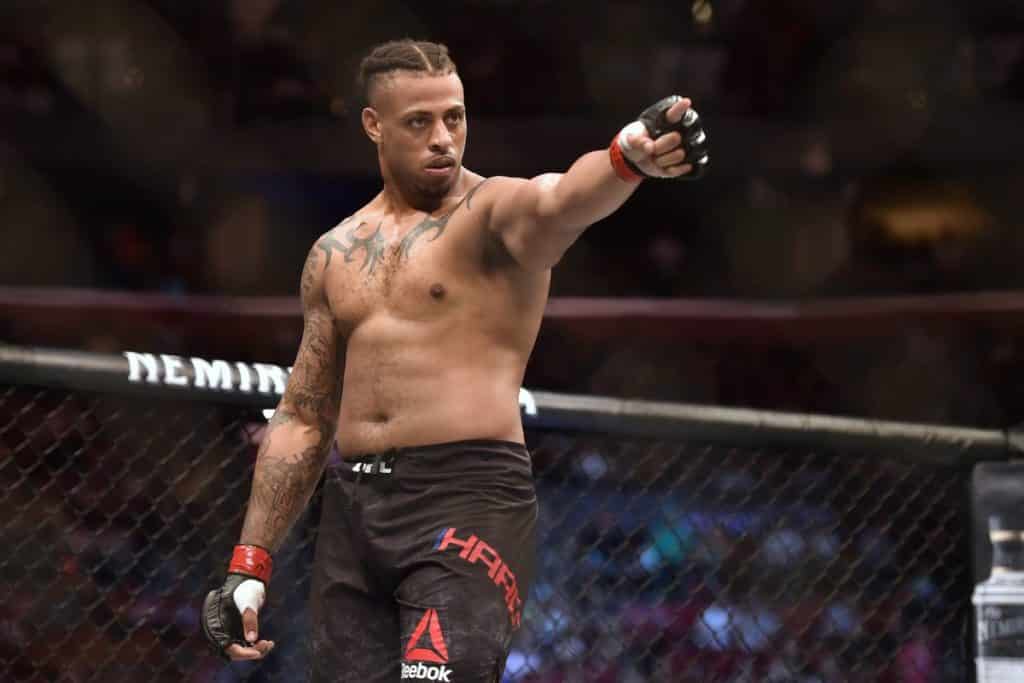 If the oddsmakers are good at their job, then there should be lots of close fights this Saturday when the UFC octagon rolls into San Antonio.
Of the 12 fights scheduled at UFC on ESPN: dos Anjos vs Edwards (aka UFC San Antonio), MyBookie has the odds for nine of them basically in the pick 'em range. This includes the main event, which pits former lightweight champion Rafael dos Anjos (-105) versus surging prospect Leon Edwards (-125). Also notable on the card is the return to the cage of infamous NFL castoff Greg Hardy (-115 against Juan Adams, also -115).
So, with all that out of the way, let's make some money, shall we?
Watch tons of MMA, Soccer, Baseball and more by signing up for ESPN+ Here
Greg Hardy (-115) vs Juan Adams
We'll take a flyer on the polarizing Greg Hardy with our first pick.
The big knock on him (other than his unsavory domestic violence history) is his lack of experience. However, his opponent Juan "The Kraken" Adams only has one more pro fight than Hardy, and they both have the same number of UFC appearances. Additionally, Adams's striking defense isn't the best (42% significant strike defense) and Hardy hits like a truck.
While Hardy is nowhere near a finished product, his crazy athleticism and power (not to mention the top-shelf training he gets at American Top Team) might carry the day here for him, once again.
Andrei Arlovski (+155) vs Ben Rothwell
UFC legend Andrei 'The Pitbull' Arlovski is 40 years old and has lost his last four fights (2-9 in his last 11). So why are we taking a chance on him here as a live underdog?
Well, his opponent is no spring chicken himself (38 in October) and has dropped his last two fights (last win was over three years ago). Add in the fact that Rothwell gets hit more than he dishes out, and The Pitbull might have a puncher's chance here.
Mario Bautista (+160) vs Jin Soo Son
A couple of relative newbies clash in this one, as Bautista and Son are both 0-1 in the UFC, but both lost to highly touted fighters (Cory Sandhagen and Petr Yan, respectively).
What gives Bautista the edge in this bantamweight tilt is his superior grappling skills – he lands a lot of takedowns and half of his six wins come via submission. If his South Korean foe gives him an opening, the fight will hit the mat and a submission victory for Bautista could come shortly after that.
Domingo Pilarte (-320) vs Felipe Colares
We head back to the 135-pound bantamweight class for our last pick, which also features the biggest favorite, Domingo Pilarte. Son of Fire (how great a nickname is that) will be making his official UFC debut in this one (he last fought on Dana White's Tuesday Night Contender Series) against Felipe Colares, who dropped his first octagon foray this past February.
Beside the awesome moniker, Pilarte also will enter the cage with a five-inch reach advantage, as well as far more top-level MMA experience. He's equally adept on the feet or on the mat, and should have what it takes to make Colares 0-2 in the UFC. Besides, Colares's nickname is Cabocao, which translates to Headband in English. Definitely not as cool.
Watch tons of MMA, Soccer, Baseball and more by signing up for ESPN+ Here